Trump School Assailed as 'Scam' by New York's Schneiderman
AG says he's ready to go to trial on 'With All Due Respect'

Candidate faces lawsuits over Trump U. in New York, California
New York Attorney General Eric Schneiderman said during a television appearance that Donald Trump's for-profit real estate school was a "scam from beginning to end," and he's ready to take a lawsuit against the likely Republican presidential nominee to trial.
Speaking on Bloomberg's "With All Due Respect" Thursday as part of a blitz of media appearances, Schneiderman reiterated that his lawsuit, alleging the school swindled students out of millions of dollars, "has nothing to do with politics."
"This is a fraud case," said Schneiderman, a Democrat. The attorney general said he may not seek to depose Trump and that the case can go to trial without the candidate's testimony. Schneiderman said earlier that he doesn't expect a trial to be held until after the presidential election.
Trump "bilked people out of millions of dollars," Schneiderman said on ABC's
"Good Morning America" -- one of several television interviews Thursday in response to Trump's recent defense of the school. "We're going to make sure he pays it back."
The state's top legal official said in an earlier TV appearance that Trump had offered to settle with the state over Trump University. Instead, Schneiderman filed a lawsuit in 2013.
'Mind-Boggling'
A Trump representative disputed Schneiderman's characterization of the talks.
"What actually happened is they made a settlement demand which we rejected," said Alan Garten, general counsel for the Trump Organization. "That's why we are litigating."
Given that settlements are usually private, Garten said, he found it "mind-boggling" that Schneiderman would discuss the talks publicly.
"What I find incredibly shocking is that an attorney general, or any lawyer for that matter, would be discussing settlement communications on national television," he said.
For a story on Donald Trump's history of litigation, click here.
Trump also faces two lawsuits in California over allegations that he swindled students with unkept promises of investment secrets and had little involvement in the school. Despite claims that Trump "handpicked" instructors, some had little training and were former fast-food or retail workers, according to Schneiderman.
Students paid thousands of dollars for the lessons. Schneiderman claims Trump bilked students out of $40 million and that he may have personally made as much as $5 million from the school.
The New York official has been on an eight-stop media blitz for two days over his lawsuit against Trump, a flurry of activity prompted by the release of documents in one of the California cases and Trump's criticism of the judge overseeing it.
School 'Playbook'
Referring to the documents, a Schneiderman spokesman said Thursday in a statement that "newly released Trump University 'playbooks' reaffirm what the Attorney General's investigation uncovered and what he alleged in his lawsuit -- Trump University was a fraud that harmed thousands of individuals."
The "playbooks" contain rules and procedures for Trump University events, scripts for engaging with customers and employee policies and procedures.
"They further add to the picture of Trump University as a cynical, systematic effort to prey on vulnerable individuals, who truly believed they were going to learn Donald Trump's personal real estate secrets," said the spokesman, Matt Mittenthal.
Schneiderman on Thursday also criticized a television ad featuring students praising the now-defunct school. He said Trump was just a "pitchman" who lured students with false promises.
Marketing Only
"Donald Trump's sole role was in marketing," Schneiderman said. "He was not involved in the curriculum."
Trump said at a May 31 news conference in New York that U.S. District Judge Gonzalo Curiel in San Diego, who is overseeing both of the cases in California, "has been very unfair" and has "not done a good job."
"I could settle that case, I could have settled it," Trump said, referring to a California case in which Curiel released documents. "I just chose not to. In fact when I ran they said, 'Why don't you settle that case?' I don't want to settle the case. Because you know what? Because I'm a man of principle, and most of the people who took those courses have letters saying they thought it was great, essentially."
It's unlikely any of the cases will be resolved before the presidential election. Curiel has scheduled a trial in one of the cases for Nov. 28.
The New York case is Schneiderman v. Trump Entrepreneur Initiative LLC, 400965-2012, New York State Supreme Court, New York County (Manhattan). The California cases are Low v. Trump University LLC, 10-cv-00940, and Cohen v. Trump, 13-cv-02519, U.S. District Court, Southern District of California (San Diego).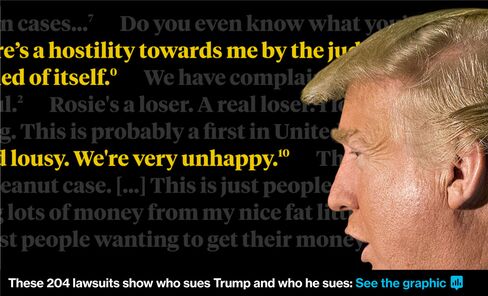 Before it's here, it's on the Bloomberg Terminal.
LEARN MORE