Obama Visits Hiroshima With Disarmament Goals in Doubt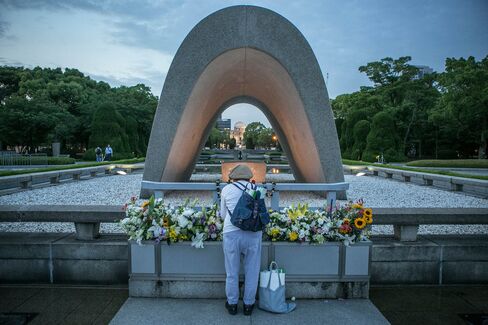 Trip is first to nuclear bombing site by a U.S. president

Japan's Abe to accompany Obama to Hiroshima memorial dome
Nearly 71 years after U.S. forces dropped a devastating nuclear bomb on Hiroshima, President Barack Obama on Friday will become the first American leader to set foot on the soil where so many people died.
Making his final trip to Japan as president, Obama has begun paying his respects to the tens of thousands of Japanese killed by U.S. atomic weapons.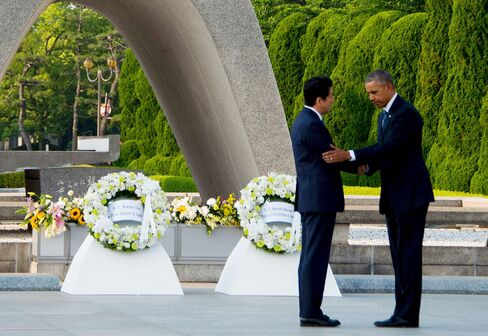 "This is an opportunity to honor the memory of all who were lost during World War II," Obama said Friday during a visit to U.S. troops at the Marine Corps Air Station at nearby Iwakuni.
Obama is now headed for Hiroshima, where he planned to participate in a wreath-laying ceremony and meet with four survivors of the 1945 bombing, one of whom was was only two at the time, and one who was born shortly afterward, his mother having been exposed to harmful radiation.
The White House has said Obama plans will make brief remarks reiterating his hope for a world devoid of nuclear weapons.
"In a way, the less he says the better," said Michael Green, Japan chairman at the Center for Strategic and International Studies in Washington. "It's not normally this president's style to avoid an opportunity for historic speeches. But this is one where I think going and making a very simple statement would be better."
Japanese Prime Minister Shinzo Abe is accompanying Obama to Hiroshima. He told reporters Wednesday he has no plans to reciprocate with a visit to Hawaii's Pearl Harbor, which Japan bombed with conventional weapons during World War II. Secretary of State John Kerry visited Hiroshima last month.
Decimated City
Obama earlier attended the Group of Seven summit, where world concerns of all sorts -- including the threat from North Korea's nuclear ambitions -- were on the agenda.
The Aug. 6, 1945 bombing of Hiroshima decimated 90 percent of the city and killed 80,000 people on the spot. More died later from the effects of radiation, bringing the death toll to 140,000.
Obama is set to visit a museum that details the effect of the blast on the city and its inhabitants, while meeting with a handful of survivors from the bombing. Sunao Tsuboi, who survived the blast as a college student, is among those who will greet Obama in Hiroshima. Tsuboi, 81, is the chairman of the Hiroshima Prefectural Confederation of A-bomb Sufferers Organization.
'Extraordinary Toll'
"This will be an opportunity for him to reflect on the extraordinary toll of war," White House deputy national security adviser Ben Rhodes told reporters before the trip, referring to Obama's planned remarks. "He will of course be reaffirming his commitment to ensuring the peace and security of the world without nuclear weapons."
For a story on Japan's perspective on Hiroshima decades later, click here.
Obama, who ends his final term as president in January, would like nuclear disarmament to be part of his legacy.
'Inflection Point'
"The dropping of the atomic bomb, the ushering in of nuclear weapons, was an inflection point in modern history," he told reporters on Thursday in Japan.
"I do think that part of the reason I'm going is because I want to once again underscore the very real risks that are out there and the sense of urgency that we all should have," Obama said. "It's not only a reminder of the terrible toll of World War II."
"It's also to remind ourselves that the job's not done in reducing conflict, building institutions of peace and reducing the prospect of nuclear war in the future."
After a peak in the 1980s of more than 60,000 warheads stockpiled worldwide, the number has been on a downward trajectory. It declined by about 2,000 since Obama became president in 2009 to a low of 9,920 in 2014, the most recent year available, according to the Bulletin of the Atomic Scientists. The U.S. is the biggest stockpiler of nuclear weapons, followed by Russia.
Finding Inspiration
"He seeks to give momentum to his retirement agenda on non-proliferation and disarmament by reminding everyone what is at stake, as is vividly and excruciatingly on display in Hiroshima," said Jeff Kingston, director of Asian studies at Temple University's Japan campus in Tokyo. "Where better to find inspiration for his quest?"
China, which has a tense relationship with neighbor Japan over history and territorial matters, said it hopes the visit will lead Japan to reflect on the causes of World War II.
"We should always keep in mind that it is the war of aggression waged by the Japanese militarists that inflicted grave sufferings on the Asian people and put the Japanese people including those in Hiroshima and Nagasaki in untold misery," Foreign Ministry spokeswoman Hua Chunying told reporters on Thursday at a regular briefing.
With the threat of North Korea and Iran acquiring nuclear weapons and U.S. allies looking for defense, Obama may have a hard time accomplishing his goal. In 2009 in Prague, he called for a world without such bombs.
A nuclear-free world is less likely now than when Obama took office, said Richard Fontaine, president of the Center for a New American Security. "Right now disarmament measures between the United States and Russia are not terribly conceivable," he said.
The U.S. will be refurbishing its nuclear weapons and rebuilding its delivery systems, he said. "And then the future of the nuclear security summits, which has been a hallmark of the Obama administration's efforts, are very much in doubt and whether that will continue past the Obama administration is anybody's guess."
Before it's here, it's on the Bloomberg Terminal.
LEARN MORE