Sanders' Puerto Rico Fight Shows Limits to His Clout in Congress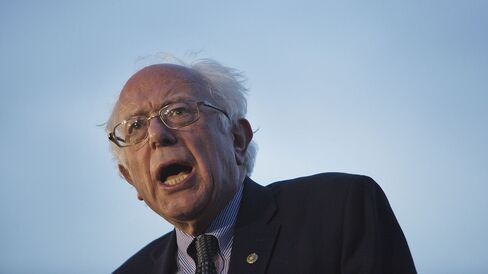 Candidate is urging fellow Democrats to block House debt bill

Some lawmakers concerned about bill's financial control board
Bernie Sanders is making a forceful case against House legislation on Puerto Rico's debt crisis. But if he hoped that winning millions of votes as a presidential contender would make people sit up and listen, it's not working out that way.
His Senate colleagues did not mention the Vermont senator when they met behind closed doors Tuesday and discussed the Puerto Rico bill, according to Sherrod Brown of Ohio. The first House Democrat to endorse Sanders, Raul Grijalva of Arizona, was involved in the bill negotiations and has signed on to the deal. And Senate Minority Leader Harry Reid said Tuesday that he wants to see what the House passes before "we start choosing sides."
The bill -- and Sanders' vocal opposition -- is an early test of his post-campaign clout on the progressive issues he cares about, but there's little to suggest that he'll be a bigger force inside the Senate than before his campaign.
Sanders has issued several strong statements denouncing the compromise debt bill emerging in the House. "Do we stand with the working people of Puerto Rico or do we stand with Wall Street and the Tea Party?" Sanders wrote Monday in a letter to fellow Senate Democrats. "The choice could not be clearer."
Many Senate Democrats could still end up opposing the Puerto Rico bill, but their concerns stem primarily from opposition by unions and Puerto Ricans.
The issue is politically sensitive in part because of the potential for fallout in the markets if Congress can't act ahead of another likely default by the territory in July. Further, many Puerto Ricans have moved to moved to Florida and are eligible to vote in that crucial battleground state in November's elections for president and the Senate seat being vacated by Republican Marco Rubio.
For more on Puerto Rico's debt crisis, click here
Sanders, of Vermont, was an independent who caucused with Senate Democrats before he started his insurgent campaign against Hillary Clinton for the party's presidential nomination. While Clinton's lead is all but insurmountable, he has won 21 nomination contests and says he'll stay in the race to the party's convention in July.
His attacks on the debt bill come ahead of the June 5 Democratic caucus in Puerto Rico, where Sanders is scrambling for every possible delegate.
With Sanders' chances of winning the nomination dwindling, he is making inroads when it comes to influencing the party's platform at its convention. But that's not translating yet into additional clout in the Senate, particularly as his continued attacks on Clinton risk alienating her supporters there.
For all of Sanders' primary campaign votes and fundraising prowess, only one Senate Democrat -- Jeff Merkley of Oregon -- endorsed his candidacy, while the others overwhelmingly back Clinton, a former senator from New York.
Backing Bill
Another Sanders supporter, Grijalva, is sticking with the Puerto Rico deal.
"He understands that there are Democratic concerns with the bill, but he's been very involved with the negotiations over these past few months and understands that this bill is a compromise," said Grijalva spokeswoman Diane Padilla. "It's not the bill he would write, but Treasury has reassured him that it'll help get the people of Puerto Rico back on their feet, which is what he ultimately wants."
Grijalva is the top Democrat on the Natural Resources Committee, which has primary jurisdiction over the bill, and is co-chairman of the Congressional Progressive Caucus, a group of about 70 liberal lawmakers that counts Sanders as its only Senate member.
The control board is the central component of the Puerto Rico deal, with support from Democrats and Republicans alike and from the White House. The main remaining dispute is over who would appoint its members and what limits Congress would place on its ability to take actions such as slashing public employee pensions, raising taxes, and giving priority to repayment of some types of debt over others.
'Neo-Colonial' Board
Democratic Senator Bob Menendez of New Jersey has slammed the control board as "neo-colonial." But he also makes clear that he doesn't support Sanders' proposal of having the Federal Reserve refinance a portion of the debt.
"I don't necessarily agree with his solution, but I agree with his analysis of the bill," Menendez said Tuesday.
Several Senate Democrats said they are still looking at the bill, and others, like Menendez, said they hope to improve it. But none said Sanders' opposition alone would sway their opinion.
Second-ranking Senate Democrat Dick Durbin of Illinois said it's too soon to predict how the votes will come out -- or to judge Sanders' impact.
"Well, I don't know," Durbin said in an interview about Sanders' position. "Senator Menendez I think also opposes it, so I think it's still a little early. I want to look at it."
Schumer, Clinton
Senator Chuck Schumer of New York, the third-ranking Democrat, said, "As I understand it, labor is against it, people in Puerto Rico are against it, I haven't read it yet." He declined to comment on Sanders' statement or on the bill, saying, "I'm not getting into who matters what."
Clinton has called the Puerto Rico deal a positive development without making a full endorsement. She also expressed concerns about the control board but said "we must move forward with this legislation" or the people of Puerto Rico would continue to suffer.
Menendez has been the Senate Democrat most focused on the island's troubles.
He said in a statement, "I am deeply troubled by the bill's unclear path towards a meaningful restructuring of debts, the priority of hedge funds over low-income retirees, the imposition of a neocolonial-type control board that does not reflect the people of Puerto Rico and usurps the rights of self-determination from these American citizens, and the unrelated, harmful labor riders."
Like Clinton, Menendez said he remains hopeful his concerns will be addressed in a final bill.
The measure will need significant Democratic support to reach the president's desk. A number of Republicans oppose provisions allowing the territory relief on its $70 billion debt. Party leaders have attached ideological items in a bid for those lawmakers' votes, such as exemptions from overtime rules and the federal minimum wage.
Republican Defections
Any further concessions to Democrats would risk Republican defections. Republican senators also said they are reviewing the deal and are hopeful the House can act.
Republican Senator Chuck Grassley of Iowa, chairman of the Judiciary Committee, said he views the key as forcing changes to Puerto Rico's budget before the territory gets relief from its debt.
The board "ought to make changes in taxes and how they spend money, and those things ought to be done before bankruptcy kicks in," Grassley said. "If you don't get the reforms and you have bankruptcy right now, you're going to have the same thing happen five or six years down the road."
Before it's here, it's on the Bloomberg Terminal.
LEARN MORE