Trump Says Fundraiser Wiped Christie's Campaign Debt Clean
The presumptive Republican presidential nominee raised money in New Jersey on Thursday.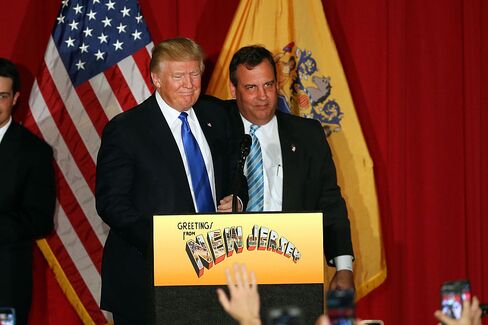 For New Jersey Governor Chris Christie, Donald Trump is turning out to be a helpful friend.
Trump appeared at a fundraiser on Thursday to pay off Christie's debt from his aborted presidential campaign. At a separate event, Trump raised money to pay off the New Jersey Republican party's legal tab related to the George Washington Bridge scandal linked to Christie allies.
Thanks to the Christie fundraiser, "Chris paid off his entire campaign debt," the presumptive Republican presidential nominee said at the event in Lawrenceville, New Jersey.
About 1,000 people turned out for the $200-per-head Christie gathering. It wasn't clear whether enough people donated in excess of that amount to eliminate more than $400,000 in debt racked up by the presidential campaign that Christie suspended in February after a sixth-place finish in the New Hampshire primary. Since then, Christie has been campaigning for Trump.
Christie praised Trump as the candidate best suited to shake up the political system.
"Donald and I ran against each other for a little while," Christie said. "Donald is a friend."
Trump delivered his standard stump speech, calling for a wall on the border with Mexico, tariffs on companies that send jobs overseas, and swipes at "Crooked Hillary Clinton." Trump also said anyone who didn't believe terrorism was behind the disappearance of an EgyptAir jet is "100 percent wrong."

Trump took top billing at the fundraiser for the Republican State Committee, where approximately 20 people paid $25,000 each, according to a person familiar with the event who asked for anonymity to discuss the matter. The proceeds are being used to help defray the nearly $500,000 the committee owes lawyers hired to represent Christie and officials in his administration in connection with the politically-motivated lane closures on the George Washington Bridge that snarled traffic in Fort Lee, New Jersey.
Despite Trump's longtime front-runner status, his team recently began to put together some of the building blocks of a campaign, including a fundraising team, digital operation and research team.
On Thursday, Trump aides told Bloomberg Politics that veteran strategist Paul Manafort, who was hired to lead the candidate's delegate strategy, was promoted to the post of campaign chairman as Trump seeks to assure jittery Republicans of the organizational soundness of his presidential bid.
Before it's here, it's on the Bloomberg Terminal.
LEARN MORE