Planned Parenthood Sues States to Restore Funding
The group has ramped up its legal battle against state funding cuts.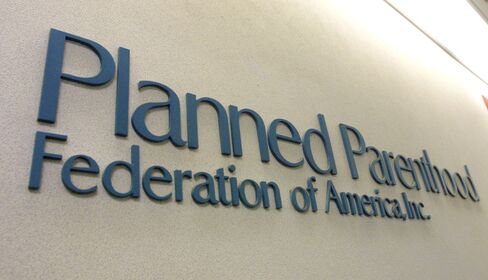 Sixteen states, all but three Republican-controlled, have passed laws cutting funding to the Planned Parenthood Federation of America since last July, when activists released undercover videos purporting to show that clinics were selling tissue obtained from aborted fetuses. As legislation spreads across the U.S., Planned Parenthood is taking states to court, one by one.
On May 11 the nonprofit's two Ohio affiliates sued the state for revoking more than $1.3 million in funding under a law barring government agencies from contracting with "any entity that performs or promotes nontherapeutic abortions." The Ohio suit comes on the heels of a case filed in Kansas after that state blocked Medicaid payments to Planned Parenthood.
QuickTake The Vanishing U.S. Abortion Clinic
The group has filed 15 lawsuits since last July challenging states' attempts to cut off funds or otherwise restrict its ability to operate. "To put this in perspective, we typically file around three to six cases a year," Dr. Raegan McDonald-Mosley, chief medical officer of Planned Parenthood, said during a conference call announcing the Ohio lawsuit. The group, which has 58 state affiliates that operate 650 health centers nationally, gets about 48 percent of its revenue from public funding.
More than a dozen states have opened investigations into the videos' claims; so far no state has found evidence backing them up. In January a Texas grand jury indicted the filmmakers, activists with the nonprofit anti-abortion group Center for Medical Progress, on criminal charges of tampering with government documents. Their cases are still pending; the Center for Medical Progress didn't respond to requests for comment.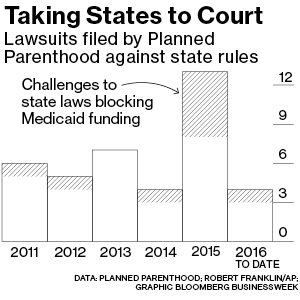 Planned Parenthood has faced state restrictions before. In 2011 the group successfully sued in Kansas to maintain access to federal funds. Yet budget cuts targeting Planned Parenthood clinics pushed through by Wisconsin Governor Scott Walker that same year resulted in the closing of 5 of the 29 clinics in that state.
The U.S. Supreme Court is reviewing the constitutionality of a 2013 Texas law that tightened licensing requirements for abortion providers. "The courts have become the extension of the political battle over Planned Parenthood," says Sara Rosenbaum, professor of health law and policy at George Washington University. "The uptick in judicial battles is a direct result of the uptick in legislation."
Planned Parenthood's Ohio suit challenges a law prohibiting the state from doing business with abortion providers. The measure was signed last February by Governor John Kasich, who was then running for the Republican presidential nomination. As a result, Planned Parenthood clinics have been cut off from receiving federal family planning funding that's distributed by states, known as Title X grants after the section of the 1970 law that created them.
Planned Parenthood of Greater Ohio and Planned Parenthood Southwest Ohio Region operate 28 health-care facilities, only three of which offer abortions. The group says it relies on Title X funding to pay for services such as HIV testing and mammograms, and it claims the Ohio law seeks to punish it financially for offering abortions, a constitutionally protected medical service. The Ohio Department of Health declined to comment.
In Kansas, Planned Parenthood health centers received letters from the state Department of Health and Environment in March informing them that their participation in KanCare, the state's Medicaid program, would be terminated. The department cited a delayed waste-management inspection and the highly publicized undercover videos among the reasons. "Planned Parenthood has been fully informed of the reasons for this decision," says Eileen Hawley, spokeswoman for Kansas Governor Sam Brownback.
In its Kansas suit, Planned Parenthood says the on-site waste inspection was ultimately completed and that Kansas officials found no wrongdoing after investigating claims about fetal tissue sales. The group argues that cutting its affiliates from KanCare violates a federal law allowing patients to choose any health-care provider that accepts Medicaid. Courts have sided with Planned Parenthood in similar cases in Arizona and Indiana.
Planned Parenthood plans to file more lawsuits in the coming months. It will have no shortage of states to choose from. The same week the Ohio lawsuit was filed, Arizona and Mississippi removed Planned Parenthood from their Medicaid programs. "Taxpayer dollars should not fund abortions," Mississippi Governor Phil Bryant tweeted, along with a video of himself signing the bill.
Before it's here, it's on the Bloomberg Terminal.
LEARN MORE