Islamic State Fears Lead U.S. Foreign Policy Concerns in Survey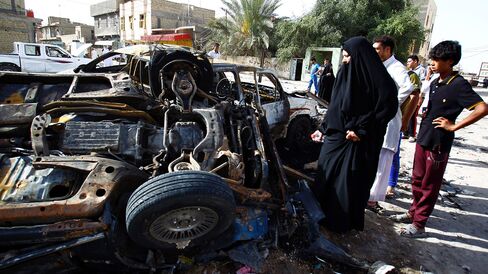 Trump supporters question U.S. role in the global economy

U.S. membership in NATO attracts broad support in Pew poll
With the U.S. presidential election campaign firming up, four out of five Americans say the Islamic State is their top international concern, even as many remain wary of their country's role overseas, according to a survey by the Pew Research Center.
Eighty percent of people polled cited the terrorist group, which has inspired attacks far from its base in Syria and Iraq, as a major threat to U.S. well-being. Yet the strategy over how to respond to it divides along party lines, Pew said in its report. Almost three-quarters of Republicans said they are concerned the U.S. won't go far enough to stop the group, while 57 percent of Democrats say their bigger concern is that the U.S. will go too far militarily.
"Democrats and Republicans can agree that ISIS is a major threat to the well-being of the country, but how to handle ISIS is what we're going see the conversation be about in the next couple of months," said Jocelyn Kiley, a co-author of the report, using an acronym for the the terrorist group.
In the survey, taken five months after two Islamic State supporters carried out a deadly attack in southern California, more people said Republicans can do a better job than Democrats in "dealing with the terrorist threat at home." The GOP also led Democrats in foreign policy and trade. Overall, more respondents disapproved of President Barack Obama's handling of foreign policy than approved.
The survey of 2,008 adults was taken from April 12 to 19. It has a margin of error of plus or minus 2.5 percentage points for the full sample.
Public's 'Wariness'
While Islamic State dominated concerns about the world, 70 percent said it's more important for the next president to focus on domestic policy.
"There's a wariness in the public when it comes to foreign policy," Kiley said.
In the survey, supporters of Republican Donald Trump -- who this week sealed his standing as his party's presumptive presidential nominee -- "stand out for their negative assessments" of U.S. involvement in the global economy, with 65 percent saying it's a "bad thing," according to Pew's report on its findings. More than 85 percent of his backers also said the large number of refugees leaving Iraq and Syria is a major threat to the U.S.
Although Trump has questioned the value of U.S. involvement in NATO, more than three-quarters of Americans said being a member of the North Atlantic Treaty Organization is positive for the country. A majority of Americans also viewed the United Nations and European Union favorably.
On the Middle East, more Americans now say that they believe it is possible for Israel and an independent Palestinian state to coexist. While most people lean toward Israel, those sympathizing more with the Palestinians has grown to 19 percent from 14 percent two years ago.
Other major threats to the country noted by a majority of Americans include cyber attacks from other countries as well as global economic instability. More than half also say global climate change is a threat.
Before it's here, it's on the Bloomberg Terminal.
LEARN MORE