Sanders Says He'll Help Defeat Republicans If Clinton Is Nominee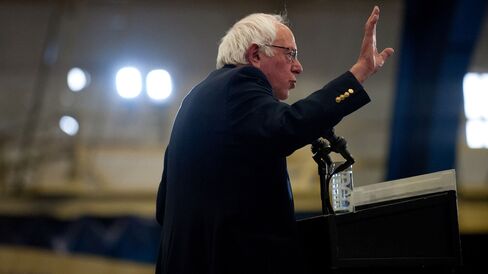 He pushes her to pick progressive fighter as vice president

Insists he's not giving up, dismisses talk of a change in tone
Bernie Sanders is starting to talk about losing, and what he'd like Hillary Clinton to do if she's the party's nominee.
The Vermont senator, whose insurgent campaign has energized millions on the left and challenged the prohibitive favorite, said Sunday on ABC's "This Week" that he would work to defeat the Republican candidate if she's the Democratic nominee. Still, he urged her to adopt many of his agenda items.
"You know, I can't snap my finger and tell people what to do," Sanders said. "But what I will do is do everything that I can to make sure that somebody like a Donald Trump, or some other right-wing Republican, does not become president of the United States."
"If Secretary Clinton is the nominee, she is going to have to make the case to the American people, not just to my supporters, but all Americans, that she is prepared to stand up to the billionaire class, she is prepared to fight for health care for all Americans, that she is prepared to pass paid family and medical leave, make sure that college is affordable for the young people in this country," Sanders said.
Progressive Agenda
"That is what she has got to do. And I hope, if she is the nominee, that she does that well."
Sanders also told ABC's George Stephanopoulos that Clinton should pick a vice presidential candidate prepared to fight for a strong progressive agenda, repeating his signature line that "the American people are very tired of establishment politics and establishment economics."
Sanders insisted he hasn't given up the nomination, and will continue to take his campaign fueled by millions of donors all the way to California on June 7. That's despite a large deficit in pledged delegates -- 1,153 to 1,428 for Clinton-- and a far greater shortfall when superdelegates are included, based on the Associated Press' tally.
He brushed off suggestions made by some Democrats this week that he cool his attacks against Clinton lest he damage her for the fall.
"My own view is that we are going to debate in a respectful manner the difference of opinions that we have," he said on CBS's "Face the Nation."
He repeated their differences on issue like free public college, a carbon tax and her vote for the Iraq War. "I will continue contrasting my views with the Secretary's," he said.
Five primaries are scheduled for Tuesday: Pennsylvania, Maryland, Connecticut, Rhode Island and Delaware.
Before it's here, it's on the Bloomberg Terminal.
LEARN MORE