For Occupy Wall Street Alums, Sanders Just a Means to Their Own Ends
In the activist army powering the Sanders coalition, Bernie is just another soldier.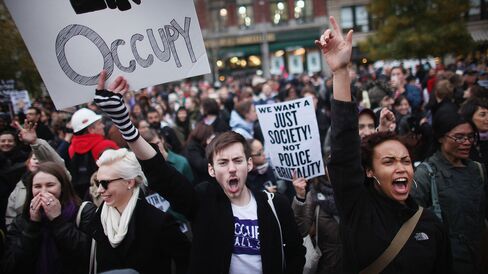 Before she cofounded People for Bernie, the grassroots group that has been campaigning for Bernie Sanders online and in New York City since his launched his campaign, and before she tried to draft Elizabeth Warren into a presidential campaign, Winnie Wong was part of Occupy Wall Street.
"I showed up on the morning of Sept. 17 and I never left," she said, referring to the day in 2011 when hundreds of protesters took over Manhattan's Zuccotti Park. What she thought would last a day or two turned into what she called "a movement that has transformed the global narrative around economic inequality," and activated a new generation of organizers, activists, and protesters still working in the movement today.
Wong, along with fellow Occupy alum Charles Lechner, started Ready for Warren in 2014 not because they actually thought she would run, but because they "wanted to create a political intervention in a moment in time, during a moment in time when we knew that we could," she said. For Wong and other organizers, Sanders' bid for the White House also is merely a means to an end.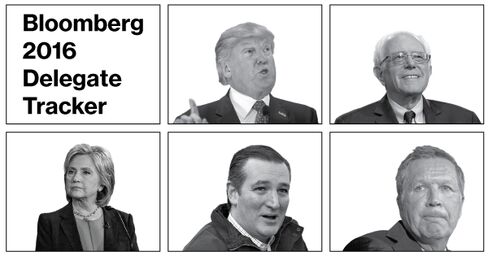 "I like Bernie Sanders as a person very much," Wong said in an interview less than a week before the New York primary and a couple of days before he flew to the Vatican to show solidarity with Pope Francis' movement. "I consider him to be my brother and my organizing comrade. But I don't actually care that much about him. There is no frenzy around Bernie. I care about the participation of people."
Now, she said, People for Bernie reaches millions of people a month through social media, and the group has been holding events around the country. In New York, they were trying to get independents registered as Democrats before the Oct. 9 deadline, several months before the Sanders campaign hit the ground in March.
"Thousands across the state were already organizing, they had been for months," said Robert Becker, the Sanders campaign's deputy national field director, during an interview in their Brooklyn office, an open room on a block of warehouses in a hip part of the borough. "A lot of these different 'for Bernie' groups had been in existence since the day he got in the race."
Becker was referring People for Bernie, a volunteer grassroots organizing group run by Occupy Wall Street veterans that started holding New York events for Sanders as early as June, and more established groups like Working Families Party, which endorsed Sanders in December.
Within the Sanders coalition, the official campaign is something more than a figurehead—but far less than a central command. "Our job, as sort of the organizer and the campaign, is kind of just to guide them in the right direction, really just to stay out of the way," Becker said. Much of the grassroots effort was already aimed in the right direction, he said: canvassing, making calls, spreading the word. "This is really in their hands, this is truly a people's movement," he said.
Sanders' campaign is built on a loose federation of organizations, some of long standing that have not often focused so much of their energy on presidential politics. These activists, organizers, and protesters have informed the campaign's platform while broadening its tactical arsenal. From Ja'Mal Green, the Black Lives Matter protester who introduced Sanders at rallies in Illinois and helped organize the protest that eventually shut down a Donald Trump rally; to Josh Fox, the filmmaker behind the anti-fracking documentary Gasland; to Linda Sarsour, a well-known Muslim activist from Brooklyn, Sanders draws in people who are passionate and appreciative of the platform his campaign offers. In return, they've lent Sanders their time and energy, phone banking, canvassing, and holding events.
Dan Cantor, the executive director of the Working Families Party, sees Sanders as the culmination of years of liberal frustration, stemming from the 2008 financial crisis and revealing itself during Occupy Wall Street.
"Bernie decides to step forward and, lo and behold, there's this enormous base of people who were just waiting for, essentially, someone to tell the truth about what was happening in society," he said.
The decentralized structure of the Sanders coalition is a double-edged sword. His surrogates and allies have often gone farther than the candidate himself in attacking Hillary Clinton. His supporters have disrupted her rallies, and Greenpeace activist Eva Resnick-Day pushed Clinton to say she was "sick and tired" of the Sanders campaign "lying" about whether she accepts donations from the fossil fuel industry.
Problems arise when Sanders' surrogates are handed the microphone during his rallies. At Washington Square Park on Wednesday, speaker Dr. Paul Song forced Sanders to apologize when he said Medicare for all will never pass if voters continue to elect "corporate Democratic whores who are beholden to big pharma." Song's comments come after actress Susan Sarandon was criticized for implying that America would be better off with a President Trump than a President Clinton and actor Tim Robbins said winning the South is like winning Guam. In February, Sanders defended rapper Killer Mike after he was criticized for quoting an activist who said "a uterus doesn't qualify you to be president of the United States."
This week Occupy began Operation Battle of New York, a newspaper passed out in Manhattan aiming to circumvent what the creators see as a pro-Clinton, anti-Sanders narrative in the media. US Uncut, an online news site and anti-corporation movement, has been publishing pro-Sanders stories for several weeks, most notably a Facebook exchange between a Sanders supporter and a Clinton superdelegate in Alaska.
"What's really amazing is that the star organizers, and I don't want to use the word star, but the core organizers, the people who were really dedicated to organizing and trying to create processes and structures, those people are all overwhelmingly in support of Bernie Sanders," Wong said. "And that's really big because we're really smart. We are talented, dedicated, passionate, smart, organizers, and we're all organizing behind Bernie Sanders."
While the professional class of activists seem to have a baseline level of respect for Clinton as a fellow political practitioner, her incrementalism is anathema to them. "She doesn't speak organizer language. It's all about vernacular, and it's all about track record," Sarsour said. "We're not pragmatists, you have to be a little bit idealistic. We also ask for big things, because we know we're not going to get those big things, we're going to get something less."
That same idealism means that organizers are vague when asked about their plans post-Sanders, assuming Clinton becomes the nominee. If that happens, people like Sarsour and Wong aren't as worried about what they'll do to get Clinton elected as they are about what they'll do to keep the movement around Sanders going.
"Regardless of whether Bernie Sanders is the next president of the United States or not, the question is what are we gonna do with the momentum and the platform, this issue platform that we have, and can this be an opportunity to do something big?" Sarsour said.
She said she hopes the Clinton campaign starts listening to the young people backing Sanders.
"That's who I feel the Democratic Party is really not listening to at all, because those Bernie bros are real," she said. "They're like, 'We're not going to the polls' or 'We're going to vote for Jill Stein,'" she said, referring to the Green Party's presidential candidate.
Wong said that while she personally won't endorse Clinton, People for Bernie will publish a series of voting guides based on how competitive each state is during the general election.
"My personal, political integrity will not be compromised, but what is at risk and what is at stake, is something that I'm fully aware of," she said. For her, "of course" Clinton would be better than Trump, but there's a middle ground between backing her and abandoning the political revolution Sanders is helping to catalyze.
"We're living in transformational times," she said. "It's very exciting to be aware and engaged in 2016, because it's just about to get good. I won't say that it's going to get better right away, but it's about to get really good. And I think that nobody's more aware of it than Bernie Sanders."
Before it's here, it's on the Bloomberg Terminal.
LEARN MORE