Cashing In on Opioid War: Alkermes and Its $1,300-a-Month Shot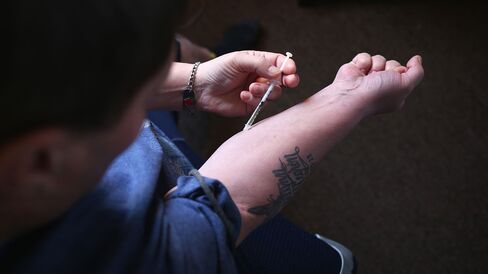 A 10-year-old drug gets second chance as epidemic spreads

Obama pushing for $1.1 billion in funding from Congress
A decade-old drug that was once seen as a commercial flop is getting a second chance to thrive as the fight against the opioid abuse epidemic shifts toward medical treatment in the U.S.
Alkermes Plc's Vivitrol, a $1,300-a-month shot that helps kill the high from painkillers and heroin, is poised to get a sales boost after President Barack Obama's recent push to give millions of Americans better access to addiction medicines through expanded Medicaid coverage and extra budget funding.
At the local level, Alkermes is getting support from governors, police chiefs and judges who helped start more than 100 programs offering Vivitrol with counseling across 30 states. The injection's most vocal advocates include Kentucky Circuit Judge David Tapp, who first heard about the treatment in 2014 and has since been talking it up to other officials. Unlike addiction treatments like methadone, Vivitrol isn't a narcotic itself, meaning it can't be abused.
"Nobody steals Vivitrol. Nobody traffics it unless they want to get sober," said Tapp, who serves in drug-ravaged counties in south-central Kentucky. "From everything I've seen, it's working."
There's some irony in the fact that pharmaceutical companies like Alkermes and Indivior Plc, the maker of addiction treatment Suboxone, may benefit from a national effort to curb prescription-pills abuse. For years, drugmakers faced resistance, with many rehabilitation programs focusing on abstinence-only treatments. As the crisis has reached epidemic levels with tens of thousands of Americans dying each year, the president has stepped in, and his February request for $1.1 billion in funding from Congress will go almost entirely toward medically assisted treatments.
Vivitrol Revival
Vivitrol's sales revival 10 years after its introduction is unusual in the pharmaceutical industry. In the years following its 2006 Food and Drug Administration approval for alcoholism, some on Wall Street saw it as a dud. "Vivitrol has been a commercial disappointment that after 10 quarters on the market still does not cover its costs," Natixis Bleichroeder analysts said in a 2008 note.
Since then, the FDA approved Vivitrol for opioid abuse, just as the epidemic was intensifying and more state-funded and government programs helped cover treatments. Vivitrol revenue rose 53 percent last year to $144.4 million as the Medicaid portion of sales doubled, making up almost 30 percent of the total. Analysts anticipate sales will rise 31 percent to $189 million this year, accounting for more than a quarter of Alkermes's revenue -- with some help from the attention and funding out of Washington.
"It's gratifying," Chief Executive Officer Richard Pops said. "We've felt this way for a long time, even though we didn't think there was a whole lot of financial incentive to do so."
To push for changes, Alkermes spent about $4 million on lobbying last year, including on addiction bills, up from $2.6 million in 2014 and under $1 million in prior years, according to the Center for Responsive Politics.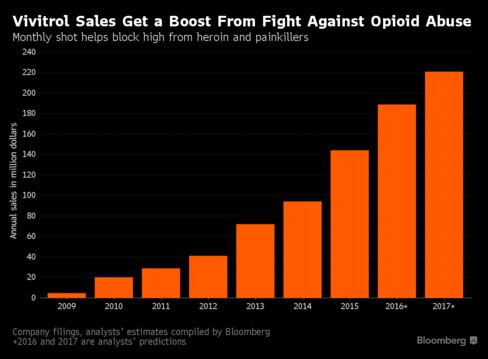 The active ingredient in Vivitrol, naltrexone, binds to the same receptors in the brain as opioids and blocks the pleasurable feelings associated with taking narcotics. While its price seems expensive, Alkermes says it offers discounts, and the drug is ultimately more cost-effective than treating addicts in hospitals or prisons.
Researchers from universities including the University of Pennsylvania in Philadelphia and New York University administered the shot to criminal justice offenders in a study published in the New England Journal of Medicine March 31. They found that participants who got the injection relapsed at a lower rate and used less heroin when they did relapse compared with those who didn't get it. Seven men in the control group overdosed, while none of the patients who received Vivitrol did.
Christy Foley of Somerset, Kentucky, started using pain pills when she was 20 and was addicted for almost 18 years until she enrolled in one of Judge Tapp's programs after spending four months in jail.
"I wanted to be off opiates," said Foley, who is now a restaurant manager. "I was tired of it. I wanted to be a different person."
After her first Vivitrol shot, she says she had no cravings or withdrawal symptoms. She didn't think about using painkillers for a whole week, which she says was a record at the time. Foley says she's now clean after at least nine months on Vivitrol. Her insurance through the Affordable Care Act covers the injection and her doctor's visits.
Stock Plunge
Alkermes will need more than its decade-old treatment Vivitrol to sustain sales growth. The drugmaker's shares slumped 44 percent in a single day in January, after the Dublin-based company said that its drug for depression, the most advanced product in development, failed in two final-stage tests. Its market value, now at about $5.7 billion, is less than half what it was at the end of December.
Vivitrol, used by only about 16,000 patients, remains little-known compared with methadone and buprenorphine, a drug approved for opioids by the FDA in 2002 that is most commonly sold as a sublingual film under Indivior's brand Suboxone. Kana Enomoto, acting administrator of the Substance Abuse and Mental Health Services Administration, told Congress at hearings this year that there's a need to better educate health providers about the shot.
New regulations proposed last week will also boost access to Suboxone. Buprenorphine is an opioid, although weaker than painkillers like OxyContin, and heavily regulated. The government proposed raising the limit of patients that authorized doctors can treat to 200 from 100.
"The most important thing is to make sure that there are sufficient doctors available," Indivior CEO Shaun Thaxter said.
Designing drugs for addicts comes with thorny challenges: How do you prevent addicts from becoming addicted to the addiction treatment, and how do you prevent them from selling it to other addicts? The delivery mechanism can be as key as the active component. Indivior, which was spun off from Reckett Benckiser Group Plc in 2014 and focuses on addiction treatments, is developing a monthly injection for buprenorphine. Meanwhile Titan Pharmaceuticals Inc. and its partner Braeburn Pharmaceuticals are working on a buprenorphine implant, which was recommended for approval by an FDA panel in January.
Judge Tapp in Kentucky said he wouldn't hesitate to switch to a competing product if a better treatment than Vivitrol came along.
"That's America," he said. "Competition is good."
Before it's here, it's on the Bloomberg Terminal.
LEARN MORE