Obama, NATO Head Meet in Rebuke as Trump Questions Alliance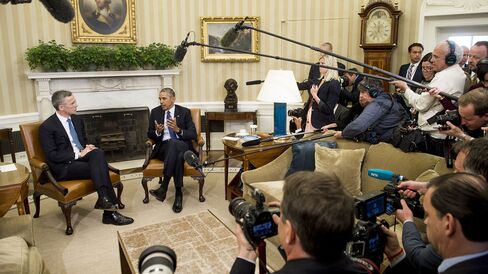 NATO's Jens Stoltenberg meets with president at White House

Five of 28 NATO members are meeting defense spending goal
President Barack Obama sat side-by-side with NATO Secretary General Jens Stoltenberg in the Oval Office on Monday, offering a symbolic rebuke to Republican presidential candidate Donald Trump, who has questioned whether there's still a need for the defense alliance.
Obama and Stoltenberg met to discuss last month's terrorist attacks in Brussels, where NATO has its headquarters, the surge of refugees driven from Syria and Iraq by Islamic State and the alliance's summit scheduled for July in Warsaw. The political backdrop, though, is November's election, in which Trump has emerged as the Republican front-runner while questioning U.S. alliances including NATO.
"NATO continues to be a linchpin, a cornerstone of our collective defense and U.S. security policy," Obama said after the meeting. Stoltenberg called the alliance "as important as ever." Neither man mentioned Trump or the controversy over his statements.
Terrorists killed at least 31 people in Brussels in bombings on March 22. Islamic State claimed credit for the attack. "Terrorism affects everyone from Brussels to San Bernardino," Stoltenberg added.
Trump and NATO
Trump has called NATO "obsolete" and said the U.S. pays "far too much" for the alliance, which includes former Soviet republics that count on its support against Russia. Obama said those nations enjoy "reassurances not just in words" that the alliance would back them, and that NATO is helping Ukraine, a non-member, improve its defensive capabilities even as it negotiates with Russia to end conflict in the country's east.
Stoltenberg declined to answer reporters' questions about the Republican's remarks.
"I will not comment on the election campaign in any NATO-allied country," Stoltenberg told reporters outside the Oval Office. "It's up to the U.S. people to decide."
White House press secretary Josh Earnest said the meeting, on the 67th anniversary of NATO's founding, had nothing to do with Trump.
"The meeting with the NATO secretary general was actually organized shortly after the beginning of the year so this is something that has been on the books long before Mr. Trump's ill-advised comments," Earnest said Monday at a White House briefing. "I would be very surprised if there was any discussion of Mr. Trump in the meeting."
Obama has stood by the U.S. commitment to the alliance while expressing frustration that most other NATO members don't meet a goal that they spend at least 2 percent of gross domestic product on defense. In an interview published last month in The Atlantic magazine, Obama called such countries "free riders."
NATO, in a report released in June, estimated that five of the alliance's 28 members -- the U.S., Poland, the U.K., Greece and Estonia -- would meet the 2 percent threshold in 2015.
Obama said he and Stoltenberg discussed "generally what's been happening in the southern plane of NATO" as hundreds of thousands of migrants from the Middle East and Africa have attempted to enter Europe in recent years, driven by conflicts in Syria, Iraq and Libya. The alliance will work with the European Union "to help prevent the tragedy we saw last summer," Obama said, when thousands of migrants drowned attempting to cross the Mediterranean and Aegean seas.
Before it's here, it's on the Bloomberg Terminal.
LEARN MORE