Frenemies
Clinton's Flash of Anger Highlights Toll of Sanders' Relentless Critique
She's still favored to win the nomination, but her rival has exploited her weaknesses with restive Democrats.
Hillary Clinton is becoming increasingly irritated by Bernie Sanders' pointed attacks that portray her as a tool of special interests, people close to her say, leading her to sharpen her approach to the primary at a time when she hoped to get a head start on the general election.
Clinton takes Sanders' recent attacks personally, her aides say, and is fed up with fending them off when she'd rather be laying out her policy positions or leveling critiques of Republican front-runner Donald Trump. They also worry that Sanders' jabs seem aimed at inflaming his supporters against her—possibly to a point where they won't support her in November.
"Does it annoy her when people misrepresent her record? It does," said Clinton communications director Jennifer Palmieri.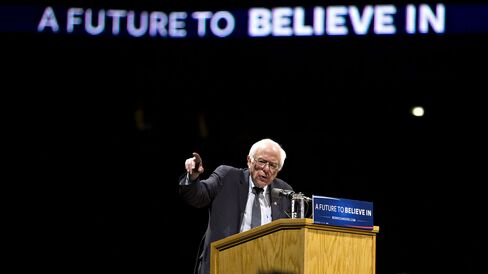 The dynamic came to a boil last week when the typically measured Clinton lashed out at a Greenpeace activist asking about her campaign contributions from the fossil fuel industry. "I am so sick. I am so sick of the Sanders campaign lying about me. I'm sick of it," she said, jabbing her finger at the young woman who approached her as she shook hands along a rope line at an event in New York. A video of the encounter spread on the Internet, getting more than 2 million hits in 72 hours just on YouTube.
For Sanders, whose chances for getting the party nomination depend upon a string of improbable but not impossible events, attacking Clinton draws media attention as well as donations from a fervent core of supporters who are keeping his campaign afloat. His attacks have also helped him close in on the front-runner, including in Wisconsin, where voters will cast ballots in a primary on Tuesday. Following on his sweep of three western-state caucuses a little more than a week ago, Sanders is deadlocked with Clinton in polls there.
"It has had an impact," said Tracy Sefl, a Democratic consultant who formerly advised the pro-Clinton group Ready for Hillary. While none of the attacks are surprising or novel, "he's caused her to sharpen her own platform. Her stump speech is very wide-ranging and covers a lot. Sanders has put her in a position to put things in bold—they've always been there, but now she's got to be louder."
The confrontation with the Greenpeace activists came at a moment when Sanders and his campaign have gotten "a little more personal, more negative," Palmieri said. It hit a nerve as the comment appeared to impugn Clinton's character. "That's what you saw," she said.
Officials with the Sanders campaign argue they are doing nothing more than discussing the same policy differences they have emphasized for months.
"These are not in any way efforts on our part to do anything other than to debate the issues," said Tad Devine, Sanders' senior media adviser, of the campaign's recent criticisms of Clinton. "It's completely appropriate, well within the bounds of a normal campaign and very far from what's going on the Republican side."
He said the tenor of the campaign has been even milder than when Clinton was campaigning for the Democratic nomination against Barack Obama. "I don't think Bernie Sanders is anywhere near that kind of back-and-forth we saw in 2008," Devine said.
Clinton has been reluctant to get especially aggressive in her criticism of Sanders, aware that even if she's not able to win over his voters in the primary, she'll need their support in November. But after weeks of largely ignoring Sanders, even in victory speeches after primaries, signs of her frustration with Sanders are coming though.
On Friday in Syracuse, during a discussion of ways that she helped businesses in upstate New York expand their markets, Clinton needled Sanders for opposing the Export-Import Bank and then unloaded on the way he talks about change.
"People can tell you what they're against all day long. What are they for? And what are they going to do? And do they have a track record of getting results?" she asked. "I think that should be the way people judge who the next president they want to see in the Oval Office is because at the end of the day, producing results is really what it's all about."
Sanders said he sees Clinton's remarks as a sign not of frustration but of anxiety. "I think the secretary is getting very nervous," he said Sunday on ABC's This Week, pointing not to his odds in the primary but to general-election polls that show him leading Trump by a bigger margin than Clinton does.
Sanders has been trying to chip away at Clinton by focusing on her financial ties to corporations and Wall Street, contrasting it with his core message of getting money out of politics and upending an economic system that's rigged in favor of the wealthy.
"It's been more effective than most would've believed a year ago," said Democratic strategist Steve McMahon. "It taps into a pretty well established anti-corporate, anti-establishment faction of the Democratic Party that has been agitated about these kinds of issues for a very long time."
That wing of the party is "vocal, angry and loud," McMahon said. "You see it at his rallies. And you saw it on the rope line."
Sanders has exploited Clinton's main weaknesses with those voters. A Bloomberg Politics poll released March 24 found that Democrats view Sanders as more "honest and trustworthy" than Clinton by a stunning margin of 64 to 25 percent. Democrats also favored Sanders over Clinton by two-to-one margins on the questions of who cares most about people like them and who'd do most to rein in Wall Street.
Clinton has enlisted allies to push back. The campaign hosted a conference call on Friday with New York City Mayor Bill de Blasio, who talked up his progressive bona fides and admiration for Sanders' voice on income inequality while encouraging the senator to tone down his rhetoric. "I think people appreciate him when he's a substantive voice and a voice of integrity," said de Blasio, who managed Clinton's successful 2000 Senate campaign in New York. "I think if he and his team make allegations that don't hold water, it actually undercuts what I presume he's trying to get across, so I think he should get back to the issues."
Joe Trippi, a Democratic consultant who advised numerous presidential campaigns, cautioned that Sanders risks hurting himself with a negative campaign.
"He's not going to win the women or the African-Americans or the Latinos who like [Clinton] by making personal attacks on her. That's a key problem for him to grow," Trippi said. "It helps him fuel his supporters— they give him more money every time he attacks her for not being tough on Wall Street—but he doesn't get her supporters to leave her by doing that. And the greater point is it works the same way for her. You do not want to push back so hard that you're alienating his supporters."
Sanders remains the clear underdog in the Democratic race, trailing Clinton by some 700 delegates—a figure that includes party officeholders and officials who are superdelagates not bound by primary and caucus results—according to a tally by the Associated Press. Sanders needs to win two-thirds of the remaining pledged delegates, while Clinton needs to win one-third of them, to secure the nomination. After Wisconsin on Tuesday, New York holds its primary on April 19, followed by primaries in five northeastern states the next week. Clinton could wrap up the nomination by the end of the month.
"This is the natural cycle of a campaign and even though Senator Sanders has won some caucuses, the map for him is very difficult—we do not believe there is a credible path for him to the nomination—he and his campaign and his supporters seem to be getting hotter and more negative," Palmieri said.
Devine dismissed that. "I don't agree that we're somehow lashing out when in fact we won six of the last seven contests," he said. "We do understand that the path to the nomination is difficult, but we do not in any way believe it is impossible."
—With assistance from Arit John.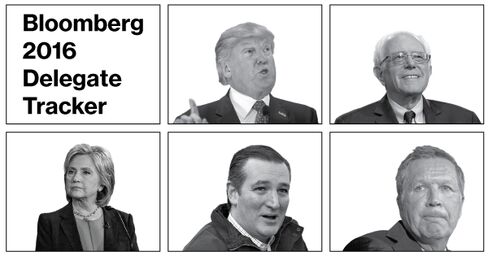 Before it's here, it's on the Bloomberg Terminal.
LEARN MORE