Trump's Appeal to White Anger Echoes Campaigns of George Wallace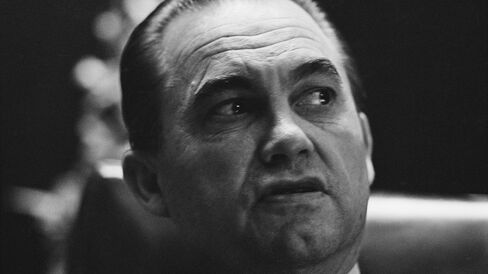 In '60s and '70s, underestimated Wallace won many primaries

Using code words, he drew on resentments of class and race
Almost five decades before Donald Trump's campaign events turned violent, fists and folding chairs flew at rallies for another U.S. presidential candidate riding a wave of populist rage and dismissed by party elders and pundits.
Peggy Wallace Kennedy, 66, remembers being hustled offstage as her father, the late George Wallace, campaigned in 1968 to erupting crowds: "It was very scary. My father's rallies, they could be right rough."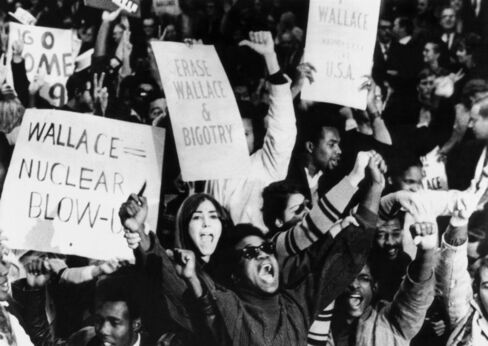 A four-term Alabama governor who had championed segregation, Wallace ran for president four times between 1964 and 1976, whipping up followers with a message of class resentment. He taunted protesters and opponents he labeled anarchists, long-haired hippies and pointy-headed professors too stupid to park their own bicycles.
To those at his side then, the current Republican frontrunner's winning streak, propelled by the conviction that a Washington elite has sold out the country, has a quality of deja vu.
Lessons Learned
Trump is hitting "on the same things we were hitting," said Charlie Snider, 84, who managed two of Wallace's campaigns. Snider speaks with respect -- he is supporting Trump.
Wallace began his gubernatorial campaign in 1958 as a moderate segregationist, and was beaten by a more extreme one backed by the Ku Klux Klan. His next time out, he made sure that wouldn't happen. "Segregation now, segregation tomorrow, segregation forever," he said in 1963 in his inaugural address.
Trump is no segregationist but, like Wallace, has built his campaign on the anger of the disaffected. In Wallace's time, that was largely about a loss of white privilege. Today, Trump has focused on faltering economic opportunities, undocumented immigrants and international trade deals.
Wallace first ran for president as a Democrat in 1964. When he ran as an independent in 1968, he won five Southern states, campaigning on a "law-and-order" platform. In 1972 he tried again as a Democrat, campaigning against busing for school integration. That was the year he seemed most Trump-like, drawing surprisingly large crowds, high poll numbers and unexpected victories as he assailed the elite to the dismay of the Democratic establishment. It was a time reminiscent of today with an inchoate national malaise and rapidly shifting social mores.
Stunning the Press
In a crowded primary field, Wallace won 42 percent of the vote in Florida, taking every county and stunning the press, according to Snider. "I told them that night, 'You all have been talking to the wrong people. You need to talk to the cab drivers and bus drivers and small businesses.'"
That is what Trump backers have been telling the Republican leadership: It is out of touch with the ordinary people who back him.
Wallace was shot two months later in Maryland. He won that state and Michigan, but his legs were paralyzed and in constant pain that would last the rest of his life. He ran once more in 1976. Snider persuaded him to drop out, saying voters weren't going to accept him in a wheelchair. Wallace died in 1998, having apologized for his support for segregation and begging forgiveness.
Trump and Wallace draw similar voters but came from very different places.
To-the-Manor Born
The billionaire Trump, a graduate of the Wharton School of Economics, was to-the-manor born, inheriting and expanding his father's New York City real-estate empire. He called for the return of the death penalty for the so-called Central Park Five, a group of black teenagers accused of rape and later exonerated. He entered the presidential race well known as a name atop luxury properties worldwide and a reality TV star, but a novice at politics.
Wallace was the son of a farmer and entered public life at a young age. An amateur boxer, he got his law degree at the University of Alabama, got elected to the state legislature and became a jurist, known as the "fighting little judge," before mounting his first campaign for governor in an Alabama whose politics were defined by racial segregation.
For Trump supporters, race has "been supplanted by Muslims and Mexicans and sense of economic betrayal," said Dan Carter, author of "The Politics of Rage: George Wallace, the Origins of the New Conservatism and the Transformation of American Politics."
Carter said Trump's support is also broader: Exit polls by CNN have showed him winning among the college-educated and upper middle class and the rich, although by smaller margins.
Eschewing Political Correctness
The fundamental similarities between the two campaigns are their attacks on the Washington establishment and the anger of their supporters. "Both men's fans feel betrayed," Carter said.
Like Trump, Wallace was also known for eschewing what has since come to be known as political correctness, for "telling it like it is," and speaking to resentments, Carter said.
"His great appeal was that he didn't try to sugarcoat things," he said. "I must have heard that 30 or 40 times from supporters. They said, 'He says out loud what I want to say.'"
Wallace was a pioneer in the use of racial and social code words, talking about "crime" and "welfare mothers" and "big-city thugs" to signify blacks. It was a strategy the Republican Party would later appropriate to win over white, working-class Democrats.
Jousting With Hecklers
That code made his rallies seem more civil than Trump's, according to both Carter and Wallace Kennedy, now a civil-rights speaker who backs Hillary Clinton.
Wallace drew protesters, and jousted with them, said Elvin Stanton, Wallace's former chief of staff as governor: "He did not goad hecklers, but he did take advantage of them. He used them to get the crowd on his side."
At a Detroit rally, supporters and protesters fought with fists, chairs and the sticks that held their campaign signs. There were melees in Milwaukee and Minneapolis and black protesters beaten in South Georgia.
Snider, the former campaign manager, said he's supporting Trump, as are most of his friends, who meet at a Montgomery restaurant and marvel at this year's campaign.
He said Republican establishment attempts to derail Trump will backfire, as did Democratic establishment efforts to block Wallace: "The more people jumped on George, the more popular he got."
Before it's here, it's on the Bloomberg Terminal.
LEARN MORE