Yemen Warring Parties Agree to Cease-Fire on April 10, UN Says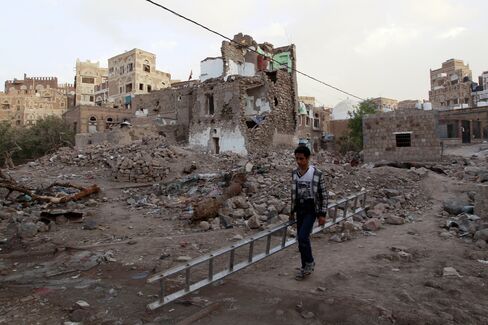 More than 6,000 people have been killed in the fighting

Poorest Arab country on verge of famine as civil war continues
The warring parties in Yemen have agreed to a cessation of hostilities April 10 and to start peace talks in Kuwait on April 18, United Nations special envoy Ismail Ould Sheikh Ahmed said in New York.
The development comes almost a year after Houthi rebels gained control of the Yemeni capital Sana'a and much of the country's densely populated northern and central areas. The advances prompted Saudi Arabia and other Gulf countries that had backed Yemen's President Abdurabuh Hadi to launch air strikes against the Houthis.
"This is really our last chance," Ould Sheikh Ahmed told reporters in New York. "The war in Yemen must be brought to an end."
The Saudi-led air campaign has been condemned by human rights groups for its impact on civilians, with the UN saying that it has caused most of the conflict's civilian casualties. The U.S. has provided support to its Saudi ally, while urging restraint to curtail civilian casualties.
'No Military Solution'
UN Security Council diplomats welcomed word of a cease-fire.
"We constantly have said there can be no military solution in Yemen, there has to be a political solution," said Matthew Rycroft, U.K. ambassador to the world body. "The U.K. supports the Saudi-backed coalition in bringing the legitimate government of Yemen back to Sana'a."
More than 6,000 people have been killed in the fighting, which has forced the Arab world's poorest country to the brink of famine, according to the UN. Earlier this month, Stephen O'Brien, who oversees the UN's humanitarian efforts, told the Security Council that more than 2,000 children are estimated to have been killed or injured since the start of the conflict, including at least 90 children killed so far this year.
Human rights groups, including Amnesty International and Human Rights Watch, have demanded a halt to weapons sales to Saudi Arabia because of its targeting of civilian areas.
"We don't support an arms embargo," Rycroft of the U.K. said.
The conflict has become something of a proxy war between Sunni-led Saudi Arabia and Shiite Iran, which supports the Houthis.
Before it's here, it's on the Bloomberg Terminal.
LEARN MORE