Obama Says U.S. to Help Argentina 'Heal' From 1970s Dirty War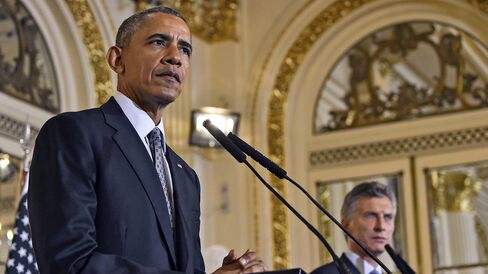 U.S. president plans to visit park commemorating era's victims

Obama, Macri speak in joint press conference in Buenos Aires
President Barack Obama recognized the U.S. role in Argentina's "Dirty War," addressing a stain on the South American country's history that carries heavy U.S. fingerprints without offering an explicit apology.
"We are absolutely determined to do our part as Argentina continues to heal and move forward as a nation," Obama said at a press conference in Buenos Aires with Argentina's president, Mauricio Macri. His visit coincides with the 40th anniversary of the 1976 military coup that led to the Dirty War.
As many as 30,000 people were killed or "disappeared" by Argentina's military junta during the seven-year Dirty War, according to human rights groups. Obama began a two-day visit to Argentina on Wednesday, the first U.S. presidential trip to the country since 2005.
Advocates for the families of those lost have cited U.S. involvement in quashing dissent during the Dirty War. Obama last week promised to declassify U.S. military and intelligence documents related to the Argentine dictatorship. Led by the Mothers and Grandmothers of the Plaza de Mayo, whose children or infant grandchildren were killed or disappeared, some of those groups complained that Obama's visit coincided with the anniversary.
Documents Release
Macri thanked Obama for releasing the records, which transparency advocates had sought. An earlier U.S. release declassified State Department records related to the Dirty War.
"We all need and we are actually entitled to know what the truth is," Macri said through a translator. "For the Argentinian people that has been a very clear indication that if we engage in dialogue with other countries and do so seriously and respectively, other countries will very quickly respond to our requests."
He declined to say what he expected to find in the U.S. documents, or discuss U.S. complicity in the junta's actions. "Let's wait, study the documentation and then we can do some comments on it," he said in English.
Obama didn't offer details of U.S. involvement in the episode. He said present-day U.S. administrations are more willing to stand up against governments that oppress their own people.
Obama on Thursday plans to visit Memory Park, which commemorates victims of the Dirty War. He flew to Argentina from Cuba, where he promoted human rights by meeting with political opponents to the island's government. He encouraged Cuban President Raul Castro to expand freedoms for ordinary Cubans, including by allowing more access to the Internet and direct hiring by foreign firms in the country.
"We have put a great emphasis on making sure that some of the ideologies, the disputes of the past, that they are frankly acknowledged, but that we are also able to look to the future and not just behind us," Obama said.
Before it's here, it's on the Bloomberg Terminal.
LEARN MORE