Auditions
Donald Trump Tries to Convince Washington That He's Presidential Material
The Republican front-runner had a busy day in the nation's capital.
Donald Trump did his best impression of a presumptive Republican presidential nominee on Monday, trading his proverbial pitchfork for a teleprompter as he paused his captivating arena tour long enough to attempt a victory lap through the nation's capital.
But his five-mile swing through the epicenter of American political power more closely resembled a search for legitimacy as his party's power brokers pull out the stops to try and thwart his White House bid.
Trump, who has become known for his ability to say almost anything, said he spent time preparing for his Monday evening speech to the American Israel Public Affairs Committee, which bills itself as a pro-Israel lobby. The speech was one of the few times he's used a teleprompter in the past year.
"Frankly, the other one is more interesting," Trump, in a brief interview Monday, said about his normal stream-of-consciousness approach from the stage. "But this one, there is a lot of detail. I've put quite a bit of time."
Trump seemed to hit all the touchstones on his day-long trek through the Washington establishment. And that should be expected. The New York businessman has long bragged about his ability to navigate the nation's political system with purposeful campaign contributions and strategic friendships.
On Monday, he met with opinion writers at the Washington Post, sat down with congressional leaders, took questions from political reporters just blocks away from the White House, and made his first major foreign policy speech.
Yet each of the stops along The-Donald-Does-Washington tour had its own unique twist.
Take the meeting with congressional members. "It's a beginning meeting," Trump described it later in the day. "But it was a very good one with a lot of the most respected people in Washington."
Attendees of the meeting included none of the party's top leaders in Congress. Those who did meet with him at the offices of Jones Day, one of the world's largest law firms that counts former Supreme Court Justice Antonin Scalia and Fox News anchor Megyn Kelly among its alumni, refused to say almost anything of substance about the pow-wow. "It was all about making America great again," said Representative Chris Collins of New York, parroting Trump's campaign slogan.
The meeting included mostly Trump's own supporters—the handful of U.S. lawmakers who have endorsed him or admitted to voting for him in their home state primary. There was also former Senator Jim DeMint, who hasn't cast a vote in four years, and the normally chatty ex-House Speaker Newt Gingrich, who scurried to his car after the meeting, slowing down only long enough to bark at reporters blocking his path.
The biggest news from the meeting was that Bob Livingston, who nearly became speaker two decades ago and now lobbies Congress, was backing Trump, even though he didn't vote for him in the Louisiana primary earlier this month. Livingston wouldn't say who he voted for or what he told Trump, but did predict that the billionaire would expand the party's base and become the nation's 45th president.
"I saw on television the other night a number of African-American people supporting him, a number of Hispanic people," Livingston said, talking about a Trump political event. "Donald Trump has an unusual appeal, the likes of which we haven't seen much since Ronald Reagan."
Trump suggested that it didn't matter that there were no top GOP leaders at the meeting but then hinted that those conversations are already underway.
"I don't want to drive you folks crazy," Trump told reporters. "But people that I'm watching that are against me, aren't really against me. Because they're calling me."
"I've seen people on television–'We have to stop Donald Trump'–and they were on the phone with me an hour and a half before and they want to set up a meeting," Trump continued. "You have a lot of people out there that you think are against me, and it's just politicians. They want to make a deal. They want to come in and they want to be part of it."
Trump also took up the talking points of the Republican establishment, saying threats from conservatives to run an independent candidate would deliver the White House to Hillary Clinton, the presumptive Democratic nominee. That was the same argument top Republicans made last year when Trump hinted at a third party bid.
Trump also argued about fairness, saying a plurality of delegates—not a majority, as party rules require—should be enough for the nomination since there were so many candidates.
Having to get majority of delegates against so many opponents "in a way is a little bit unfair," Trump said. "I got those delegates the hard way"
During his visit to the Washington Post, Trump talked about the size of his hands, hinted at reducing military support in Asia and Europe and—a week after saying he consults with himself first and foremost on international affairs—unveiled a foreign policy team that included Walid Phares, Carter Page, George Papadopoulos, Joe Schmitz and General Keith Kellogg.
Trump invited some 200 political reporters to a news conference less than a mile from the White House. Once there, he spent the first five minutes talking about the location—the Old Post Office Pavilion, which is in the process of a $200 million renovation that will culminate with his name across the storied building's front: Trump International Hotel.
One of the first questions was from Alicia Watkins, who Trump eventually summoned to the podium to offer a job. "You look so smart and so good," Trump said. "Do you mind if I do a job interview right here? We need good people."
The 38-year-old woman, who described herself as a former homeless veteran who blogs about military issues, insisted she had never spoken to Trump or his handlers and that it was an unscripted moment. She said that she was looking for a paid job, and hoped Trump would formalize the job offer.
"He arbitrarily offered someone a job," Corey Lewandowski, Trump's campaign manager, said later in a brief interview. "It's amazing. The unemployment rate just dropped in DC. The mayor should be happy."
Trump ended the evening at AIPAC, where, despite threats of a walkout, he recieved a standing ovation for vowing to dismantle the Iran nuclear deal; promising to move the U.S. embassy to Jerusalem; and saying, as president, he would block any moves from the United Nations that didn't align with Israel's interests.
But the tough talk from the stage of the Verizon Center was difficult to square with the pitch he gave the Post earlier in the day, when he espoused non-interventionist policies.
"I don't think we should be nation-building anymore," Trump told the newspaper. "It's proven not to work, and we have a different country than we did then. We have $19 trillion in debt. We're sitting, probably, on a bubble. And it's a bubble that if it breaks, it's going to be very nasty. I just think we have to rebuild our country."
Those comments were buttressed later at news conference at the old post office, when he suggested Israel, which receives billions in aid every year from the United States, would need to start paying for U.S. military help. "I think Israel will do that also, yeah," he said. "There are many countries that can pay and they can pay big league."
Trump mostly glossed over those issues during his speech to AIPAC, and failed to repeat his call for more money from America's top ally in the Middle East.
"I didn't come here tonight to pander to you about Israel," Trump said to cheers. "That's what politicians do."
And with that, a smiling Trump shook hands in the crowd, and headed back to his private plane to take him out of Washington and, eventually, to his next campaign stop.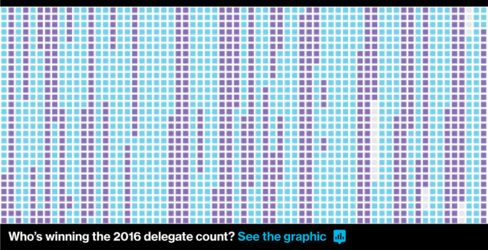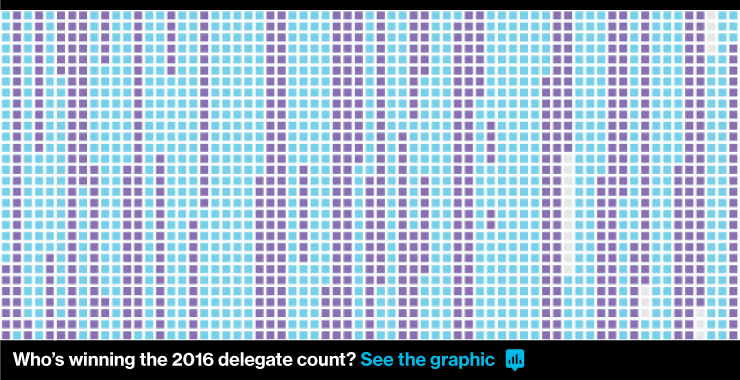 Before it's here, it's on the Bloomberg Terminal.
LEARN MORE