Diamondbacks Owner Says Stopping Trump Tops Selling Tickets
Arizona's Randy Kendrick, a major Republican donor, says she's now backing Ted Cruz.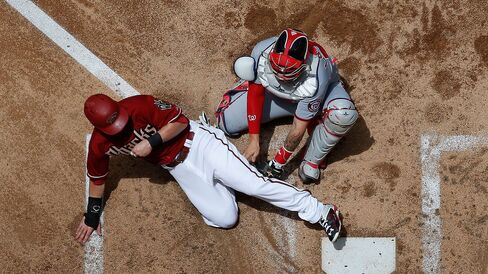 Randy Kendrick, whose husband, Ken, owns the Arizona Diamondbacks baseball team, knows that her very public opposition to Donald Trump might alienate some fans. Ken told her he's OK with that.
"He said, 'Randy, if we stand up for what we know to be moral and correct—if 100,000 people decide they will not go to a Diamondbacks game, we've stood up for the right thing,'" Kendrick said by phone from her home in a Phoenix suburb Wednesday. "I hope he keeps feeling that way!"
Kendrick is part of a group of conservative donors across the country who have poured tens of millions of dollars into a last-ditch advertising campaign to halt Trump's march to the Republican presidential nomination. The primary battle moves to Kendrick's home state this week, with Trump planning a major rally there Saturday, three days before the primary.
A major donor in her own right who gave at least $350,000 to back Marco Rubio's unsuccessful campaign for the nomination, Kendrick is also a fundraiser with a network of contacts across the country. She's now urging her friends to help stop Trump.
"My husband and I have moral objections to some of the things he's said, and not said," Kendrick said. In particular, Kendrick said it bothered her that Trump failed to immediately disavow support from a former Ku Klux Klan leader. She also disliked his remark that the Chinese government's crackdown on protesters in Tiananmen Square showed "strength," and his suggestion that he might not follow the Geneva Conventions as commander-in-chief. (He later said he wouldn't order military officers to disobey the law.)
The ad campaign seems to have done little to slow Trump's advance so far. In Florida, the site of the most advertising, Trump beat Rubio by 19 percentage points and forced the Florida senator from the race.
"I don't think this battle is over," Kendrick said. "It isn't that it's a perfect answer, it's that this is all we have." With Rubio out of the race, Kendrick said she's now backing Ted Cruz, who has amassed the second-highest number of delegates after Trump.
At least three major political groups are funding the ad campaign: Club for Growth, American Future Fund, and Our Principles PAC. In all, these outside groups have disclosed spending $28 million on anti-Trump advertising, most of it in just the last couple of weeks, according to Federal Election Commission data.
Kendrick is one of the few donors who have been willing to publicly discuss their participation in the campaign; she said others have been concerned that Trump would try to intimidate them. Last month, Marlene Ricketts, a member of the Omaha family that founded TD Ameritrade and owns the Chicago Cubs, was revealed in FEC filings to have given $3 million to one of the groups. Trump swiftly took to Twitter to state that the Ricketts family "better be careful, they have a lot to hide!"
Kendrick, who wouldn't say how much she's donated, has had some pushback, too. "I've certainly had Republicans ask me, 'By doing this, aren't you harming the front-runner?' My answer is, do you think all this information isn't just waiting for the general election? Our own voters need to know this stuff."
Before it's here, it's on the Bloomberg Terminal.
LEARN MORE