Obama Assails 'Vulgar' 2016 Campaign as McConnell Cautions Trump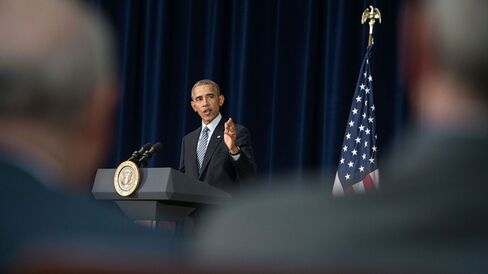 Campaign has become `race to the bottom,' president says

McConnell suggests Trump should discourage violence at rallies
President Barack Obama called the 2016 campaign a "race to the bottom," while Senate Majority Leader Mitch McConnell said on Tuesday he suggested to Republican front-runner Donald Trump that he discourage violence at his campaign rallies.
With Trump seeking a knockout victory in Tuesday's five-state primaries, both Obama and establishment Republicans are trying to calibrate their messages to an unpredictable candidate whose obstreperous rhetoric and rallies may be propelling him toward the Republican nomination.
"We have heard vulgar and divisive rhetoric aimed at women and minorities," Obama said Tuesday at a Friends of Ireland luncheon on Capitol Hill, in an apparent reference to Trump.
Trump has said that undocumented Mexican immigrants are "bringing drugs" and "bringing crime" to the U.S. and are "rapists," and he has proposed barring Muslims from immigrating to the country out of fear they may be terrorists. He has promised to pay his supporters' legal fees if they are charged with crimes as a result of confrontations with protesters.
Rally Violence
Trump's rallies have been marked by increasing violence between his supporters and protesters; a rally planned for Chicago over the weekend was canceled over security concerns.
Trump called McConnell on Tuesday morning, McConnell told reporters. McConnell said he suggested to Trump that "it would be a good idea" to discourage violence at his rallies "no matter who starts the fight." McConnell declined to describe Trump's response, saying only that they had a "good conversation."
White House Press Secretary Josh Earnest said Tuesday afternoon that McConnell's response illustrates a "tension" that Republicans will have to settle.
"What is true is that it is hard on the one hand to say that this kind of violence, or those political tactics, or that divisive rhetoric is worthy of condemnation and then on the other hand say that you believe that that man or woman is the best person to lead the United States of America," he said.
Trump has staunchly defended the people who attend his rallies, blaming any altercations on "disrupters."
"We have peaceful rallies," he said on Fox News Monday night. "And these people came in and, you know, every once in a while, we will have somebody stand up and use horrible language and sometimes even start to fight."
First Amendment
Footage of Trump security officials escorting or dragging out protesters has become a mainstay of his rallies. It's also prompted some questions about what role the U.S. Secret Service has played in handling protesters.
Joseph Clancy, the director of the Secret Service, told lawmakers Tuesday that agents assigned to campaigns are only concerned with protecting the candidate.
"If someone comes into the buffer zone, as we saw in Dayton, Ohio last weekend, we will respond to that," he said. "We do not interfere with people's First Amendment rights," adding that decisions about handling protesters are left to the campaign.
Secret Service agents rushed to the stage at a Trump event in Dayton after a protester approached the candidate.
The Trump campaign has weathered other controversies in recent days.
Trump has accused a former reporter for Breitbart News, Michelle Fields, of lying after she claimed that his campaign manager, Corey Lewandowski, manhandled her at an event last week. Fields resigned from Breitbart on Monday after she said the organization didn't back her against Trump and Lewandowski.
Obama has increasingly challenged Republicans to repudiate Trump's statements. On Tuesday, without mentioning the billionaire by name, he said the tone of the campaign threatened to tarnish the American brand. He cited strife in Northern Ireland as a cautionary example of the consequences of divisive rhetoric.
The president said Americans must ask themselves whether they have contributed to "vicious" and "corrosive" rhetoric by candidates, again without naming any of them.
Before it's here, it's on the Bloomberg Terminal.
LEARN MORE