Democratic Puerto Rico Debt Bills Give Pensions Preference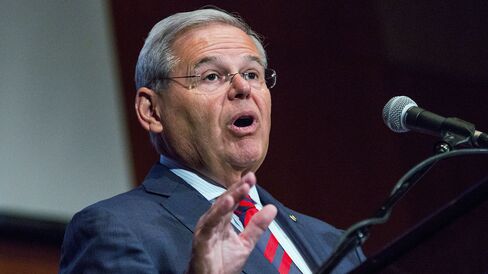 Package would grant broad restructuring authority, boost aid

Legislation comes as bipartisan talks have yet to yield deal
Senate Democrats, led by Robert Menendez of New Jersey, put out Monday their version of a plan to tackle Puerto Rico's growing debt crisis -- an ambitious, broad restructuring of the territory's debt coupled with billions in tax breaks and other aid.
The plan is almost certain to be rejected by House Republicans, who plan on releasing their own legislative proposal this month.
A pair of bills released by Menendez on Monday would give Puerto Rican pensions preference over bondholders, who would face a steep haircut in court.
The sweeping territory-wide restructuring authority proposed in the bills, which would apply to the full $70 billion of the territory's debt, will surely face resistance from debt-holders.
Fully funding pensions is no small matter; Puerto Rico's retirement system has about $46 billion in liabilities and about $2 billion in assets.
Senate Finance Chairman Orrin Hatch rejected the Democratic proposal late Monday.
"While I have yet to see the full legislative text of the proposals, from what I've read, Senate Democrats appear to want to move the goal posts on broad debt restructuring to favor public pensions and pair it with tens of billions of federal funds for Puerto Rico without any sense of where the funds come from," the Utah senator said in a statement. "While this may make for good sound bites, it does not seem to be a serious effort to help the people of Puerto Rico."
No Compromise
The Democratic release comes after months of bipartisan talks on Puerto Rico have yet to produce a compromise approach.
"For the 3.5 million American citizens living on the island of Puerto Rico, time is running short," Menendez said in a statement. "Congress has to act immediately to fix the federal funding shortfalls and give Puerto Rico the tools it needs to fully restructure its debt. That's why I'm introducing a comprehensive legislative package that provides critical health-care funding, individual tax incentives to encourage work in the formal economy, and a mechanism for territory-wide restructuring of the island's debts."
While the legislation would create a Financial Stability and Reform Board and a chief financial officer, Republicans have demanded the creation of a financial control board that would have much stronger authority, as well as other provisions to ensure that another debt crisis doesn't crop up in a few years.
Menendez's bill would extend the Earned Income Tax Credit and the Child Tax Credit to residents of the island, and bolster Medicare and Medicaid payments as well.
Puerto Rico would have to develop a five-year plan to be reviewed by the new board, but seven of the nine members financial board advising it would be chosen by Puerto Rico's legislature, governor and Supreme Court.
Puerto Rico Governor Alejandro Garcia Padilla said in a statement that the plan "will provide us with the requisite tools needed to not only stave off the worst effects of the crisis in the near term, but will allow us to stabilize our economy and build upon that foundation for a prosperous future."
Territory View
Pedro Pierluisi, Puerto Rico's non-voting member in Congress, responded that he remains "focused exclusively on the House side, where there is a process underway that will hopefully result in a bipartisan and balanced bill that can be enacted into law."
"As I have stated repeatedly, we are either going to have a successful bill that embodies a principled compromise between Republicans and Democrats, or an unsuccessful bill that goes nowhere -- which is the worst possible outcome for both Puerto Rico and its creditors," Pierluisi said in a statement provided by his office.
Treasury Department spokesman Daniel Watson said Monday in a statement that the department was "encouraged by the increased legislative activity in the House and the Senate," and that Congress must act urgently to allow Puerto Rico "to comprehensively restructure its financial liabilities paired with independent oversight that respects the commonwealth's autonomy."