Obama Says Libya Is a 'Mess' Due to Europe, Gulf Failure to Help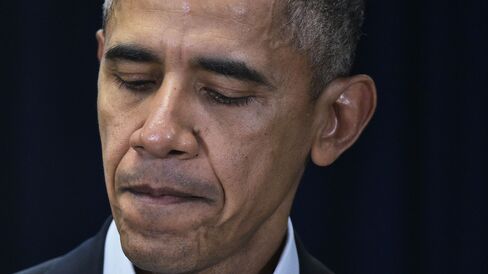 Libya involvement in 2011 `didn't work,' president says

Obama talks about foreign policy in interview with Atlantic
President Barack Obama said five years after the U.S. intervened in Libya to topple then-dictator Moammar Qaddafi and prevent a bloody civil war that the plan pushed by advisers including Hillary Clinton "didn't work" and Libya is now "a mess."
Obama, speaking in interviews with The Atlantic magazine published Thursday, blamed lack of support from European and Gulf allies and longstanding tribal divisions within Libya for the failure of the mission intended to stabilize the country and usher in a democratically elected government.
"When I go back and I ask myself what went wrong, there's room for criticism, because I had more faith in the Europeans -- given Libya's proximity -- being invested in the follow-up," Obama said.
The U.S. "actually executed this plan as well as I could have expected," Obama said. "We got a UN mandate, we built a coalition, it cost us $1 billion -- which, when it comes to military operations, is very cheap. We averted large-scale civilian casualties, we prevented what almost surely would have been a prolonged and bloody civil conflict."
"And despite all that, Libya is a mess," he said.
The 2011 military intervention in Libya ultimately "didn't work" and served as a cautionary tale for Obama later as he made decisions about how directly to involve the U.S. military in other Middle Eastern countries.
The U.S.-Libya conflict culminated with the September 2012 attack on the U.S. embassy in Benghazi that killed four Americans, including the ambassador. Clinton, who was then Obama's secretary of state and is now a Democratic candidate for president, has been dogged by criticism for her response to that attack and answered questions about it again Wednesday night in a debate sponsored by CNN and Univision.
Before it's here, it's on the Bloomberg Terminal.
LEARN MORE