Canada Shies Away From Lumber Pact as Obama and Trudeau Meet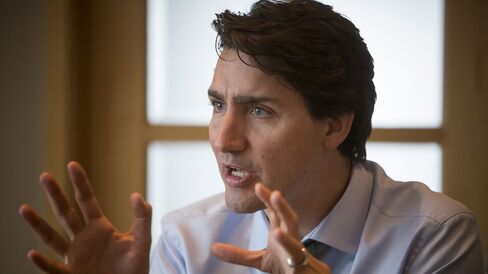 Trade minister hints government may let tariff freeze expire

`Fiendishly complicated' softwood dispute dates back to 1980s
The Canadian government is signaling it could test the waters of quota-free softwood lumber trade with the U.S., a move expected to reignite a dispute that simmered for decades.
Canada's trade minister wouldn't commit to reaching a deal before the U.S. is allowed to again place tariffs on Canadian softwood lumber. The previous softwood agreement, which included quotas and was struck in 2006, expired in October and a one-year tariff freeze expires this year.
"We are very aware of the importance of this industry to Canada," Trade Minister Chrystia Freeland said in a phone interview last week. "We are working hard to achieve an outcome which is going to be great for the forestry industry across the country. It is a fiendishly complicated issue."
Freeland's comments come as Prime Minister Justin Trudeau heads to the White House to meet with President Barack Obama on Thursday. Freeland and other ministers will join Trudeau, who is the first Canadian leader since 1997 to be afforded a state dinner in Washington.
The Obama administration left the door open this week to a new pact on softwood, and the U.S. industry has called on Canada to return to the table and engage in talks. The two countries have also been sparring over country-of-origin labeling rules and supercalendared paper tariffs.
U.S. Position
"We are open at this point to exploring all options with Canada," Mark Feierstein, the National Security Council's senior director for the western hemisphere, said in a conference call Tuesday. He added he wasn't "about to put any timelines" on reaching a new softwood lumber pact.
Pressed on whether Canada wants the current "standstill" period to expire without a new deal, Freeland said only the Trudeau government was "working really hard on it."
The softwood dispute dates back to 1982 and stems from an accusation by the U.S. producers that Canadian timber pricing on government land is artificially low, giving Canadian producers an advantage that should be met by tariffs on the U.S. side.
On Hold
Since the 2006 deal, negotiated under a previous government, expired in October the countries have been in a one-year hiatus period. Canada is no longer issuing quotas and exports are increasing, totaling 1.2 billion foot board measure last month, up from 1.1 billion in each of the previous three months.
The U.S. Lumber Coalition has called on Canada to return to the table and said that, if the standstill expires without a new agreement, the U.S. will need to impose new tariffs to offset what the group calls "the unfair advantages provided to Canadian industry."
Asked what it would mean if the Canadians let the standstill expire, coalition chairman Charlie Thomas said: "I hope they don't do that."
He referred further questions to executive director Zoltan van Heyningen, who replied with an e-mailed statement. The industry group is "supportive of government to government negotiations," van Heyningen said, and hopes talks "will yield an effective, mutually beneficial and sustainable trade agreement before the one year trade case standstill expires."
Before it's here, it's on the Bloomberg Terminal.
LEARN MORE