Biden Says 'We Will Act' If Iran Violates Nuclear Deal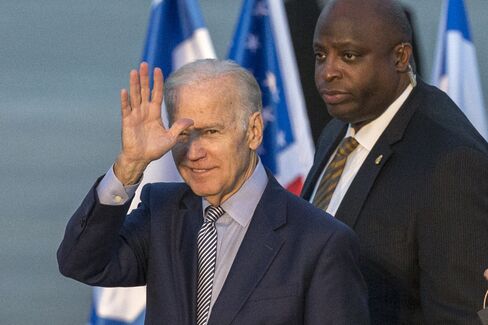 He's highest-ranking U.S. official to visit since pact signed

Criticizes `civilized leaders' for not denouncing terrorism
U.S. Vice President Joe Biden sought to reassure Israel about the Iran nuclear accord it vehemently opposed, saying Washington will take action if the deal is violated.
"I want to reiterate because I know people still doubt: If in fact they break the deal, we will act," Biden said in Jerusalem after a meeting with Israeli Prime Minister Benjamin Netanyahu.
The vice president is the highest-ranking U.S. official to visit Israel since the U.S.-led agreement was signed in July. Netanyahu's high-profile campaign against it deepened animosities between the two administrations, and Biden's expression of commitment to Israel's safety was meant to reset the tone.
His trip was marred by a string of Palestinian stabbing and shooting attacks in which Taylor Force, a graduate student and former U.S. soldier, was killed and more than a dozen Israelis were wounded. Force, 28, was a graduate of the United States Military Academy at West Point and served in Iraq and Afghanistan as an artillery officer, according to the State Department.
Peace Prospects
Biden visited in part to assess prospects for renewing Israeli-Palestinian peace talks, whose breakdown is seen by Palestinian leaders and some Israeli officials as fueling the past six months of violence. The death toll has climbed to more than 30 Israelis and several foreigners and about 190 Palestinians, most of them assailants.
Also on the agenda was discussion of Israel's request to increase the $3.1 billion in military aid it receives from the U.S. annually.
The wave of violence began shortly before Biden landed in Israel and continued Wednesday with a succession of attacks that left an Israeli man critically wounded, according to police. The vice president's visit "might have been a trigger," police said.
Biden said his wife and grandchildren were dining at a restaurant near the scene of the Tel Aviv stabbing rampage in which Force was killed Tuesday.
U.S. Condemnation
"The United States of America condemns these acts and condemns the failure to condemn these acts," he said. "This cannot become an accepted modus operandi. This cannot be viewed by civilized leaders as an appropriate way to behave."
Netanyahu criticized the silence of Palestinian President Mahmoud Abbas, denouncing his Fatah Party for praising "the murderer of this American citizen as a Palestinian martyr and a hero." Fatah hailed the three Palestinian assailants who were killed on its Twitter feed and Facebook page, calling them martyrs fighting Israel.
Abbas later offered condolences to Biden on Force's death, without specifically condemning the attack, during a nighttime meeting at the presidential office in Ramallah, according to an aide who read a statement from Abbas to reporters. Biden left after 90 minutes and the two made no public remarks.
Abbas told Biden that Israeli occupation and West Bank settlement are the reasons for the violence and bloodshed, according to the Palestinian statement.
Netanyahu Cancellation
"Terrorism must be fought in all its aspects," Abbas said. "Defeating it requires establishment of a Palestinian state."
The vice president's visit was clouded before his arrival over Netanyahu's cancellation of a proposed White House meeting on March 18. White House Press Secretary Josh Earnest expressed annoyance that U.S. officials learned from the media that Netanyahu wouldn't make the trip, rather than from the prime minister's office.
Netanyahu's administration chalked up the episode to a mix-up, saying its ambassador to Washington Ron Dermer had told the White House last week that the prime minister probably wouldn't go to Washington.
Before it's here, it's on the Bloomberg Terminal.
LEARN MORE