The Resistance
Anti-Trump Cash Floods Florida, Illinois Airwaves
Super-PACs and campaigns trying to keep the billionaire front-runner from winning the next midwestern primaries are dumping millions of dollars into negative ads against him.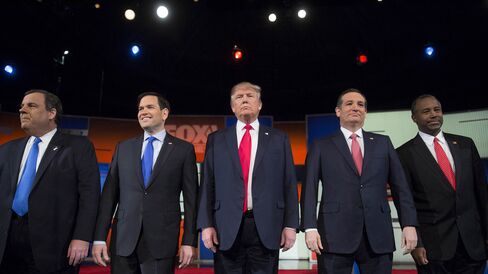 The fight for the Republican nomination for the White House is sending a torrent of cash into political ads in Florida and Illinois ahead the states' March 15 primaries.
Outside groups and campaigns have committed $9.2 million for ads in Florida for the seven-day period beginning March 8, according to estimates on Wednesday by Kantar Media's CMAG, which tracks political spending. Almost half of that—$4.3 million—comes from Conservative Solutions PAC, a group supporting Senator Marco Rubio's candidacy.
The spending underscores the do-or-die stakes for Rubio in Florida, his home state. Rubio trails Trump in recent polls there, and a loss could topple his candidacy, despite the broad support he's gained from the Republican establishment in recent weeks.
For the seven days prior to March 14, a total of about $22.8 million of TV- and radio-ad time has been ordered for Republican and Democrats in states with upcoming votes, according to CMAG.
In addition to Conservative Solutions, which also committed $1.4 million in Illinois, three outside groups opposing Trump are also spending heavily.
The American Future Fund is the second-biggest spender in Florida with an estimated $1.38 million in ads for the week before the primary, along with another $765,000 worth of spots in Illinois. An ad by the group began running Tuesday that featured a special forces commander blasting Trump: "All Donald Trump has served is himself."
Club for Growth is also running ads against Trump through its super-PAC. The group is slated to spend a total of $2.4 million in Florida and Illinois. Our Principles PAC, which has been paying for anti-Trump ads, is set to spend $1.4 million in commercials in the two states.
Trump is countering those efforts with an estimated $1.2 million of ads in Florida. As a candidate buying the ad time, he has more spending power than outside groups, which typically pay higher rates. CMAG didn't show any ads by Trump in Illinois this week.
In Ohio, Governor John Kasich also faces the test of whether he can beat Trump in his own state. His campaign is slated to spend about $428,000 on ads, and a pro-Kasich group called New Day for America is spending $668,000. Trump is buying an estimated $636,000 in spots. Kasich has said he will drop out of the race if he doesn't win in Ohio.
Senator Ted Cruz, a favorite among conservatives, is being outspent this week with only $546,000 committed so far, according to CMAG. He's focusing mostly on Missouri and North Carolina, which also hold votes on March 15.
Meanwhile, among Democrats, the biggest fight is in Illinois, where Senator Bernie Sanders is slated to spend $1.5 million and former Secretary of State Hillary Clinton will spend an estimated $1.2 million, according to CMAG. They're also spending roughly the same amount in Ohio where a total of $2.3 million has been committed.
In Missouri, Sanders is set to spend $905,000, almost twice as much as Clinton.
Before it's here, it's on the Bloomberg Terminal.
LEARN MORE