2016 Republicans
Marco Rubio Coasts to Victory in Puerto Rico's Republican Primary
Marco Rubio is projected to post an easy victory in Puerto Rico's Republican presidential primary, the second nominating contest win for the Florida senator struggling to keep pace with billionaire real estate mogul Donald Trump and Texas Senator Ted Cruz.
With about 72 percent of the vote counted, Rubio, who was born in Miami to Cuban immigrant parents, had support from 74 percent of voters. That put him ahead of Trump with 14 percent and Cruz with 9 percent, according to tallies reported by CNN.
If that margin is sustained, Rubio would top the 50-percent threshold needed to win all 23 of Puerto Rico's delegates. It would still leave him a distant third in his party's delegate chase. Rubio's previous victory was in Minnesota on March 1. He's under pressure from opponents to drop out of the White House race if he fails to win the Florida primary on March. 15.
Sunday's election was the only chance Republicans on the island, a U.S. territory, will have to officially register an opinion on the presidential race; Puerto Rico voters aren't eligible to vote in the Nov. 8 general election. The Democratic primary will be June 5.
Rubio made a last-minute visit to the Caribbean island a day before the election. He campaigned in San Juan, the capital, where he delivered his stump speech in Spanish.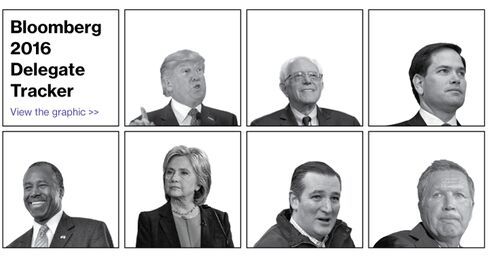 Before it's here, it's on the Bloomberg Terminal.
LEARN MORE