Cruz Seeks Trump Showdown With Bid to Knock Out Rubio in Florida
Third-place Texan playing spoiler in winner-takes-all state

The strategy: weaken Rubio by denying him a home-turf win
Ted Cruz is campaigning aggressively to deny Marco Rubio any chance of a home state win in Florida's Republican primary, in the hopes of knocking his rival out of the race so the Texan is left as the party's sole challenger to billionaire Donald Trump.
Cruz's associates said that the strategy could mean Cruz ends up playing the spoiler in a state where he's polling in distant third place, ultimately set up a one-on-one showdown with Trump for the Republican nomination.
The campaign is doing what it sees as necessary to turn the Republican contest into a two-man race, said a senior adviser to Cruz who requested anonymity to speak candidly. That hardball approach includes trying to erode support for opponents such as Rubio, a first-term senator from Florida.
The campaign is doing what they feel is necessary to turn the Republican contest into a two-man race, said a senior adviser to the Texas senator who requested anonymity to speak candidly. That hardball approach includes boosting Cruz's position by increasing his support, and by decreasing prospects for opponents such as Rubio.
The 2012 Republican nominee Mitt Romney this week urged Florida voters to back Rubio in the state's March 15 primary and those in Ohio to produce a win for Governor John Kasich on the same day. That would be part of a strategy aimed at denying Trump, unpopular with the Republican establishment, a majority of delegates and setting up a contested party convention in Cleveland.
Trump In Lead
Rubio needs Florida to keep his campaign viable after winning just a single state, Minnesota, out of 15 contests so far.. At last look Trump was up by almost 19 points over the first-term senator, 45.7 percent to 26 percent, according to a Real Clear Politics average of recent polls. Cruz was third with 12 percent support.
If Cruz and Kasich, with combined support of about 20 percent, backed down in the Sunshine State, it may be enough to put Rubio over the top in the winner-take-all state that will award 99 delegates at its March 15 primary.
Speaking on Saturday at the CPAC conference in National Harbor, Maryland, Rubio predicted victory in Florida while playing down the importance of the state's primary:
"I've never based my campaign on one single state but I can tell you this: we will win the state of Florida," Rubio said. "I have experience at beating people who don't say who they truly are. I have experience at beating people who portray themselves to be one thing but are actually something else, and you're going to find that out."
'Serious Commitment'
Cruz, whose wife and father have campaigned in Florida this month, announced on Friday that he was opening 10 offices as part of a "serious commitment" to the state.
"In order to defeat Donald Trump, we've got to come together," Cruz said Friday night in Mandeville, Louisiana. "If the field remains divided, then he can hope to win winner-take-all states with a plurality of 35 percent. Head to head, we not only beat Donald Trump, we beat him resoundingly."
Most states that have voted so far, including Texas, have awarded delegates proportionately using formulas based on winners in each congressional district. Cruz won his home state in a 17-point romp and picked up 55 more delegates there than Trump, but Florida's all-or-nothing prize is more consequential in the race to the 1,237 delegates needed to win the nomination.
One-On-One Race
Kevin Wagner, political science professor at Florida Atlantic University in Boca Raton, said Cruz's strategy also could help him in a general election, where Florida is the most-populous swing state.
"Either Cruz has some internal polling showing that he has a chance of winning here, or he's trying to deny Rubio enough votes to keep him from winning, to get to that one-on-one race against Trump," Wagner said. "Cruz won't say it himself, but he wants the media to say that he won his home state and Rubio didn't, so it should be Rubio who gets out of the race."
Even as Cruz campaigned in Maine, Louisiana and Kansas ahead of their Saturday nominating contests, his campaign surrogates have held potlucks to gather volunteers to make calls and knock on doors.
"Florida is obviously the home state to one of my competitors, Marco Rubio, he's a favorite son," Ted Cruz said Friday night. "Donald Trump is formidable just about everywhere. I would note that any candidate who can't win his own state, that's a real problem."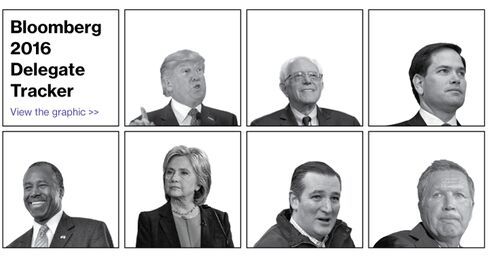 Before it's here, it's on the Bloomberg Terminal.
LEARN MORE