Obama Would Consider GOP Suggestions for Court, Reid Says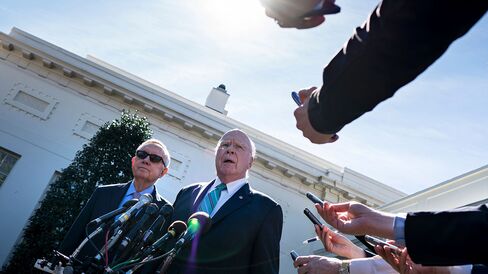 Senate Democratic leader meets with Obama, Mitch McConnell

Republican McConnell has vowed to obstruct any Obama nominee
President Barack Obama told Senate Majority Leader Mitch McConnell that he'd "seriously consider" anyone Republicans suggested to replace Supreme Court Justice Antonin Scalia, said Harry Reid, the Senate Democratic leader, after a White House meeting on Tuesday.
McConnell, of Kentucky, and the Senate Judiciary chairman, Republican Chuck Grassley of Iowa, offered no names, Reid said. Instead, they were "adamant" that they wouldn't consider any Obama nominee, he said.
"Never in the history of the country has anything like this happened, where they won't meet with the person, they simply won't hold hearings," Reid said to reporters after the Oval Office meeting.
"They're going to wait and see what President Trump will do, I guess, as far as a nomination," Reid added, referring to the front-runner for the Republican presidential nomination, Donald Trump.
The struggle over the Supreme Court vacancy, which would tip the balance of power on a court in which remaining members are divided evenly between liberals and conservatives, is shaping up as Washington's biggest battle of the year, played out against the backdrop of a presidential election.
"The president's view of the situation is that any president has a responsibility to consult intensively with Congress before making a nomination to a lifetime appointment on the Supreme Court," White House Press Secretary Josh Earnest told reporters after the meeting. "The president felt it was important, even in an election year, to continue that consultation."
'Biden Rules'
McConnell and Republican members of the Senate Judiciary Committee, which handles Supreme Court nominations, have said they won't consider anyone Obama names to the court and instead will wait until after a new president is elected and submits a nominee.
"This vacancy will not be filled this year," McConnell told reporters on Capitol Hill Tuesday after the meeting.
Grassley and McConnell have adopted as their top defense of the strategy a 1992 speech by Vice President Joe Biden, delivered when he was chairman of the Senate Judiciary Committee, in which he said President George H.W. Bush should wait until after that year's election to name a nominee for a hypothetical Supreme Court vacancy. Arkansas Governor Bill Clinton, a Democrat, defeated Bush for re-election that year.
Grassley and McConnell have coined their obstruction of Obama's nominee the "Biden rules." Biden said in a Feb. 22 statement that the Republicans' interpretation of his remarks are not "an accurate description of my views" and that in the speech he urged the Senate and White House to work together to "ensure the court functions."
Biden attended the White House meeting on Tuesday and read his 1992 speech aloud, Reid said. "If you look at how he concluded his speech, he said no nominee should be held up," Reid said.
'Crystal Clear'
Obama has said he will name a replacement for Scalia, and Democrats and liberal allies of the White House are gearing up to raise political pressure on Republican senators to allow a hearing and vote on Obama's choice.
Obama invited Senate leaders from both parties to the White House on Tuesday to consult on a nominee, following a tradition that in this case seems moot.
McConnell met with House Republicans Tuesday morning before going to the White House, and told them that he would continue to obstruct any Obama nominee, "making it crystal clear that it would be the next president" who makes the choice, Republican Representative Tom Cole of Oklahoma said in an interview.
As the congressional leaders posed with Obama in the Oval Office at the start of the meeting, a reporter asked if anyone in the room would listen to the other side. The lawmakers responded with silence.
Obama said, "Thanks, guys," and reporters were ushered out.
Before it's here, it's on the Bloomberg Terminal.
LEARN MORE