Trump Says Judge in University Case Biased Because He's Hispanic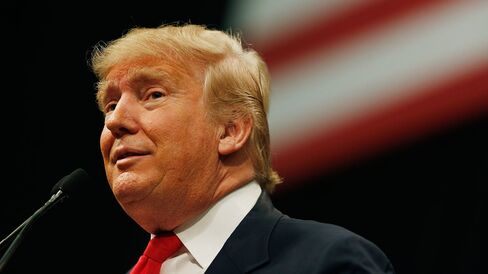 Presidential candidate says Mexico comments caused hostility

Trump says school had high ratings from its students
Republican presidential front-runner Donald Trump accused the judge overseeing a case filed by former students of his namesake university of being biased against him because of his comments about illegal immigrants and Mexico.
"I think it has to do with perhaps the fact that I'm very, very strong on the border," Trump said on Fox News Sunday. "Now he is Hispanic, I believe. He is a very hostile judge to me."
Trump has pledged to build a wall between the U.S. and Mexico and has called undocumented Mexican immigrants "rapists." U.S. District Judge Gonzalo Curiel in San Diego is presiding over a lawsuit filed against Trump University by former students who allege it didn't deliver on advertised promises such as professors chosen by Trump.
QuickTake How the U.S. Elects Its Presidents
Curiel, who has been a U.S. judge since 2012 and was nominated by President Barack Obama, didn't immediately respond to phone and e-mail messages to his courtroom Sunday seeking comment on Trump's assertion.
Florida Senator Marco Rubio and other rivals of Trump, who has won three of the four Republican presidential nominating contests this year, have stepped up their attacks over the lawsuit ahead of the March 1 Super Tuesday votes. The primaries and caucuses will award up to half of the delegates needed to win the GOP nomination.
Plaintiff Reluctance
Earlier, the university told a judge that one of the former students claiming they were duped into paying as much as $35,000 for real-estate seminars shouldn't be allowed to bow out as a trial approaches.
Tarla Makaeff has said the case has become too stressful and that she fears retaliation from the Republican presidential front-runner, who according to her filing has threatened to sue the plaintiffs' lawyers. Trump University said in a court filing Friday that letting her quit would be unfair because she has been a critical witness and its defense is built on her statements.
"Litigation is hard," the university's lawyers said in a filing in San Diego federal court. "Makaeff brought this lawsuit, allowed herself to become the public poster child for it, and should be required to finish what she started."
Makaeff is one of four named plaintiffs, two from California and one each from Florida and New York, in a case that could put the real-estate billionaire on trial during his bid for the presidency.
Trump said Sunday that he could have settled the case but chose not to because he will win. "I believe in winning cases," he said on Fox.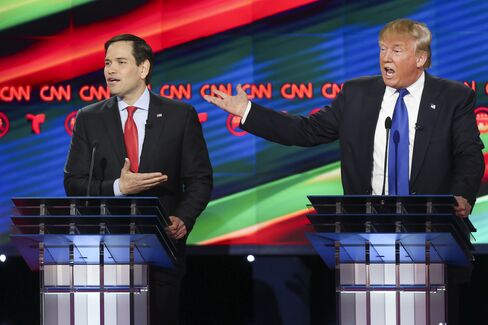 Threats Cited
The group of former students who sued in 2010 said they were cheated when they paid for real-estate seminars to receive "one-on-one mentorship, practical and fail-safe real estate techniques, a 'power team' consisting of real estate agents, lenders, personal finance managers, property managers and contractors."
Trump defended the school on Sunday.
"Many of them we were handpicked, and I handpicked top people, and the people I think did a good job and they ran a good school," Trump said. He said 98 percent of students "approved the courses, they thought they were terrific."
Makaeff said in a court filing that her withdrawal as a class representative shouldn't affect the case going forward. Makaeff already won a judgment of about $800,000 against Trump University when a counterclaim for defamation was thrown out, her lawyers have said.
Trump threatened plaintiffs' counsel twice at his deposition in the case. "I think the lawsuit is trying to hurt the brand and I honestly look forward to winning this case and suing your law firm for as much as we can sue them for, and we will be doing that," he said.
Trump University's lawyers said in Friday's filing that Makaeff had praised the school before she had a financial incentive to change her story.
"Makaeff's testimony, motives, and lack of credibility are all extremely damaging to plaintiffs' case, and there is no basis whatsoever to insulate her from trial," Trump University said in the filing, which includes portions that have been blacked out.
Rachel Jensen, a lawyer for the former students, declined to comment on Trump University's filing.
A hearing on Makaeff's request to step down as a lead plaintiff is set for March 11. A final pretrial hearing is scheduled for May 6.
The case is Makaeff v. Trump University LLC, 10-cv-00940, U.S. District Court, Southern District of California (San Diego).
Before it's here, it's on the Bloomberg Terminal.
LEARN MORE