Puerto Rico's Mass Migration at Play in 2016 Race for Florida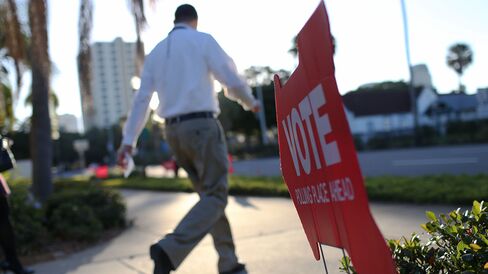 The Koch brothers zero in on critical swing voters in Orlando

Opponents of hedge funds see leverage in criticizing greed
Puerto Ricans fleeing to Florida to avoid the island's $70 billion debt crisis have become fiercely pursued prizes in the nation's biggest presidential swing state.
This month, Democrat Hillary Clinton opened a campaign office in the heart of central Florida's Interstate 4 corridor, which is the axis of migration from the U.S. territory. Republican Marco Rubio is planning to open an Orlando office in the coming weeks. Donald Trump unleashed a small army of volunteers last week that handed out thousands of bumper stickers and lawn signs there.
Puerto Ricans in Florida, who as citizens can vote in the March 15 primary and general election, are so coveted that a group backed by conservative billionaires Charles and David Koch is setting up shop in San Juan to reach them before they even set foot on a plane to Florida. Republican National Committee workers will visit voter-registration events in Tampa led by a prominent Puerto Rican evangelical leader. Unions and anti-Wall Street groups are sending canvassers.
"The epitome of swing votes are Puerto Rican voters in the I-4 corridor," said Christina Hernandez, an Orlando consultant who has worked for the campaigns of Clinton and Barack Obama. "These are the most swing voters, in the most swing areas of the most swing state of the entire country."
Up For Grabs
More than 1 million Puerto Ricans live in Florida -- double the number in 2000 and almost equal to the number of Cubans. Since 2008, more than a quarter million have moved to the mainland as financial turmoil drove them into exile. A third have settled in Florida, a presidential prize whose 29 electoral votes are often won by a hair's breadth.
Interstate 4 snakes 132 miles (212 kilometers) northeast from Tampa to the sands of Daytona Beach. Along the route lie six counties where thousands of Puerto Ricans arrive every month, taking advantage of plentiful jobs -- many at Disney World -- and a growing number of shops selling pan sobao and mofongo.
While Puerto Ricans are largely Democrats, a growing number are independent, said Mark Lopez, director of Hispanic research at the Pew Research Center. Unaffiliated Hispanic voters in the corridor increased 16 percent since 2012, compared with a 9 percent increase in total Hispanic registrations, according to state figures.
"I've spent a lot of time in that community the last two years," said Lieutenant Governor Carlos Lopez-Cantera, a Republican. "They are supportive of the issues we are pushing here in Florida, for instance: jobs. They want to make sure that they have a job and that their children can have a job. They want to make sure their kids get a great education."
Puerto Rico, ceded to the U.S. in 1898 after a war with Spain, has a special tax status that dates to 1917, with bonds exempt from all local, state and federal taxes. That made it easy to double its debt in 10 years to plug deficits and pay for operating expenses. Hedge funds own large shares of the debt.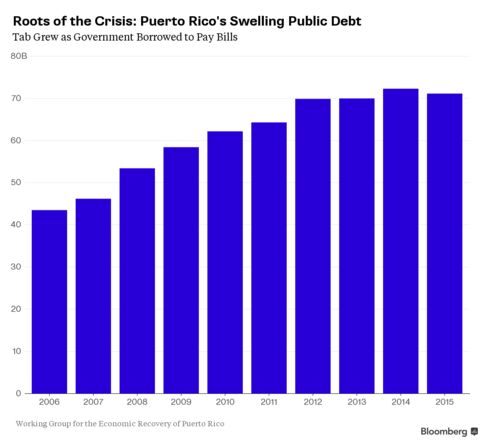 Last year, Governor Alejandro Garcia Padilla, a Democrat like five of his six immediate predecessors, acknowledged that the island was in a "death spiral" and couldn't pay. More than 100 schools have closed and thousands of public employees have been laid off. Members of the professional class are leaving in droves.
"It's an easy story," said Bertica Cabrera Morris, a Republican consultant in Orlando. "You left Puerto Rico, your island paradise, to come here and now you're going to support the party that screwed you?"
Candidates are capitalizing.
Rubio, a Florida senator, has deep ties to the community, having visited churches dating to his 2010 campaign and pushed for war veterans called the Borinqueneers to receive the Congressional Gold Medal. Trump's campaign, in addition to canvassing, may buy ads on WONQ, a Spanish-language radio station in central Florida, according to Raymond Gonzalez, its local sales manager.
Quiet Competition
Democrats aren't letting their base go easily. In 2011, Obama became the first sitting president since John F. Kennedy to pay an official visit to the island, earning him a life-size bronze statue in San Juan. Hillary Clinton, who won the island's 2008 Democratic primary, visited in September. She secured the endorsement of Puerto Rican superstar Ricky Martin three months later.
"Holding the future of Puerto Rico hostage to maximize profits for a group of hedge funds isn't who we are as a nation," Clinton said in a statement two days before the ribbon-cutting for her Orlando office in February.
For his part, Sanders "has done a lot to reach out to Puerto Rican voters, including a committee hearing earlier this year on the debt issue, to trying to take on the vultures on Wall Street," said spokesman Michael Briggs.
Josany Cordero, a mother of three who lives in Bayamón, Puerto Rico, is considering moving to Florida this year. She says she would register as an independent and vote for Clinton.
"I know this person will be good for the United States and help Puerto Rico," said Cordero, 42, from her aunt's Kissimmee restaurant, Puerto Rico's Café, where she is temporarily working.
The fight for the Puerto Rican vote has been going on quietly for years. In 2012, the Koch-backed Libre Initiative, a tax-exempt organization that received more than $10 million in contributions and grants in fiscal 2013, opened an Orlando office offering prayer breakfasts, English-language classes and discussions about how free markets and evangelical faith reflect Puerto Rican values.
This year, Libre has increased its staff to five and is opening shop in Tampa. Next month, it will make its first foray onto the island, hosting a booth at an exposition targeting islanders headed to Florida.
The American Principles Project, a group backed by hedge-fund president Sean Fieler that advocates the gold standard, traditional marriage and religious liberty, is also going after Puerto Ricans with its Latino Partnership. Its president, Alfonso Aguilar, is cultivating relationships with key Puerto Rican figures in the evangelical community, appearing on Spanish-language radio shows and writing opinion pieces in Puerto Rico's main newspaper, El Nuevo Dia, which is read widely in Florida.
"What we're trying to do is respond to this narrative from Democrats that Republicans don't care about Puerto Rico," said Aguilar, an island native.
A New York-based group called Hedge Clippers, funded by labor unions, say financiers are squeezing ordinary Puerto Ricans. In January, Hedge Clippers began polling Puerto Ricans in central Florida to understand how they tied the financial crisis to politics.
"Could we have a big impact on the election?" said Julio Lopez Varona, an organizer based in Connecticut who moved to the mainland from Puerto Rico seven years ago. "Could we start saying that corporate greed is bad, look what it's done to Puerto Rico and make this issue one for the elections?"
The candidate who succeeds could take a state that supported the winner in each of the past five presidential contests.
Before it's here, it's on the Bloomberg Terminal.
LEARN MORE