Billionaire Cooperman Gave $1,000 to Confront Clinton on 'Class Hatred'
His plan -- the latest sign of a backlash among the country's billionaires over populist rhetoric aimed at the rich -- fell through.
The hedge-fund billionaire Leon Cooperman, no fan of Hillary Clinton's, forked over $1,000 to her campaign last month for a chance to accuse the Democratic presidential front-runner in person of stoking hatred of the rich.
Cooperman says he hatched the plan when a neighbor at the exclusive St. Andrews Country Club in Boca Raton, Florida, asked the 72-year-old stock picker to attend a Clinton fundraiser.
"I said I would go under one condition -- I get to ask a question that's been disturbing me," the founder of Omega Advisors said in an interview. "Why does she feel the need to indiscriminately criticize wealthy people?"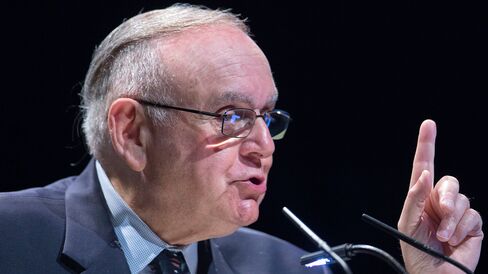 The plan fell through -- Clinton didn't end up attending the Feb. 15 event, and Cooperman got a refund. But it's the latest sign of a backlash among the country's billionaires over populist rhetoric aimed at the rich.
With Bernie Sanders' insurgent campaign for the Democratic nomination centered on blaming Wall Street for creating a "rigged'' economy and hammering Clinton for her ties to big banks, the former secretary of state has been adopting some of her challenger's postures. She's targeted pay for hedge fund managers and corporate executives and told audiences "the deck is stacked in favor of those already at the top."
Cooperman emerged as something of a spokesman for the wealthy in 2011, the same year protesters at Occupy Wall Street harnessed populist anger and added "the 1 percent" to the nation's political lexicon. In a letter that was widely circulated in the financial community, Cooperman accused President Barack Obama of engaging in "class warfare."
A self-made billionaire and former Goldman Sachs partner who grew up in the South Bronx, Cooperman said he's not motivated by greed and has already pledged to give his fortune to charity. So, he would have asked Clinton, why are people like him being demonized? "When I listen to you and your opponent Mr. Sanders talk, you constantly bash wealthy people indiscriminately, without regard to how hard they worked to get there,'' he said he would have told her. ``You are pandering, trying to play the class hatred card. You are basically denying the American dream."
Cooperman said his neighbor at St. Andrews, a gated golf community whose website offers "World-Class Everything," liked the question and agreed he could attend. (He wouldn't identify the neighbor.) But the confrontation was not to be.
Three days before her scheduled appearance, Clinton notified her supporters she was skipping Florida to focus on campaigning in Nevada. Her husband, former President Bill Clinton, took her place. In response, Cooperman asked via e-mail for a refund of his $1,000 check, according to a copy of the e-mail provided by the Clinton campaign.
Cooperman doesn't dispute that account, but said he had the impression that the campaign offered to refund the money after it figured out that he doesn't support Clinton and that he planned to confront her.
"Hillary Clinton is committed to making sure we have an economy that works for all Americans and not just those at the top," a campaign spokesman, Josh Schwerin, said in an e-mail. "That's why she believes that the measure of our success must be defined by how much incomes rise for hardworking families, not just CEOs and money managers."
While some of his fellow billionaires are writing checks of $1 million or more for their favorite presidential candidates, Cooperman said he prefers to give his money to charity, including a program offering scholarships for up to 500 promising New Jersey college students. He sent $2,700 to Jeb Bush's presidential campaign last year, and $2,000 to Marco Rubio's in December. His one foray into big spending was in 2012, when he says he cut a check to an outside group supporting Mitt Romney's campaign against Obama.
"I got a tie in return. A beautiful tie," Cooperman said. "The next day, I stained it."
Before it's here, it's on the Bloomberg Terminal.
LEARN MORE