Congress Grasps for Puerto Rico Rescue as House's Deadline Nears
Obama administration official to appear before House panel

House Speaker Paul Ryan wants plan to emerge by March 31
With little over a month before a Congressional deadline to forge a rescue for Puerto Rico, House Republicans are headed into the last round of hearings into how to pull the Caribbean island out of its debt crisis.
The House Natural Resources Committee, which has jurisdiction over U.S. territories, is set Thursday to hold its third and probably last hearing on Puerto Rico, while a separate panel will discuss its impact on the bond market. Republicans have focused on potentially imposing federal oversight on the island, which has been pushed to the brink by years of runaway borrowing. In exchange for such authority, Democrats have insisted on giving Puerto Rico legal powers to cut its debt, a step that's been met with skepticism by Republicans who control the House and the Senate.
"The only way the legislation will happen is if it does both, the oversight and restructuring, " said Pedro Pierluisi, a Democrat who represents Puerto Rico in Congress. "I don't see any kind of support for a board without, at the very least, a meaningful restructuring mechanism. If that's not included, it's not going to become law."
The legislative push promises to give the federal government a more central role in a crisis that's been steadily escalating since Governor Alejandro Garcia Padilla in June said the government can't afford to pay its $70 billion of debt. Puerto Rico has already defaulted on some securities and has warned that it may declare a moratorium on debt payments as soon as May if it no solution is found.
After island officials failed in a last-minute push to have rescue measures added to the federal spending bill in December, House Speaker Paul Ryan directed Republican committee chiefs to come up with a plan by the end of March to address Puerto Rico's strains.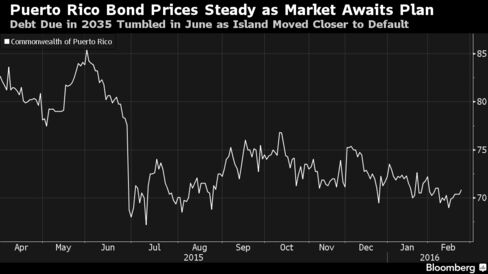 President Barack Obama's administration has suggested giving the commonwealth broad powers to have its debts written down in federal court, just as local governments can, in an effort to allow for an orderly restructuring. It has also proposed eliminating limits on Puerto Rico's access to health-care funding, imposing federal oversight and taking other steps to revive an economy that's been shrinking for years as residents leave for jobs elsewhere.
Treasury Counselor Antonio Weiss will make the case for the administration's plans at Thursday's hearing by the Natural Resources committee.
Separately, the House Financial Services committee's oversight and investigations panel will hold a hearing into Puerto Rico's crisis and its impact on financial markets. Garcia Padilla met ahead of the hearing with Representative Sean Duffy, the Republican who heads that subcommittee and has introduced a bill that allows for bankruptcy.
"The meeting allowed the chief executive to emphasize the need for a comprehensive restructuring scheme to address the situation of the island," the governor's office said in a statement Wednesday.
Cutting Deals
Without the ability to file for Chapter 9 bankruptcy, Puerto Rico is facing potentially drawn out negotiations and court battles with its creditors. This month, Garcia Padilla proposed seeking to cut $22.7 billion from the government's tax-backed debt by persuading investors to exchange their bonds for new securities.
The Puerto Rico government-run electric company in December struck a restructuring deal with creditors after more than a year of negotiations, though the agreement could still fall apart. That ability to reach such an accord may undermine the case for extending bankruptcy powers to Puerto Rico, a step that some Republicans say isn't fair to investors who bought their securities with the assurance that the debt couldn't be discharged by a judge.
"Much of the debt restructuring proposed by the Administration may occur through consensual agreements between the creditors and Puerto Rico, if a strong, independent oversight authority exists to advocate for the development of such voluntary agreements," Rob Bishop, chairman of natural resources panel, said in a memo ahead of the hearing.
The bankruptcy legislation that's been introduced in Congress would be limited to Puerto Rico's government-run corporations, such as the power company or its highway authority, not the central government itself.
In the Senate, Republican Orrin Hatch, the chairman of the finance committee, has said his new bill could include restructuring authority. The one he put out last year didn't have such measures and was criticized by Pierluisi for giving too much power to a federal "mega-board on steroids."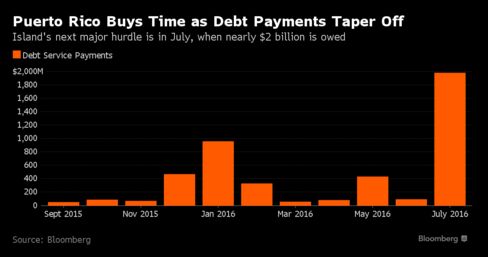 The Congressional debate comes as the island bides time before the next round of debt payments are due. Puerto Rico's Government Development Bank owes investors $422 million in May. The commonwealth and its agencies owe $2 billion on July 1.
Before it's here, it's on the Bloomberg Terminal.
LEARN MORE