Sanders, Clinton Court Black Voters in South Carolina Town Hall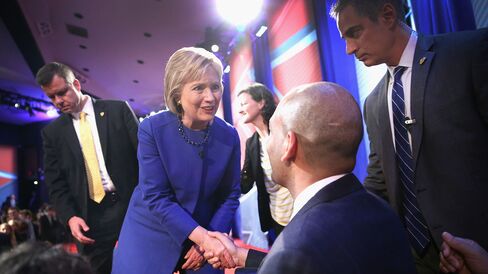 With primary on Saturday, candidates give closing arguments

Black voters make up about half of Democratic electorate
Bernie Sanders and Hillary Clinton made direct appeals to African-American voters Tuesday, with Sanders defending President Barack Obama against Republican attacks, days before South Carolina's Democratic presidential primary.
The two candidates appeared separately in a CNN town hall forum covering topics including foreign policy, the Supreme Court and gun control. Neither staked out new positions. Both supported Obama's proposal, released earlier Tuesday, to close the military prison at Guantanamo Bay, Cuba, and move the detainees captured in the war on terrorism to a facility in the U.S.
Sanders, whose main campaign theme has been decrying the influence of the wealthiest Americans, praised billionaire Microsoft Corp. co-founder Bill Gates for his philanthropy. In turn, he condemned the efforts by the billionaire Koch brothers, Charles and David, to influence elections.
"This is not some kind of personal vendetta" against billionaires, he said.
Clinton faced questions about her paid speeches before groups of bankers, an issue that has been repeatedly raised by Sanders. She said she'd release transcripts of the speeches she's given but only if all the Republican presidential candidates do the same.
Questions on Race
Black voters comprise about half of the state's Democratic vote, which is why both candidates sought their support. Sanders is running more than 20 points behind Clinton in many polls in the state, largely because of a deficit with black voters.
Sanders said when he began his campaign in South Carolina, "My message wasn't resonating with anybody. Nobody knew who I was" while Clinton is one of the best-known people in the world. "Our support has grown and it has grown in the African-American community," he said, and predicted it would grow more as blacks learned more about his advocacy for economic equality and calls to overhaul the criminal justice system.
Asked to identify a past Supreme Court Justice he admired, Sanders chose the late Thurgood Marshall, the first black justice on the high court, calling him "damn good." The Vermont senator also said that the movement that questioned Obama's country of birth because his father was from Kenya was "a racist effort to try to delegitimize the president of the United States." Sanders said while his own father also was an immigrant, "Nobody has asked for my birth certificate; maybe it's the color of my skin, I don't know."
A young black woman who said she'd been treated differently when she started wearing her hair "natural" asked Clinton how she'd fix broken race relations. The former secretary of state said white Americans need to be more sensitive to the possibility their experiences sometimes "may not equip us to understand" challenges blacks experience. Clinton, who for years has gotten unsolicited critiques over her own hair, also told the woman, "You have the right to wear your hair any way you want to," and that she spoke as "as somebody who has had a lot of different hairstyles."
A relative of one of the victims of last year's shooting at a black church in Charleston asked Sanders whether he would allow people to openly carry guns in houses of worship or let teachers and staff carry guns at schools. Sanders said while he would not be comfortable with that, those were often state issues. At the federal level, he said politicians must do all possible to "expand and improve" instant background checks on gun purchases.
Before it's here, it's on the Bloomberg Terminal.
LEARN MORE