Clinton, Sanders Pledge Action on Immigration in Nevada Bid
Democrats address Nevada voters at televised town hall

Poll shows closer race after early Clinton advantage
Hillary Clinton and Bernie Sanders courted Nevada Democrats by vowing quick action on immigration if elected to the White House and promising to use executive action if lawmakers balk.
The two candidates, given a forum to reach voters statewide before Saturday's Democratic caucuses, focused on stagnant middle-class incomes, the Supreme Court and immigration, a prime topic in a state where Hispanics comprise about 28 percent of the population.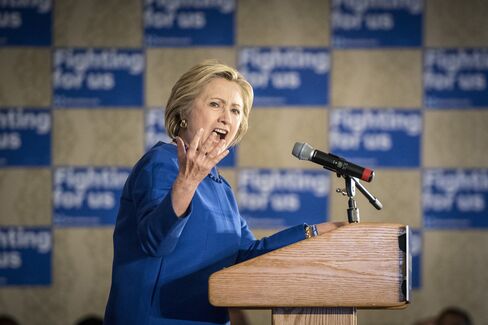 Clinton said that within her first 100 days in office she would work with Democrats in Congress to get an immigration overhaul moving and that she would have legislation prepared during the general election campaign.
"That's why I want to get this nomination as quickly as possible," she said at a town hall event Thursday aired by MSNBC and Spanish-language broadcaster Telemundo.
Defending his vote against a 2007 immigration overhaul bill, Sanders said the guest-worker program that was part of the measure would be bad for immigrants and was "particularly egregious."
He vowed to make changes in immigration policy a top priority if elected, using executive power "as much as we can" if Congress doesn't act.
Wider Audience
In back-to-back appearances on the stage in Las Vegas, Clinton and Sanders largely restated the positions that they deliver in the speeches they've been making around the country. But the town hall was their last opportunity to address a broader audience in Nevada before the caucuses, the third contest in the Democratic nomination race.
Both also were asked to weigh in on Apple Inc.'s resistance to a court order sought by the Justice Department that would force the company to break into the iPhone of one of the shooters in the terrorist attack in San Bernardino, California.
Neither had a solution. They said the government and the technology industry must find common ground on how to investigate or prevent crimes and terrorism while also protecting privacy and civil liberties.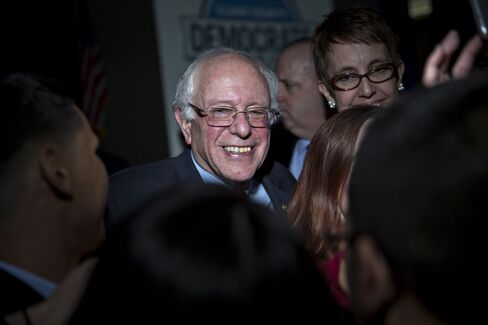 Sanders said both sides have a point in what is "a very complicated issue." While fearful of government intrusions on civil rights and privacy, "I also worry about is the possibility of another terrorist attack against our country."
"I think there is a middle ground that can be reached," he said, without indicated what that compromise might be.
'Difficult Dilemma'
Clinton called the situation a "difficult dilemma," with law enforcement having every reason to want information from a terrorist's mobile phone and Apple "worried about opening the door" to requests from the Chinese, Russians and other foreign governments.
"I see both sides, and I think most citizens see both sides," Clinton said.
Saying she's not "a tech expert," Clinton said government and technology companies have to work together to find a solution.
The audience of about 350 people had supporters of both candidates. Clinton drew some boos when she questioned Sanders's status as a Democrat when asked about criticism that he's leveled at her husband, former President Bill Clinton. She said Sanders has also criticized President Barack Obama, who remains broadly popular among Democrats.
"Senator Sanders wasn't really a Democrat until he decided to run for president," Clinton said.
Sanders serves in the Senate as an independent who caucuses with Democrats. He's described himself as a democratic socialist.
Early Advantage
Sanders is seeking to overcome Clinton's early advantage in Nevada as the Democratic front-runner. The former secretary of state started her campaign and organizing in the Silver State months before Sanders, and she has secured most of the endorsements of elected officials and political leaders.
The Vermont senator ramped up his Nevada campaign starting in October, opening 12 offices across the state and investing millions of dollars in television and radio ads. Buoyed by his narrow loss to Clinton in the Iowa caucuses on Feb. 1 and his victory by more than 22 percentage points in the New Hampshire primary on Feb. 9, Sanders is hoping to break what the Clinton campaign has said would be a firewall heading into contests in South Carolina on Feb. 27 and in other states where she is favored on Super Tuesday, March 1.
There's been very little polling in Nevada, though a survey by CNN/ORC International released on Wednesday shows Sanders and Clinton essentially tied. However, the poll of 282 likely Nevada Democratic caucus-goers had a margin of error of plus or minus 6 percentage points.
The CNN/ORC poll showed that the economy was by far the most important issue among likely Democratic caucus-goers, and Sanders is emphasizing his message about Wall Street greed contributing to the collapse of the housing market and the Great Recession. Nevada was particularly hard hit and had the highest monthly foreclosure rate in the U.S. for five years until February 2012, according to the data firm RealtyTrac.
Sanders is airing a television ad about the foreclosure crisis with Erin Bilbray, a state Democratic committeewoman and superdelegate who is backing Sanders. In the ad, she blames Wall Street and says voters are "looking for somebody that is going to create bold change."
At the town hall, Sanders said he won't back away from his signature campaign issue -- that Wall Street rigged the economy -- and dismissed Clinton's criticism that he's a "one-issue candidate."
"Do I believe that there has to be a major focus on the economy when the middle class is disappearing?" Sanders said in response to a question. "Yeah, I'm going to focus on that."
Before it's here, it's on the Bloomberg Terminal.
LEARN MORE