California Company Sought by Chinese Had Pentagon Parts Contract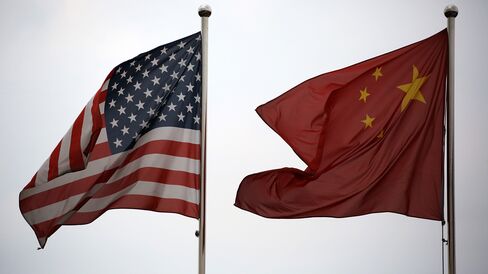 Fairchild won U.S. agency deals valued at $260,000 last year

Lawmakers say takeover attempt shows risk in U.S. supply chain
An attempt by Chinese-state backed buyers to purchase a California semiconductor maker that has won Pentagon contracts is reigniting a push by lawmakers to ensure the U.S. supply chain doesn't provide opportunities for foreign spying.
While China Resources Microelectronics Ltd and Hua Capital Management Co. appear unlikely to succeed in taking over Fairfield Semiconductor International Inc., their pursuit of the company underscores the concerns some lawmakers have had about Chinese interest in American companies.
"Chinese companies are answerable to their government, which commits brazen
acts of espionage and cyber crime against both private and public U.S. entities," said Devin Nunes, the California Republican who leads the House Intelligence Committee. "So it is a source of legitimate concern for Chinese companies to enter the U.S. government supply chain."
Some members of Congress have asked the Obama administration to increase security requirements for companies that do business with the U.S. government and, in certain cases, to avoid using products from Chinese state-owned companies.
Fairchild, based in San Jose, California, announced this week it would reject the takeover attempt by the Chinese companies, opting instead to pursue a lower bid from Phoenix-based ON Semiconductor Corp. Some analysts have said the decision appears tied to concerns that the U.S. government's Committee on Foreign Investment in the U.S. might not have approved the deal.
Government Contracts
Fairchild won U.S. government work valued at as much as $260,000 during the fiscal year that ended Sept. 30, 2015. Those contracts included supplying equipment to the National Aeronautics and Space Administration, as well as Pentagon agencies including the Naval Undersea Warfare Center.
Representative Robert Pittenger, a North Carolina Republican who leads a congressional task force on terrorism and unconventional warfare, said the Fairchild case shows the importance of verifying that Chinese interest in American companies with federal contracts won't undermine national security.
"Considering the historical role that the Chinese have played in manipulating currencies and markets and their involvement in cyber issues, there are a myriad of concerns overall that warrant a thoughtful approach to how we approach these markets," Pittenger said in a phone interview.
Pittenger's task force issued a report in October 2015 calling on the General Services Administration to impose stricter subcontractor security requirements for companies hoping to sell IT products to federal agencies. It also urged Congress to mandate Chinese state-owned telecom companies be licensed if they want to expand in the U.S.
Internal Threats
House Democrats have also worried that U.S. government networks could be subject to internal attacks through companies that do business with federal agencies.
"While much of the focus on the cyber threat has centered on the potential for
attacks from outside hackers, the United States is also increasingly vulnerable
to infiltration of our networks and defense systems from within, through the
supply chain," said Representative Adam Schiff, the top Democrat on the House Intelligence Committee.
"We must ensure that cybersecurity considerations are part of every national security acquisition and that we are considering the full range of threats as we equip our military, homeland security, and intelligence agencies," Schiff, of California, said in an e-mailed statement.
The House Intelligence Committee told U.S. agencies in 2012 to avoid working with two Chinese telecom companies, Huawei Technologies Co. and ZTE Corp., due to cybersecurity concerns.
'Serious Reservations'
Representative C.A. "Dutch" Ruppersberger, the top Democrat on the panel at the time of the report, said in an e-mail Thursday that it's valid to have "serious reservations about Chinese and other foreign firms taking over U.S. companies with federal contracts that have a direct impact on our national security."
"We suspect Chinese-owned state telecommunications companies have sought to gain market share in the United States in order to conduct cyber espionage," the Maryland lawmaker said. "And we have to consider the possibility elsewhere, especially when it comes to companies working on behalf of the U.S. military."
U.S. government officials stripped a videoconferencing system contract from a Maryland company in 2013 after a federal agency said the device, which was marketed as American-made, was really Chinese.
Shenzen-based ZTE had worked with a small business based in Baltimore to make its videoconferencing system available to U.S. agencies. A unit of CyberPoint International, the Maryland company, said it had built and installed firewalls in the device that "substantially transformed" the product.
Before it's here, it's on the Bloomberg Terminal.
LEARN MORE