Best Defense
Ted Cruz Calls for Return to Bush-Era Military Spending
The Texas senator also advocates increasing the size of the military's active duty troops.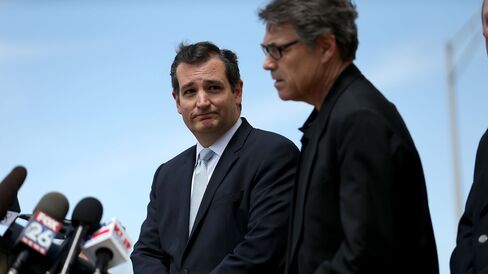 U.S. Senator Ted Cruz, who backed restraints on government intelligence programs and once voted for a plan to reduce military spending, laid out an ambitious plan on Monday to return defense outlays to the height of the Iraq and Afghanistan wars.
Cruz's plan to spend 4 percent of the nation's gross domestic product would have meant about $718 billion on military spending last year, about 23 percent more than the actual figure, according to data compiled by Bloomberg Intelligence. Defense outlays were $583 billion in 2015, or about 3.2 percent of GDP.
Defense outlays peaked in 2011 at $699 billion, due to the surge in Afghanistan and a continuation of the Iraq war.
"If you think it's too expensive to defend this nation, try not defending it," Cruz said standing aboard the U.S.S. Yorktown, a World War II-era aircraft carrier now docked in Mount Pleasant, South Carolina.
Cruz's called for increasing active duty troops to 1.4 million, up from 1.32 million now. He also wants to build more battleships and develop more expansive anti-ballistic programs.
"We need to develop new, more effective kill vehicles and expand the missile defense network to better protect the entire country from any rogue, accidental or systemic ballistic missile attack," Cruz said.
On military spending and foreign policy, Cruz has sought the political sweet spot between his libertarian leanings that favor limiting the country's role overseas, his opposition to increasing the federal deficit, and a Republican Party hungry for a more robust military.
South Carolina, where Cruz gave his speech on Monday, has a large military and veteran population. The state will hold the party's third presidential nominating contest on Saturday. Cruz, a first-term senator from Texas, has been in second place behind Donald Trump in recent public opinion polls in the state.
"If we rebuild our military with a forward-looking approach to the threats we face, we will continue to stand as the greatest military force in the world, and we will project peace through a position of strength," Cruz said.
Cruz didn't put a price tag on his plan, and ignored shouted questions from a reporter as he left the ship.
The Texas senator said he would pay for the changes by pointing to his plan to cut $500 billion from the federal budget. That's the 10-year-cost of Cruz's so-called "Five for Freedom" plan, which relies on abolishing the Internal Revenue Service and four Cabinet-level agencies: the Departments of Education, Energy, Commerce, and Housing and Urban Development.
"The plan implies huge cuts in domestic spending, which are very unlikely to make it past Democrats in the Senate," said Nick Taborek, a federal spending analyst with Bloomberg Intelligence.
Cruz has been criticized by Florida Senator Marco Rubio, a rival Republican presidential candidate, for voting for a budget proposal from Kentucky Senator Rand Paul that would have resulted in lower defense spending than current projections. Cruz also supported the USA Freedom Act, which banned the bulk collection of data of Americans' telephone records and Internet metadata.
Cruz has defended his vote on Paul's budget by saying he also backed a spending measure offered by Rubio that would have increased military spending.
Before it's here, it's on the Bloomberg Terminal.
LEARN MORE