The 'You Lie' Debate: Republicans Running Out of Time to Stop Trump in South Carolina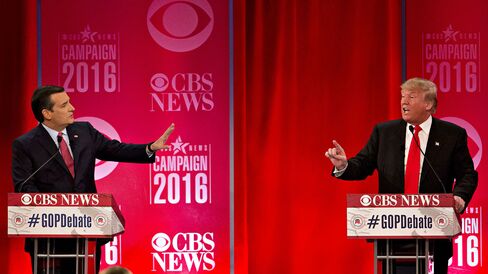 A Republican slugfest in South Carolina Saturday night pitted Marco Rubio against Ted Cruz, Jeb Bush against John Kasich and Donald Trump against just about all of them.
Nearly everyone got called a liar or accused of distortions over dirty campaign tricks (Cruz), bankruptcies (Trump) and Obamacare (Kasich). In all, the word "lie" or a variation was used at least 19 times during the debate.
The most audacious broadside may have been the one Trump launched at former President George W. Bush, who left the White House as a divisive figure but remains hugely popular with conservatives. Asked about past statements that Bush should have been impeached, Trump said the former president and his administration knowingly lied about the presence of weapons of mass destruction in Iraq, a central justification for invading the country in 2003.
"He lied," Trump said about the last Republican to win the White House. "He got us into the war with lies."
Trump made his accusation from a debate stage in South Carolina, a military-heavy state that hosts the next primary in the increasingly bitter Republican nomination race. It's also where the former president will publicly wade into his party's primary fight for the first time when he joins his brother Jeb, the former Florida governor, on the campaign trail on Monday.
There was risk in Trump's approach. But picking fights with conservative icons, from Fox News to National Review, has never cost Trump before.
The most raucous debate of the cycle was a sure sign that all the candidates realize time is running out to stop Trump, who has dominated public opinion polls since last summer and won his first primary by a convincing margin on Tuesday in New Hampshire. A victory on Feb. 20 in South Carolina, where polls show him well ahead of the rest of the field, will give the former reality TV show host additional momentum heading into March 1, when a half-dozen southern states hold their nominating contests.
The establishment crowd did their best to take on Trump on Saturday. Bush, the brother and son of the past two Republican presidents, stood his ground against Trump, and, for the second straight debate, an audience made up of campaign staff and Republican donors and activists repeatedly booed the front-runner for their party's presidential nomination.
"I know so many many of the people in the audience," Trump said as the crowd booed a question about whether he still believes former President Bush should have been impeached. "I'm a self-funder. I have my wife, and I have my son. I don't have this."
Jeb Bush, who was the front-runner for the nomination before Trump jumped into the race last year, stood his ground during the debate and forcefully defended his family.
"While Donald Trump was building a reality TV show, my brother was building a security apparatus to keep us safe," Bush said. "And I'm proud of what he did."
"The World Trade Center came down during your brother's reign," Trump told Bush. "Remember that."
Freddy Ford, a spokesman for the former president, declined to comment on Trump's allegation.
"President Bush respond to Donald Trump? No, thank you," Ford said in an e-mail.
The exchange was among the top moments on social media, as was Trump's declaration—in response to a question about immigration—that "the weakest person on this stage by far on illegal immigration is Jeb Bush." Trump said Bush was "laughable."
Immigration was also a boiling point between Cruz and Rubio, as the two accused each other of hiding their past positions. Cruz called the immigration bill Rubio co-sponsored in 2013 an "amnesty plan" and said the Floridian told the Univision network, in Spanish, that he would not reverse President Barack Obama's immigration changes.
"I don't know how he knows what I said on Univision, because he doesn't speak Spanish," Rubio said.
"Vato, si quieres dicelo ahora mismo, dicelo ahora en Español si quieres," Cruz told Rubio, according to an ABC News transcript, which translates to, "Dude, if you want to tell them now, tell them now in Spanish, if you want."
Cruz and Trump also battled over conservative credentials. Cruz said Trump has backed liberal policies for most of his life, saying, "You shouldn't be flexible on core principles."
Trump returned fire, saying Cruz was the "single biggest liar," a "nasty guy" who "will say anything."
"You," Trump said, "probably are worse than Jeb Bush."
Before it's here, it's on the Bloomberg Terminal.
LEARN MORE