Republicans to Debate After Testy Week in South Carolina
The stakes of the election were highlighted Saturday by the death of conservative Supreme Court Justice Antonin Scalia, whom Republican candidates praised.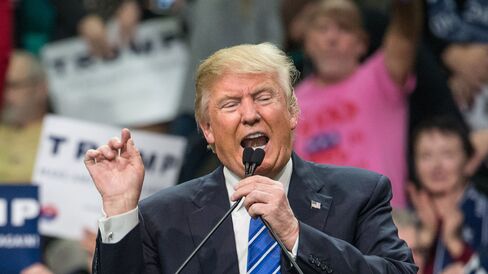 Chris Christie won't be on tonight's debate stage in Greenville, South Carolina, but his presence will be felt.
Just before dropping from the presidential race, the New Jersey governor demonstrated how much damage can be sustained in just a few moments of a debate, when he highlighted U.S. Senator Marco Rubio's repeated use of the same line, a disastrous mistake that helped sink the Floridian to fifth place in the New Hampshire primary a few days later.
After leaving New Hampshire with a comfortable victory -- his first -- Donald Trump is enjoying an even more comfortable lead in early polling in South Carolina. For now, U.S. Senator Ted Cruz, who is polling second in the state thanks to the support of evangelicals, seems best positioned to catch the billionaire.
That's energizing their ongoing spat and Cruz sharpened his tone against Trump on Friday.
"When you're being attacked by Donald, it is always colorful," Cruz told reporters before speaking at a multi-candidate event at Bob Jones University. "There is a reason that Donald engages in attacks. It's all a smokescreen to hide his record. The people of South Carolina want a real conservative."
Cruz also said Trump once backed partial-birth abortion and "socialist" health care and has refused to challenge the Supreme Court ruling legalizing gay marriage nationally. The stakes of the election were highlighted Saturday by the death of conservative Supreme Court Justice Antonin Scalia. Cruz and Rubio said the next president, rather than incumbent Barack Obama, should name Scalia's successor.
Cruz and Trump will have a chance to directly confront each other at the debate, which starts at 9 p.m. Sponsored by CBS News and the Republican National Committee, the session will also include Rubio, Ohio Governor John Kasich, former Florida Governor Jeb Bush and retired neurosurgeon Ben Carson.
The establishment candidates -- Rubio, Bush and Kasich -- are determined to make a stand in South Carolina in order to convince donors and supporters that they have a legitimate shot at winning the nomination.
With a smaller cast of characters and his standing in the race on the rise, Trump is almost certain to be one of the main targets of his rivals as they jockey ahead of a primary in a state where politics is known as a blood sport. Republican leaders in the state have said they expect the debate to be closely watched by those trying to make their voting decisions before Saturday's balloting.
Since 1980, the winner of the state's Republican primary went on to become the nominee every time, with one exception. The outlier was in 2012, when a pair of strong debate performances just ahead of the primary lifted Newt Gingrich to a first-place finish over eventual nominee Mitt Romney.
"The state has a reputation of having debates play a big role in the outcome," said David Woodard, a political science professor at Clemson University. "In 2012, Newt Gingrich tangled with the moderator and ignited the audience in the debate room in Myrtle Beach. By the time they got to Charleston at the end of the week, the fire was raging, and Gingrich won a race he didn't lead until less than a week before the vote."
Bush, the candidate in the race who has been the most critical of Trump, made clear on the campaign trail Friday that his focus for criticism is expanding beyond Trump, as he highlighted two "gifted first-term senators" still in the race.
"They can turn a phrase. They're eloquent, they're smart, they're talented and they're conservative," he said. "But let me ask you a question: what in the life experience of Marco Rubio or Ted Cruz would suggest that they could make a tough decision when the going got tough?"
Leslie Gaines, a South Carolina Republican activist who worked as a deputy national director for Gingrich's 2012 campaign and is unaffiliated this time around, said she's hearing about growing support for Kasich.
"There is a swelling of support for John Kasich," she said. "If you are not a Trump person, you are between Bush and Kasich right now. South Carolina really likes experienced leaders."
Gaines said she thinks he's going to benefit from "a very large population of Ohioans" who have retired in the state. "People like that he's staying positive," she said.
Like the other candidates, Kasich may have a harder time keeping his sunny campaign disposition intact, if he comes under sustained attack at the debate.
—With assistance for Kevin Cirilli, James Nash and Terrence Dopp in South Carolina.
Before it's here, it's on the Bloomberg Terminal.
LEARN MORE