Sanders Still Introducing Himself in South Carolina, Where Black Vote Is Key
Many African-American voters in the Palmetto State are simply not familiar with the Vermont senator and his political history.
If South Carolina is Hillary Clinton's political firewall against a surging populist challenger, then Kingstree is at least one of her bricks.
"We know Hillary," said Charles E. Shaw, a retired auto body repair worker who lives in rural Kingstree. "I ain't never heard of Bernie Sanders. I'm not going to vote for someone I don't know."
Williamsburg County, where Kingstree is the county seat, has the highest proportion of non-white voters among South Carolina counties with at least 10,000 people registered to vote, a Bloomberg Politics analysis of registration data shows. More than two-thirds of the county's roughly 21,000 people registered to vote are non-white and virtually all of those people are black.
Voters like Shaw, who said he received an application for an absentee ballot about a week ago, could make all the difference in the race between Clinton and Senator Bernie Sanders of Vermont, as their contest moves to the first southern Democratic primary on Feb. 27.
South Carolina is shaping up to be crucial in their nomination fight, after a near draw in Iowa and a 22-point Sanders blowout in New Hampshire. If the Vermont senator can't attract black voters across the South, however, it could be a harbinger for the road ahead as the race moves into southern states with sizable African-American populations.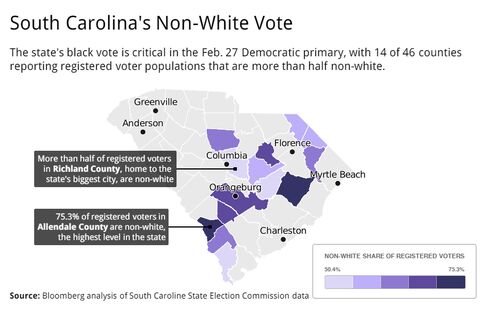 South Carolina's Democratic electorate was 55 percent black in 2008, according to exit polls, when Clinton and then-Senator Barack Obama fiercely competed in a primary in which charges of racial insensitivity on the part of her husband, former President Bill Clinton, hurt her.
A recent NBC News/Wall Street Journal/Marist poll in South Carolina showed Clinton leading Sanders among all demographics, with her 74 percent to 17 percent advantage among blacks helping boost her overall 37-point lead.
"I've been told that the quintessential Democratic primary voter is probably a 62-year-old black woman, and I think that's probably true," said Phil Noble, a Democratic operative in the state who served as an early advisor to Obama's 2008 South Carolina primary campaign. "I think she wins, but it could get interesting."
In a mid-January speech to Democrats gathered in a Charleston hotel ballroom the night before the party's fourth presidential debate, Clinton called South Carolina "one of our first lines of defense."
On Tuesday, as voters were going to the polls in New Hampshire, Clinton's campaign launched a new television ad in South Carolina that focuses exclusively on issues important to black voters, such as prison sentencing disparities and deaths at the hand of law enforcement. "We have to face up to the hard truth of injustice and systemic racism," she says in the ad.
Both candidates received high-profile black endorsements on Thursday, with Sanders getting the backing of civil-rights activist and entertainer Harry Belafonte and Clinton picking up the support of the Congressional Black Caucus political action committee.
Leaders in the caucus dismissed Sanders' involvement in the civil rights struggle. North Carolina Representative G.K. Butterfield, who is chairman of the CBC, delivered a stern message about why black voters should stick with Clinton.
"We must have a president who understands the racial divide, not someone who just acquired the knowledge recently,'' Butterfield said in announcing the endorsement Thursday in Washington.
South Carolina's black vote isn't geographically concentrated only in urban areas, as is the case in more northern states such as Illinois, Michigan, and Ohio that host March primaries. Instead, it's spread around, with 14 of the state's 46 counties having registered voter populations that are more than half non-white.
Orangeburg County, between Charleston and Columbia, will also be a key area for the state's black vote. Nearly two-thirds of the roughly 59,000 voters registered there are non-whites, the data shows.
Unlike Clinton, Sanders is still working just to introduce himself in the state. A biographical spot running on South Carolina television stations says he's spent a career "fighting injustice and inequality" as an image of civil rights leader Martin Luther King Jr. is flashed on the screen.
In his campaign appearances in the state, Sanders has made sure to mention that he attended King's 1963 March on Washington and "I Have a Dream" speech. He and his campaign have also visited college campuses with predominantly black student populations, knocked on doors in heavily black neighborhoods, and run radio ads selling his civil rights record and pledge to overhaul the nation's criminal justice system.
Clinton has played up her ties to the black community, including serving in Obama's administration, during her campaign appearances in the state. She's also charged that Sanders is unwilling to take on the gun industry, an issue that could especially resonate with South Carolina voters in the wake of the June massacre of nine people at a church in Charleston.
This week, Clinton's campaign launched a program to organize and rally students at "historically black colleges and universities" in South Carolina and nationally. The effort will include South Carolina State University and other schools in the state.
Over the weekend, Clinton made a quick detour from campaigning in New Hampshire to travel to heavily black Flint, Michigan, where she called "immoral" the lead poisoning of the municipal water supply during a stop at a Baptist church.
On the streets of Kingstree, where statues commemorating civil rights icons King and Thurgood Marshall stand outside a historic courthouse, many of the black voters interviewed struggled to even name where Sanders is from.
"I don't know anything about Sanders, but I do know Hillary, especially through her husband," said Faith Baker, a sign sales representative who lives in nearby Nesmith, South Carolina. "I really liked her husband because he's down to Earth."
If Clinton does manage to win Williamsburg County, it would be quite a reversal from eight years ago, when Obama beat her there, 74 percent to 17 percent.
Eva Green, a disabled nurse's aide, said she plans to vote for Clinton, in part, because of her husband. "He did a lot when he was president, including for blacks," she said. "I like the way she talks. She'll do a good job, if she wins."
Bill Clinton angered many blacks in South Carolina during the 2008 campaign when he made what black leaders said were comments that were racially insensitive while campaigning for his wife. The former president later said his remarks were misinterpreted, but some damage had been done to the reputation of a man who was sometimes called the nation's first black president because of the close relationship he enjoyed with African-Americans during his presidency.
Sanders, meanwhile, does have at least one backer in Kingstree. The Clinton legacy is a big part of her rational for supporting the self-described Democratic socialist.
"I'm tired of the Clintons," said Barbara Irby, a retired hotel night auditor. "I like Bill—don't get me wrong—but let's get a change here."
Irby, who moved to the area about two years ago from Detroit, said she doesn't expect her candidate to win South Carolina, or the Kingstree area. "I think he will get creamed," she said.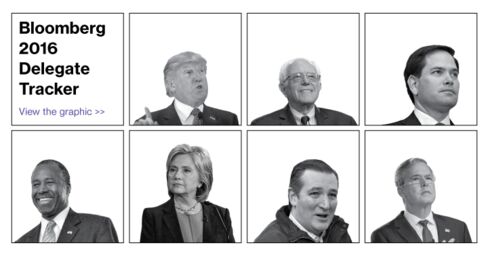 Before it's here, it's on the Bloomberg Terminal.
LEARN MORE