Nativist Platform
Trump's New Hampshire Triumph Powered by Just Two Paragraphs
His response to Islamic terrorism—a Muslim ban backed by none of his top-tier opponents—was a huge draw in the Granite State.
Donald Trump may have won the New Hampshire primary more than two months ago, and with just two paragraphs.
On Dec. 7, Trump sent a shockwave through the national dialogue with a simple news release calling for a "total and complete shutdown" on Muslim immigration. On Tuesday, two out of three New Hampshire Republican voters exiting the polls said they supported Trump's stance in response to Islamic terrorism—a position backed by none of his top-tier opponents.
A large portion of those voters handed a convincing first victory to the former reality TV host, who favored large rallies over the smaller, more personal gatherings usually favored by Granite Staters.
They also threw the Republican establishment deeper into turmoil as they stumble into a stretch of nomination battles where early polls favor Trump.
"This is much bigger than anything we've ever seen in a Republican presidential campaign," Mike Dennehy, a Republican consultant from New Hampshire who was senior adviser to John McCain's 2008 campaign, said about Trump's victory. "That's what the Republican Party has to understand. And I'm not sure they received that message until tonight."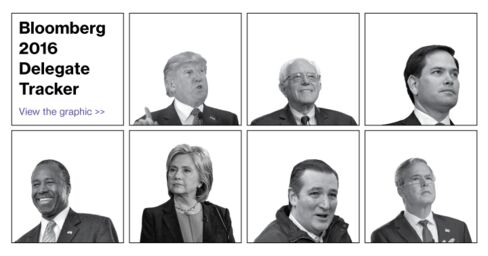 Trump's victory—he was nearly doubling-up second-place finisher John Kasich's vote percentage—gives him needed momentum heading into South Carolina, which holds the next Republican presidential nominating contest on Feb. 20.
And perhaps just as importantly: He has no clear rival. Just a handful of percentage points separated rivals placing second through fifth place.
The cluster behind Kasich, whose campaign and affiliated super-PAC had spent $13.1 million as of Jan. 1, almost exclusively in New Hampshire, included U.S. Senator Ted Cruz, former Florida Governor Jeb Bush and U.S. Senator Marco Rubio.
"We're going to make America great again, but we're going to do it the old fashioned way," Trump said at his victory part on Tuesday. "We're going to beat China, Japan. We're going to beat Mexico at trade. We're going to beat all of these countries that are taking so much of our money away from us."
Cruz, the winner of the Iowa caucuses vying for the same anti-establishment votes as Trump, is, at least temporarily, eclipsed. Bush, the one-time front-runner, continues his campaign to South Carolina, the only early primary state that his brother and father—the past two Republican presidents—have never lost.
Perhaps most disappointing was Rubio, who seemed to consolidate the party's traditional pro-business wing after a strong third-place finish in Iowa. But he had a costly error in a debate on Saturday that stunted his progress. Nearly two-thirds of New Hampshire Republicans said recent debates were important to their decision, and only 13 percent of voters deciding in the final week chose him. That compares to Trump and Kasich, who each got about 21 percent of the late-deciders.
"It's on me," Rubio told supporters Tuesday night. "I didn't do well on Saturday night and that will never happen again."
In the end, the anti-establishment candidates Trump and Cruz combined for roughly 45 percent, similar to the combined total of the four establishment-friendly candidates: Kasich, Bush, Rubio, and New Jersey Governor Chris Christie, who was trailing the rest of the pack despite dealing the debate blow that rattled Rubio. Christie said he was returning to New Jersey to reassess his campaign.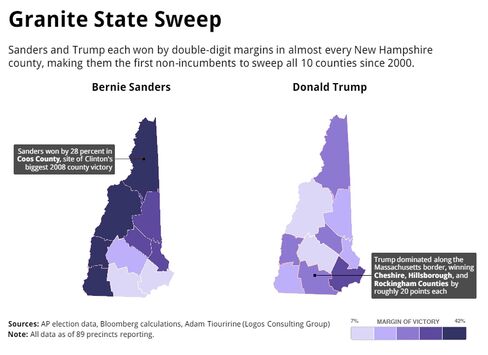 "This is going to give Donald Trump some great momentum, especially with the others bunched up," said Glenn McCall, South Carolina's Republican national committeeman. "But he'll still have to campaign. We're not going to just give it to him."
The troubling reality for Republican elites was that the field appeared unlikely to winnow to one or even two establishment-friendly candidates any time soon.
Kasich's team needs his strong second place finish to bring in a windfall of cash for a campaign that spent nearly everything it had in New Hampshire. The Ohio governor, McCall said, was the only candidate who finished in the top five New Hampshire while having no visible campaign in South Carolina.
Kasich is polling at only 2 percent in South Carolina based on an average of surveys by RealClearPolitics. His campaign also had only $2.5 million on hand as of Jan. 31, according to Federal Election Commission reports.
Critics have already questioned how Kasich's record, which includes expanding Medicaid under President Barack Obama's health-care overhaul, will play among a more conservative Republican electorate.
"I don't see a path for Kasich beyond New Hampshire," said Katie Packer Gage, the deputy campaign manager for 2012 Republican nominee Mitt Romney. "Rubio is going to have to reset, and change the narrative."
That may prove tough. Exit polls in New Hampshire showed nearly half of Republican primary voters preferred a candidate from "outside the establishment." Two out of every five Republicans said the country should deport an estimated 12 million undocumented immigrants—a position backed by Trump and ridiculed by Republican leaders who say it would tear apart communities and cost upwards of $400 billion.
"Republicans are sending an extremely loud message to Washington," Dennehy said. "Whether it's terrorism or Muslims or immigration, it doesn't matter. These are symptoms of a bigger problem, which is that people are so scared that they're willing to take a risk on someone so far outside the establishment."
As Trump was declared the winner in New Hampshire on Tuesday, more than 500 supporters packed into a Manchester banquet hall, cheering and chanting his last name. Many sipped beer and wine while wearing red trucker hats embroidered with his slogan, "Make America Great Again."
"We are so angry, we are so fed up, we are so sick of the establishment," Eric Bouley, a New Hampshire Republican voter, said at Trump's party. "We're sick of being politically correct. We're sick of the media telling us who will win. We're sick of politicians who are bought."
—With assistance from Sahil Kapur, Mark Niquette, and Kevin Cirilli in Manchester, New Hampshire.
Before it's here, it's on the Bloomberg Terminal.
LEARN MORE