Flameout
How Carly Fiorina Conquered Trump, Then Faded
Despite her star power and powerful personal story, she failed to convince many voters that she was prepared to be commander-in-chief.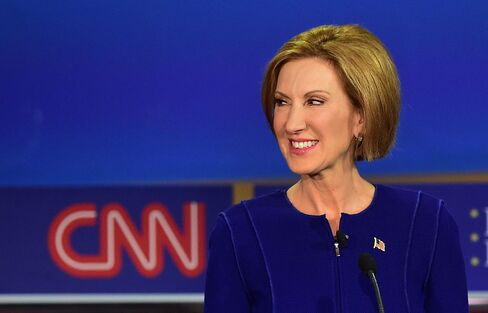 Carly Fiorina, the former chief executive of Hewlett Packard, ended her presidential campaign the day after the New Hampshire primary, after failing to gain traction in the early-state primary contests. In a year when many Democrats are pushing to make history by nominating a woman as their presidential candidate, Fiorina was the only woman running for the 2016 presidential nomination in the crowded Republican field.
Fiorina finished with only 2 percent of her party's vote in Tuesday's New Hampshire primary.
"While I suspend my candidacy today, I will continue to travel this country and fight for those Americans who refuse to settle for the way things are and a status quo that no longer works for them," Fiorina said in a statement.
Fiorina's outstanding skills on the debate stage elevated her early in the race. In the first Republican debate in early August, she was relegated to the undercard event after not meeting the cutoff for strength in the polls. Yet, after a strong performance, she rose in the polls and maneuvered her way onto the prime time stage.
At the candidates' second meeting, in Simi Valley, California, Fiorina had her most memorable moment of the entire campaign cycle. Donald Trump had recently made disparaging remarks about her physical appearance in an interview with Rolling Stone magazine. Fiorina responded succinctly. "I think women all over this country heard very clearly what Mr. Trump said," she pronounced, humbling Trump as no other candidate had to date.
After that performance, she vaulted quickly up the poll rankings, at times placing third behind Trump and Ben Carson, the other two candidates without experience in elected office. In the second fundraising quarter, Fiorina raised under $2 million; bolstered by her debate performances, she brought in a hefty $6.8 million in the next quarter.
And yet her momentum fell from there. Despite Fiorina's compelling personal story—she was the first woman to lead a Fortune-20 company, and also survived a bout of cancer and endured the loss of a step-child to drug addiction—she failed to convince many voters that her background best prepared her to be commander-in-chief.
Questions about her tenure at Hewlett-Packard, especially regarding her role in the company's mass layoff-producing merger with Compaq in 2001, further hindered her argument that she was suited to lead the country.
Still, Fiorina showed herself an able combatant when attacked. When two co-hosts of "The View" criticized her on their program, for instance, she took to Fox News to demand that they "Man up."
"I am tired of being insulted by liberal feminists who talk about women's issues when the reality is every issue is a woman's issue," she said. "Let's see if they have the guts to say that to my face."
Fiorina likened herself to Margaret Thatcher, the "Iron Lady." She frequently cast herself as a foil to the Democratic front-runner. "I am Hillary Clinton's worst nightmare," she often said. And yet, despite her own attempt to become the first female Republican nominee, Fiorina never explicitly asked for support as a woman, and never explicitly stated that she would neutralize Clinton's gender in the presidential race. The lack of fundraising and mobilizing infrastructure among Republican women's groups also hurt her campaign, and she failed to cultivate a strong base among women.
Based on her low standing in polls, Fiorina was excluded from the Feb. 6 Republican presidential debate, the last before the New Hampshire primary and also a night that did not include an undercard match.

Former presidential candidate Mitt Romney was one of those who pleaded for her inclusion. "Put @CarlyFiorina on the debate stage! She got more Iowa votes than John and Chris. Don't exclude only woman," he tweeted.
Melissa Gesing, the president of the Iowa Federation of Republican Women, issued a statement urging ABC News "to include all of our Republican candidates on the main debate stage on Saturday," without any mention of gender. "They have all stepped up to run, and the people of America deserve to hear all of our candidates share their views," Gesing added.

In 2010, Fiorina ran for a California Senate seat, on the same ticket as Meg Whitman, who was then seeking the governorship and today leads Hewlett-Packard Enterprise. Both women lost. In Manchester last week, Whitman spoke highly of Fiorina's talents and deftness as a candidate. But, expressing her support for New Jersey Governor Chris Christie, Whitman emphasized it was simply a matter of preparedness and experience. "It is really hard to have your first political office, your first elected office, be president of the United States," she said.
Before it's here, it's on the Bloomberg Terminal.
LEARN MORE