Clinton Looks to Nevada and Its Delegate-Rich Outskirts
The Clinton campaign works to score delegates in rural Nevada "There's a lot of important voters out there"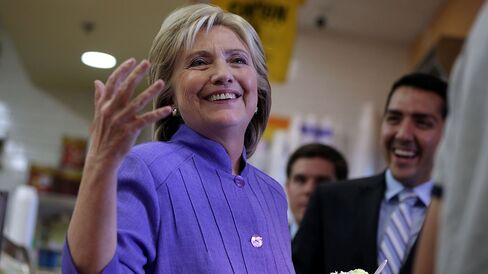 In the days before the New Hampshire primary, Tom Perez, the U.S. secretary of labor, went out to stump for Hillary Clinton in Nevada, where the Feb. 20 caucus is the next big event on the Democratic circuit. Before stopping in Las Vegas, the state's largest city, Perez headed to the unincorporated town of Pahrump, along the California border. "When I talked to Hillary, she said, 'Make sure you get out to Pahrump, because there's a lot of good people out there, and there's a lot of important voters out there,' " he told a crowd of 30 volunteers gathered at the local campaign office.
A few days later, Perez was followed by an even more powerful campaign surrogate: Bill Clinton. Pahrump, population 36,000, can expect to get a lot more love between now and the vote. It's home to most of the residents of sprawling Nye County, the largest in the state. The campaign, Perez said after his appearance, is following an "every county" strategy and pushing well beyond Las Vegas and Reno into less populated areas of the state. "I'm here to send a very, very clear signal to the residents of Pahrump that Hillary Clinton wants to hear their concerns and takes them seriously."
That delights Will Blythe, an unemployed construction worker who didn't caucus in 2008 because he mistakenly thought it required driving to Las Vegas. This time around he's not just planning to caucus for Clinton but also volunteering for her campaign, along with his wife, who had cancer detected and treated after she got insurance under the Affordable Care Act. "We almost feel like we owe Obama our life," Blythe says.
After losing the New Hampshire primary to Bernie Sanders, Clinton is counting on Nevada to deliver her a decisive victory. In 2008 she won the Nevada caucus by 602 votes over Barack Obama, but Obama netted more delegates because of the state's caucus math, which gives Democratic voters in Nevada's rural precincts extra weight, rewarding candidates who venture into the desert looking for support. "We didn't win," says Emmy Ruiz, the first Nevada organizer Clinton hired in the 2008 race and now head of her campaign there. "I think that's part of what informed our strategy here and part of why it's so important to build that organization." This year, precincts in counties with 400 or fewer Democrats will get one delegate for every five registered Democrats; those in counties with more than 4,000 registered party members will get one delegate for every 50 registered Democrats. "Let's say our opponent had 10,000 more supporters than we did come caucus day," says Ruiz, "but they were all in the same two precincts—doesn't matter, we would win everything in a landslide."
Clinton's operation relies heavily on volunteers, as it did in Nevada in 2008 where her campaign was managed by Robby Mook, now in charge of Clinton's national campaign. Mook is a veteran of Howard Dean's 2004 ­presidential campaign, which adopted organizing tactics from Marshall Ganz, a longtime United Farm Workers ­strategist. "Part of what we learned is that you can have an organization that vests real responsibility with volunteers and holds them accountable and is aspirational in the very way that it's organizing itself," says Karen Hicks, who oversaw Dean's New Hampshire campaign, where Mook worked, and joined the 2008 Clinton campaign as an adviser. "On the Obama ­campaign they did it to scale in 2008, as we did in pockets on the Clinton campaign."
Ruiz worked alongside Mook that year and is using the same approach now. At twice-weekly Spanish-language phone banks at the Clinton campaign's East Las Vegas office, volunteers are responsible not only for placing calls but also for recruiting friends to join the operation, then reminding them to show up—a form of peer pressure that's more ­effective than hearing the same message from paid staffers. "I don't even have to be there," says Clinton staff member Natalie Montelongo, who manages about two dozen volunteers.
Kavin Burkhalter, who works in retail sales, says he spends so much time working for the Clinton campaign in Las Vegas that his partner and co­workers call it his "free job." He routinely puts in 20 to 30 hours a week and has signed up a half-dozen friends to volunteer since the former secretary of state formally announced her candidacy last April. "I went to her very first town hall here and barely got a selfie with me and her 25 feet away, and that was my most prized picture in the world," Burkhalter says.
Clinton has an advantage over Sanders, who didn't set up shop in the state until October. "The Clinton people have been here longer, and they've hired folks who were here in 2008," says Yvanna Cancela, ­political director for Unite Here! Local 226, which represents Las Vegas hotel and casino workers. (The union has remained neutral.) But, she cautions, "While I think she has an advantage, I also think nothing is impossible here."
Joan Kato, Sanders's Nevada director, says the fervor of his ­volunteers will help close the organization gap. "They're the blood," she says. "We're the veins that help move the blood to the heart." Kato says Sanders volunteers have been involved in administrative minutiae such as scouting for office space and in organizing concerts and marches to raise awareness of Sanders's campaign. But even some of the Vermont senator's biggest supporters doubt he can match Clinton's organization in time for the caucuses. That includes Tick Segerblom, the only current Nevada legislator who's endorsed Sanders: "To win Nevada, he needs people that just come out of the blue."