Obama Reaches for Relevance With $4.1 Trillion 2017 Budget
President released 2017 budget that Republicans oppose

Obama calls for taxes on oil, health care to raise revenue
President Barack Obama sent his final budget request to Congress, a $4.1 trillion proposal for fiscal 2017 that represents his aspirations for curbing climate change, bolstering education and technology while also setting a marker in the political campaign to succeed him.
The budget unveiled Tuesday projects revenue to increase by $308 billion next year and spending to increase by $196 billion. Obama is seeking to raise $2.6 trillion over the next decade through changes to the tax code, including revamping levies on international business income and eliminating some benefits for wealthy people.
Little of it, as the Obama administration acknowledges, will be made law anytime soon by the Republican-controlled Congress. The heads of the House and Senate budget committees announced even before the document was released that they wouldn't give White House budget director Shaun Donovan the customary hearing to explain the president's priorities.
"This is such a campaign document that the Republicans will almost certainly reject it out of hand because it came from Obama," said Stan Collender, a budget analyst and executive vice president at Qorvis/MSLGroup in Washington.
As with many of his initiatives during his final year in office, Obama's budget is in part an attempt to solidify his legacy and influence the debate in the 2016 presidential campaign. Democratic candidates Bernie Sanders and Hillary Clinton may be challenged to embrace or separate themselves from Obama's policies, and Republican candidates will seek to draw a contrast between his vision for the country and their own.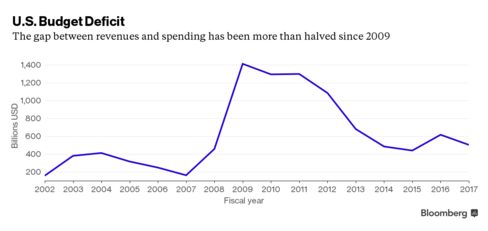 Republicans to Block
While some presidents "trim their sails" in their last budgets or make overly ambitious proposals, Donovan said Obama's budget "falls in neither of those camps" and "offers a range of proposals where there's bipartisan support for taking action."
"The president isn't going to shy away from proposing solutions that are both good for our economy and address major challenges we face," he said at a news briefing on Tuesday. Some proposals "may not be enacted this year but lay the groundwork for solutions in the long run."
Even before Obama released his plan, Republicans including House Speaker Paul Ryan criticized it as too expensive and pledged to block Obama's agenda.
"The president's budget was delivered to Congress today. It's the biggest and the worst one yet," Representative Steve Scalise of Louisiana, the House Republican whip, said on Twitter.
Yet there may be opportunities for bipartisan work on a short list of items, including cancer research, addressing an epidemic of opioid abuse and overhauling criminal sentencing laws. In the wake of highly publicized breaches of public and private computer networks, Obama also is asking for $19 billion for cybersecurity spending, a 35 percent increase from the current fiscal year.
"We have software in the federal government now where the software operator doesn't exist anymore," Obama said after a meeting with national security officials on Tuesday.
Obama is certain to hit firm Republican resistance in trying to cement his climate change goals in the budget by directing hundreds of billions of dollars in tax increases to fossil fuel industries, including a $10.25 a barrel tax on oil, to pay for a massive investment in clean technology research and mass transit infrastructure. He also would provide $1.3 billion "to advance the goals of the Global Climate Change Initiative," which has been widely criticized by Republicans.
A two-year bipartisan budget agreement late last year set discretionary spending -- the portion of the government's ledger that is annually adjusted by Congress -- at $1.07 trillion for fiscal 2017. From that amount must come money to finance functions from defense to tax collections to national parks. Entitlement programs such as Social Security and Medicare, the health program for the elderly and disabled, comprise the rest of the budget, along with interest payments on the $19 trillion national debt.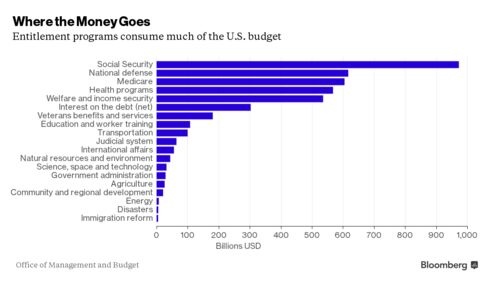 Defense Spending
The budget deal set Pentagon spending at $583 billion for 2017. The Defense budget includes the beginning of a $40 billion, five-year program to improve underwater, anti-submarine defenses aimed at potential threats by Russia and China. The administration is requesting $59 billion in war funding for the Pentagon and $15 billion in war funds for the State Department and other agencies.
Obama also wants $755 million extra for cancer research and prevention, an effort led by Vice President Joe Biden; $6 billion to help low-income teenagers get jobs; $4 billion for development of driverless cars; $4 billion for computer coding classes for children; $1.1 billion to curb the U.S. opiate-abuse epidemic and $3.4 billion to bolster European defenses against Russia.
Obama also proposed to double spending over five years for Wall Street's regulators, the Securities and Exchange Commission and the Commodity Futures Trading Commission. Financial institutions with more than $50 billion in assets would pay a transaction fee of seven basis points on their liabilities.
To help fund the increases, Obama proposes $2.6 trillion in new revenue over the next decade from a menu of tax changes. In addition to assuming $7 billion in additional revenue next year from a tax on oil, the White House is counting on $36 billion more from corporate taxes and $56 billion more from taxes on wealthy individuals. Republican lawmakers have described Obama's proposed oil tax as dead on arrival.
The new proposals include expanding a 3.8 percent tax on the net investment income of high earners, to reach the active income of S-corporation shareholders, partners and LLC members and income from sales of business property.
The administration renewed last year's proposal to reform the U.S. international tax system, and more than doubled its projection of how much the changes would raise, to $484 billion over 10 years.
The budget projects a deficit of $616 billion in the current fiscal year, or 3.3 percent of gross domestic product, wider than the $544 billion the Congressional Budget Office had projected. In fiscal 2017, the deficit is projected to be $503 billion, or 2.6 percent of GDP, better than the $561 billion the CBO expects. Over 10 years, the budget would add $6.1 trillion in deficits, compared to $9.4 trillion estimated by CBO.
The administration is relying on optimistic assumptions to underlie the figures, including enactment of Obama priorities such as the Trans-Pacific Partnership trade agreement and adoption of a long-stalled rewrite of immigration law. The White House assumes the unemployment rate -- at 4.9 percent as of Jan. 31 -- will average 4.7 percent this calendar year and fall to 4.5 percent next year.
The administration's economic assumptions include growth accelerating to 2.6 percent in the current calendar year. That's faster than last year's growth of 2.4 percent, which matched 2014 as the strongest performance since 2010.
The latest budget projections are also more upbeat than the median forecast of economists compiled by Bloomberg, which showed GDP will expand an average 2.4 percent in 2016 and 2.3 percent next year. For the longer term, growth will ease to 2.3 percent starting in 2019, staying at that pace through 2026, the budget estimates also showed.
The budget plan is for the fiscal year beginning Oct. 1. The blueprint will probably be Obama's last because presidents rarely avail themselves of the opportunity to propose a final budget before leaving office in January. In recent years presidential budgets have been more wish lists than prescriptions for how to spend taxpayer money.
"They figure out how to make savings in areas that Congress is not going to agree to and then they talk about programs that are never going to happen," said Scott Lilly, a researcher at the Center for American Progress and a former top Democratic aide on the House Appropriations Committee.
Before it's here, it's on the Bloomberg Terminal.
LEARN MORE