Top Clinton Donor Wants a Law Against $1 Million Gifts Like His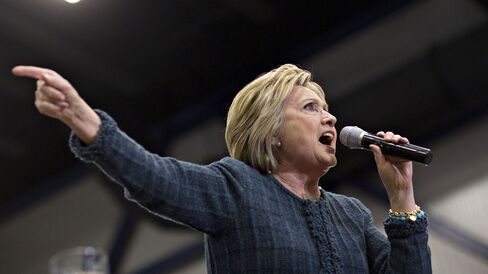 `PACs are a bad thing,' says super-PAC donor Bernard Schwartz

Loral's ex-CEO also gave $2.5 million in soft money since 2010
Mickey Mouse figurines and photos of grinning politicians surrounded the 90-year-old investor Bernard Schwartz in his Manhattan office on Thursday. Four days earlier, new federal filings showed he gave $1 million to a super-PAC supporting presidential candidate Hillary Clinton, making him one of her top backers and part of the campaign-finance system that her rival Bernie Sanders calls undemocratic and corrupt.
Schwartz, a former head of satellite maker Loral Space & Communications who's no stranger to hefty political donations and was once a target of suspicion about the favors they buy, mostly agrees with the Vermont senator.
"PACs are a bad thing, it distorts the political process," said Schwartz, who now manages his money as chairman of BLS Investments. "Rich people have the opportunity to get access."
Besides his August gift to Priorities USA Action, which supports Clinton, Schwartz has sent about $2.5 million of soft money to Democratic groups since 2010, according to Federal Election Commission filings. That year, a federal appeals court helped lift caps on what donors can give to some political action committees. Schwartz wants new limits, but he chuckled when asked how that clashed with his own generosity. He isn't holding back, he said, as long as supporters of the rival party aren't.
Mickey Mouse
Schwartz has statuettes in his office of Mickey Mouse wearing red shorts, red pants, a yellow bow tie, a "Fantasia" robe and a Santa's hat. He has a Mickey steering a ship and one driving a car, and Mickeys made of metal, wood and glass. Schwartz says he's drawn to the mascot because he's successful and good at the same time.
A photo collection of Schwartz with his favorite politicians is even more exhaustive. His walls are lined with Clintons, at least three other secretaries of state, Barack Obama, Joe Biden, Ted Kennedy, Andrew Cuomo, Nancy Pelosi and Robert Rubin, a former treasury secretary who looks glum in his photo. "Things can't be that bad," a handwritten note stuck to the picture says.
Schwartz said his family has supported Democrats since the days when New York political machine Tammany Hall sent his widowed grandmother a turkey every Thanksgiving. He has been a fan of the Clintons since Bill was governor of Arkansas and asked Schwartz at a dinner party about the defense industry.
Once Clinton won the White House, Republicans suggested Schwartz's Democratic Party contributions -- more than $600,000 -- bought favor for Loral, which got U.S. approval to launch a satellite on a Chinese rocket. After a rocket exploded in 1996, a Loral employee sent a sensitive report about the failure to the Chinese. Six years later, the company agreed to pay a $14 million fine to the State Department without admitting any wrongdoing. An investigation into possible campaign-contribution violations went nowhere.
'An Ear'
Schwartz's donations to politicians "never bought me anything," he said. "But it does buy people access, an ear, maybe advice."
His $1 million contribution to Priorities USA Action was one of the super-PAC's biggest in the second half of last year. Schwartz, who also gave the Clinton Foundation between $1 million and $5 million, said he supports the former secretary of state's White House run because she wants to improve infrastructure, cut unemployment and help Americans loaded down by student debt.
"I didn't lose it," he said about the $1 million gift. "I got something better: I bought an opportunity for a candidate that I believe in."
The two don't agree on everything. He would like to see a reinstatement of the Glass-Steagall Act, which separated commercial and investment banking and was repealed in 1999 during Bill Clinton's administration. Rather than breaking up the biggest U.S. banks, Hillary has called for reducing risk in the shadow-banking system.
In his office, Schwartz was wearing pinstripe pants, a tie patterned with a couple embracing on a chaise lounge, and a shirt with his initials -- B.S. -- near the heart.
"That's me," he said. "What's wrong with bullshit?"
Before it's here, it's on the Bloomberg Terminal.
LEARN MORE