Clinton Campaign Has No Answer Yet on Releasing Speeches to Goldman
A spokesman says the campaign is still looking into release as Clinton comes under attack for her Wall Street ties.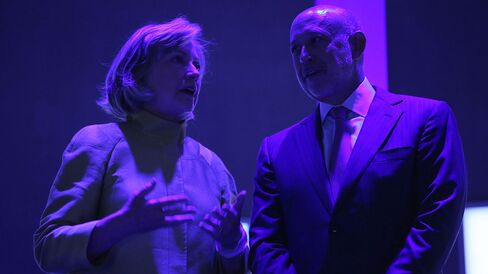 Democratic presidential candidate Hillary Clinton's campaign Friday wouldn't say whether she will release transcripts of speeches she gave to Wall Street firms, a day after she was questioned about it at the final Democratic debate before the New Hampshire primary.
"We will look into releasing her speeches," Clinton press secretary Brian Fallon said in a statement to Bloomberg, declining to further elaborate.
The statement echoed Clinton's response to a question about the transcripts during a debate Thursday night with Bernie Sanders, her rival for the Democratic presidential nomination.
In an appearance on MSNBC, Fallon said the campaign needed to "see what transcripts exist, make sure they're available still."
Sanders has made Clinton's paid speeches a key line of attack, suggesting they are an example of the influence Wall Street has on government and politics.
Clinton is facing scrutiny over her close ties to financial firms such as Goldman Sachs, which paid her $675,000 for three speeches in 2013 and where employees have donated to her campaign. She has been grappling with how to deal with the repeated questions from Sanders and others about her ties to Wall Street.

"I think I may not have done the job I should in explaining my record," she said at the debate.
She and her campaign have thus far resisted calls for the transcripts of her speeches to be released.
"I don't think voters are interested in the transcripts of her speeches," Clinton strategist Joel Benenson said at a Wall Street Journal breakfast on Friday.
Contracts for Clinton's paid speeches generally included confidentiality clauses that would require both parties to consent to the release of their contents.
In his statement, Fallon said deflected the questions about the speeches by attacking Sanders, saying the Vermont senator is engaging in "character assassination by insinuation" by suggesting that Clinton's policy positions have been influenced by campaign contributions or speech income.
Before it's here, it's on the Bloomberg Terminal.
LEARN MORE