Santorum Says He's Suspending Campaign, Endorsing Rubio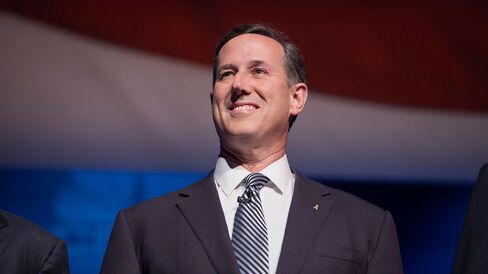 Former Pennsylvania Senator Rick Santorum said he's suspending his campaign and endorsing Senator Marco Rubio of Florida for president.
Santorum announced his plans Wednesday in an interview on Fox News after Bloomberg News quoted an adviser describing the candidate's decision.
As an outspoken religious conservative, Santorum gives Rubio powerful bona fides among the evangelical voters who propelled Santorum's bid for the 2012 Republican presidential nomination. The move also denies Santorum's backing to another of this year's Republican candidates who has made religious values an important part of his campaign, Texas Senator Ted Cruz, who won Monday's Iowa caucuses.
Santorum finished well behind the pack in the Iowa caucuses. But four years ago, Santorum became an unexpected force in the Republican presidential primary, narrowly winning the Iowa caucuses over the eventual nominee, Mitt Romney. Santorum's 2012 campaign also emphasized many of the blue-collar economic anxieties resonating powerfully in the current campaign.
Santorum went on to win 10 more states in the 2012 race, briefly threatening Romney's chances of winning the nomination.
Before it's here, it's on the Bloomberg Terminal.
LEARN MORE