How a Stronger Dollar Could Play Havoc With Politics in 2016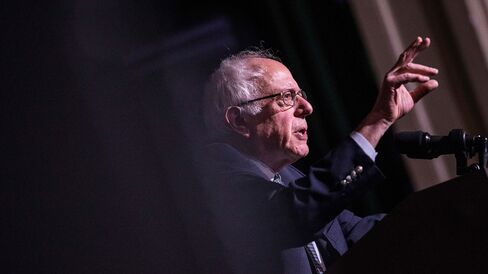 Democrats may lose votes in low-wage manufacturing states

New study could foreshadow bad news for incumbent party
Americans usually punish the incumbent party when they elect a president against a backdrop of rising imports, according to a new study. That could foreshadow bad news for whoever emerges as the Democratic nominee from the presidential contest that got under way in Iowa this week.
Low-wage manufacturing jobs are threatened by import competition, and the fear of losing them tends to drive voters away from the party in power, argues a working paper published by the Cambridge, Massachusetts-based National Bureau of Economic Research. That scenario is in play this year as the strong dollar widens the U.S. trade deficit -- although, like everything about the 2016 election, the story may be more complicated this time around.
In both parties, outsider candidates -- especially Republican Donald Trump and Bernie Sanders on the Democratic side -- are appealing to populist anti-establishment voters, saying they'll stand up for workers who risk losing their jobs because of trade. That message has helped fire up crowds on the campaign, but it's not clear how the enthusiasm will translate to votes -- at the first caucus in Iowa on Monday Senator Ted Cruz won over Trump, while Democrat Hillary Clinton secured a slim margin over Sanders.
"Part of the story of the higher trade deficit is that we are importing more but exports have actually been falling" said Dean Baker, co-director of the Center for Economic and Policy Research in Washington. "You just don't have a good story to tell on trade at this point," which may explain why candidates are playing into populist sentiment around it.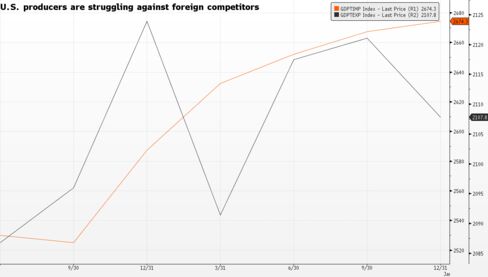 Trump has vowed to return millions of jobs to America, chastising China for what he says is unfairly tilting the trade balance in its favor by blocking U.S. companies from doing business there and manipulating its currency. The billionaire has vowed to revive U.S. manufacturing by negotiating with China to end export subsidies and pledged to renegotiate or end the North American Free Trade Agreement, saying it's been a disaster. Cruz has pledged to stabilize the dollar with a "rules-based" monetary system.
To the left of political spectrum, Sanders has vowed to champion labor and he's opposed the Trans-Pacific Partnership that President Barack Obama's administration has backed, saying it will destroy jobs. The 12-nation trade deal was sealed last year and it's awaiting approval from Congress. He's up against Hillary Clinton who generally supported the TPP during her time in Obama's government, but came out against the deal announced in October.
"Donald Trump has certainly been playing into some of the anxieties and raising some of this critique about agreements that his party has generally been in favor of," according to Julian Zelizer, a professor of history and public affairs at Princeton University in New Jersey. Sanders holds a political belief that "represents a very genuine and old wing of the Democratic party that has never been comfortable with these terms of free trade."
The working paper's findings are especially relevant in tightly contested states where low-wage manufacturing activity is a job creator and economic driver, said Dennis Quinn, a professor of business and public policy at Georgetown University in Washington and co-author of the study. He cited as examples Wisconsin, Ohio, North Carolina, Pennsylvania, Iowa and New Hampshire, where the next primaries will be held on Feb. 9.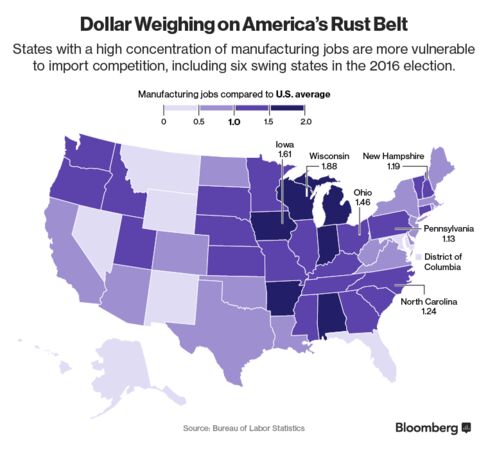 The trade deficit widened to $566.5 billion in the fourth quarter, shaving 0.5 percentage point from growth in gross domestic product. Trade, which makes up about 30 percent of the economy, has subtracted from GDP in four of the past five quarters.
That helped push manufacturing to the fourth straight month of contraction in January as businesses cut staffing plans, though an increase in new orders pointed to a possible rebound.
Trade isn't the only culprit: The U.S. economy expanded at a slower pace in the fourth quarter on softer consumer spending and as businesses cut back on capital investment and pared down stocks rather than producing more.
The study, based on national census data stretching to 1952 and county-level figures spanning the last six presidential elections, identified links between trade-related employment, import competition exposure and voting records.
Its findings also showed that workers in high-skilled sectors, such as financial services and education, with an advantage over foreign rivals are more likely to vote for the incumbent party. That category includes potential swing states in 2016 such as Florida and Colorado.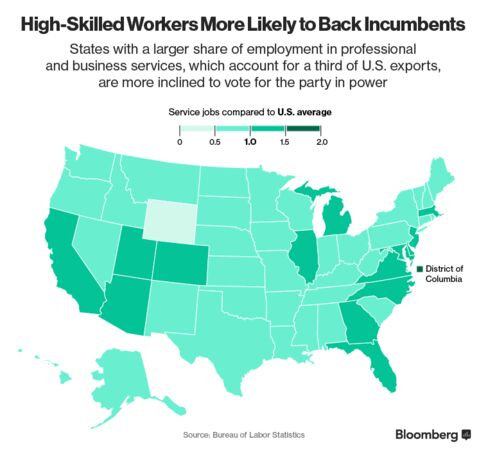 The Bloomberg Dollar Spot Index, which measures the greenback against 10 major peers, has surged 10 percent since the start of 2015, to near the highest level on record in data going back 11 years. Its strength makes American goods pricier for foreign buyers and hurts companies with multinational operations whose earnings abroad are worth less when converted into U.S. dollars.
Flagging demand and currency weakness overseas, including in China and Europe, is also weighing on American exporters. The yuan has declined by about 6 percent since the start of last year, while the euro has lost almost 10 percent of its value against the dollar.
In the normal political landscape, Republicans are more supportive of open-trade policies and Democrats lean toward protecting domestic industries, said Caitlin Webber, a Bloomberg Intelligence global trade analyst.
The debate is different this time around and the candidates messages have become "a bit muddled," said Webber. Republicans are "even emphasizing the more populist trade policies than they would actually implement once they are in office typically."
In the end, come November, the electorate may ignore the nuances of the campaign and look at whether they are better off with a change of government or not, said Quinn.
"Voters don't necessarily connect all the pieces," said Quinn. "If you are a voter, you just lost your job and you are pretty mad, you kind of lash out at the incumbent."
Before it's here, it's on the Bloomberg Terminal.
LEARN MORE