Final Pitch
Jane Sanders Tells Iowans That Bernie Can Deliver Change
The Vermont senator's wife makes the case that her husband is not running a pie-in-the-sky campaign.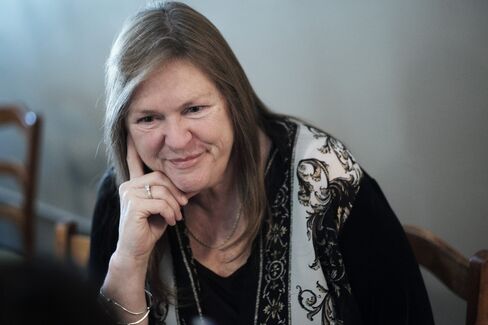 On Friday morning in the southeastern corner of Iowa, Jane Sanders spoke in Fort Madison to some two dozen volunteers for her husband's presidential campaign. They told her why they were supporting Bernie, and she put her hand to her chest in gratitude.
A railway engineer said that his three children owed nearly $200,000 in college student debt, with interest rates three times higher than the one he and his wife, a nurse and like him a veteran, had on their home. "Crazy," Sanders gasped.
"I look at my family and who we are," the engineer went on, "and if we were to dream up a candidate tomorrow that would represent us, it would be him."
"I don't know where Bernie's been hiding," he said.
Sanders, whose style might be called Vermont casual—understated silver jewelry, a drapey blouse, and slacks—made clear she knew the feeling.
"In 1981, I was a community organizer," she told the small crowd, "and the mayor, then, had been trying to get a pretty big tax increase in the city. So I had all the low-income groups get together and meet the mayor and the treasurer. And they kept on answering their questions kind of halfway. So I stood up a couple of times and asked follow-up questions. The mayor said, 'Now you sound like Bernie Sanders!' I sat down, I said, 'Who's Bernie Sanders?' And they said 'I think he's running for mayor.' So I said, 'Let's organize a debate!'"
"I heard him for the first time at that debate," she continued, "and I felt the same way. I felt he embodied everything I believed in. I thought he was wonderful and I hoped he would win. I didn't think he had a chance. Nobody thought he had a chance. He won by 10 votes!"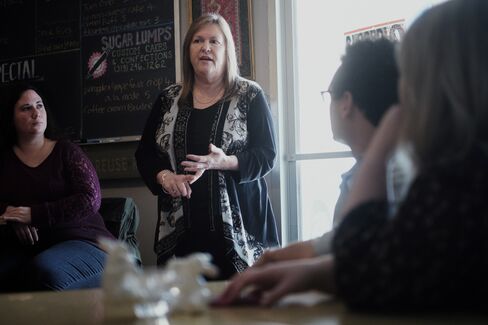 In a Bloomberg Politics/Des Moines Register Iowa poll of likely Democratic caucus-goers released Saturday, Clinton maintains a slim, three-point lead over Sanders—close enough that high turnout among first-time caucus-goers could cause an upset in his favor.
"Ten votes!" Sanders repeated. "If 10 people had stayed home, or if five people had done something different..." She shook her head, and added, "It has stuck with us forever."
In advance of Monday's Iowa caucuses, the first electoral contest of the presidential primaries, Sanders has ventured out often this month on her own, sometimes with multiple events the same day. (She told me that her son Dave joined her on her solo trip, much to her maternal delight.)
In towns like Fort Madison, where residents are reeling from the loss of hundreds of steel casting jobs last month, she paints herself as one of them, a voter once frustrated, even burnt out of by the political process: a citizen who liked what Bernie had to say but didn't believe he could possibly make change. Her jewelry jangling, her nods long and sympathetic, she shows that she's not wholly scrubbed and polished. Her delivery is punctuated by snaps that seem to say dang it! when she can't locate the name of a bill or a committee on the tip of her tongue. (The name almost always, however, surfaces.) She underlines, time and again, how pleased she was to be wrong in her skepticism. How her husband defied her expectations, even before he was her husband.
Sanders is incredulous still, she says, at how close the Democratic nominating race has grown. "All of us are!" she said, after the visit with volunteers. "I think what we're surprised at is the depth of support and the quickness of it."
"I got a text from my daughter: 'You guys look great out there'—dot dot dot—Just, still… taking it in!"
Sanders spoke of how Bernie, as the junior senator from Vermont, worked with Senator John McCain, a Republican, to help veterans—an unusual bipartisan effort. "Honestly down in Washington it was seen as something very different," she said. "He's called down there the 'conscience of the Senate.'"
More than once, just as she cast herself in Iowa voters' shoes, she drew (the somewhat farther-fetched) parallels between the mayoralty of Burlington, Vermont, and the American presidency.
"When he went into the office," Sanders said, "he had the same kind of situation as President Obama does now. We had a city council that was a 13-member city council that was against him, except for two people. Totally against him—and they decided they're not going to let him accomplish anything." But he did, Sanders said.
"The words that are being used now are unelectable, and pie in the sky, utopian, he'll never get it done," she said. "When Hillary said yesterday—it struck me, she said: 'This will never, in the world, happen, this will never happen in the world.'"
Sanders took a beat. "It's happening everywhere else! Every other place in the world has national healthcare. They have free tuition. They have price controls on prescription drugs. It hasn't happened here, but now is the time. And with your help, we'll be able to accomplish this. Please, please, please caucus—and bring 10 people with you."
Before it's here, it's on the Bloomberg Terminal.
LEARN MORE