Obama to Visit U.S. Mosque for First Time in His Presidency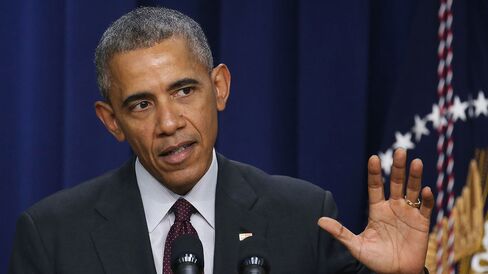 Event contrasts with Donald Trump's proposed immigration ban

Meeting is planned with Baltimore Muslim community leaders
President Barack Obama will visit a U.S. mosque for the first time in his presidency next week, when he travels to Baltimore Feb. 3 to meet with Muslim community leaders.
Obama will hold a round-table with community members and "reiterate the importance of staying true to our core values -- welcoming our fellow Americans, speaking out against bigotry, rejecting indifference, and protecting our nation's tradition of religious freedom," the White House said in a statement on Saturday.
Obama has denounced American hostility toward Muslims following December's Islamic State-inspired mass shooting in San Bernardino, California, and Republican presidential campaign front-runner Donald Trump's subsequent call to temporarily ban Muslim immigration. The mosque visit will be made the day before the annual National Prayer Breakfast in Washington.
"We're not going to build progress with a bunch of phony tough talk, and bluster, and over-the-top claims that just play into ISIL's hands," Obama, using an acronym for the jihadist group Islamic State, told Democratic members of Congress gathered in Baltimore for annual retreat on Jan. 28. "We're not going to strengthen our leadership around the world by allowing politicians to insult Muslims or pit groups of Americans against each other."
In calling for religious tolerance, Obama has repeatedly invoked his predecessor, George W. Bush, who as president visited a Washington mosque just six days after the Sept. 11, 2001, attacks. The White House hopes Obama's first such U.S. foray will pack the same symbolic punch. He has previously visited Muslim houses of worship in Malaysia, Indonesia and Turkey.
His choice of mosques, the Islamic Society of Baltimore, is also notable because it was prominently featured in the first season of the popular "Serial" podcast. Adnan Syed, the teenager who is serving life plus 30 years for the killing in 1999 of his former girlfriend, Hae Min Lee, attended the mosque with his parents.
"For a number of years we've been encouraging the president to go to an American mosque," spokesman Ibrahim Hooper of the Washington-based Council on American-Islamic relations said in an e-mailed statement. "With the tremendous rise in anti-Muslim sentiment in our country, we believe that it will send a message of inclusion and mutual respect."
A CNN/ORC poll conducted in September 2015 found that 29 percent of Americans identified Obama as Muslim. About four in 10 correctly identified Obama as Protestant.
Before it's here, it's on the Bloomberg Terminal.
LEARN MORE