Sanders Questions Clinton's Motives, Leadership in Iowa Race's Last Days
Despite his promise to run a positive campaign, the insurgent candidate is toeing the line between contrasts and negative attacks, both on air and on the stump.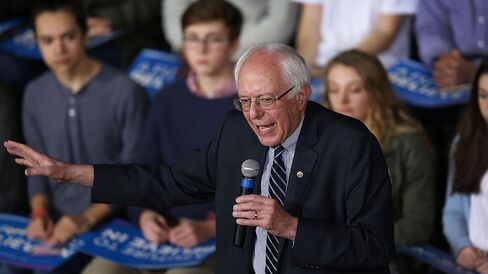 Democratic presidential candidate Bernie Sanders released a new line of charges and criticisms on the campaign trail designed to underscore his differences with Hillary Clinton.
Campaigning in Fairfield and Burlington, Iowa, on Thursday night, Sanders listed several policies from the 1990s and 2000s he didn't support—NAFTA, the Defense of Marriage Act, the deregulation of Wall Street, and the war in Iraq—that he said Clinton, or former President Bill Clinton, did. He then moved to criticize what he has called Clinton's late arrival to popular liberal opposition to the Trans-Pacific Partnership and the Keystone XL pipeline.
"It is great to be against the war after you vote for the war. It is great to be for gay rights after you insult the entire gay community by supporting DOMA. It is great to finally, kicking and screaming, come out against the TPP, but where were you on all of the other trade agreements? It is great to come out against the Keystone pipeline after supporting the Keystone pipeline," Sanders said to an audience of 800 in Burlington. "So what all of this is about, what it's about, is that what leadership means is not simply following the majority."
With just three days until Iowa Democrats go to caucus, polling shows Sanders and Clinton locked in a statistical dead heat and both campaigns have felt the need to clearly define themselves and their opponent. For Sanders, that need to draw distinctions has tested his promise to run a positive, issue-oriented campaign.
On Thursday, the Sanders campaign released an ad, set to air today, that while not mentioning Clinton by name criticized a system where it said politicians are bought and paid for by Wall Street firms with "contributions and speaking fees." He also criticized Clinton for plans to attend a fundraiser co-hosted by investment banker Michael C. Forman of Franklin Square Capital Partners on Wednesday.
"I don't know how much money she raised, but I'll tell you something: yesterday we raised $1.4 million, average contribution $27," Sanders said. "I don't go to investor bankers to get big checks."
The investment banker jab fit into the larger distinction that Sanders is trying to draw, that Clinton is one of several politicians who is compromised due to accepting speaking fees from Wall Street firms. Clinton has defended the $675,000 that Goldman Sachs paid her for three speeches in 2013, saying last week that "anybody who thinks they can buy me doesn't know me."
But the fees were alluded to again Sanders' latest ad. In a news release, the Clinton campaign called the ad "an implicit attack on Hillary Clinton." Clinton's Iowa state director, Matt Paul, went a step further, calling it a "last-minute sneak attack" that is "not going to go over well with Iowa voters."
Some in the media have also questioned whether the ad breaks Sanders' promise to not air negative attacks ads, though the campaign insists it is simply drawing a contrast. "It's a contrast and it's certainly something that Bernie's been saying for months and months and months," Sanders spokesperson Michael Briggs told Politico.
While it's unclear how the ad will play with undecided Iowans, Sanders supporters seem to agree with the campaign. After being shown the ad, several Sanders backers said that while it brought to mind Clinton's speaking fees, they didn't see it as an attack on her but a concise statement of the theme of his campaign: that the U.S. economy is rigged.
"The 'America' commercial, it's nice, makes you feel good, but it doesn't necessarily have a direct message to it, this does have a direct message pointing out Wall Street," Leon Lewis, a 30-year-old solar industry worker from Fairfield, Iowa, said.
Rebecca Mueller, a 35-year-old pediatrician from Muscatine, Iowa, said the ad was fair and delivered "an important message and it says it concisely."
"The only thing that makes it seem a little extra pointed is that he talks about the speaking fees, because I think that's been Hillary's main way to get finances from Wall Street of late," Mueller said. "I don't think it's a negative ad, and you have to create distance between yourself and your competitor."
While Sanders' shift in tone, both on air and on the stump, may draw criticism from the media, Clinton supporters, and undecided voters, it may also help solidify his support within his own base. Among his followers, the feeling that the rigged economy is hurting the average American is widespread.
"I think everybody feels the frustration of, you make money—it ruined everything, the financial industry ruined everything," said Patrice Bacca, a 55-year-old bartender from Lewistown, Illinois. "I think that's probably why a lot of us are Bernie Sanders followers, because we want something to change."
Before it's here, it's on the Bloomberg Terminal.
LEARN MORE