DeLorean Is Back to the Future After Congress Nixes Red Tape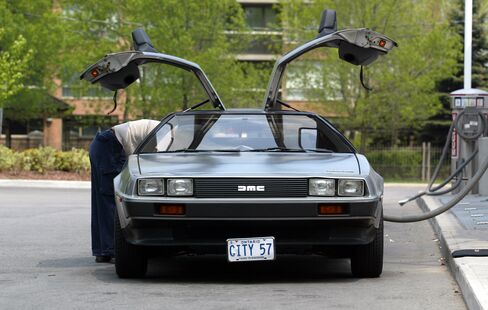 Legendary car featured in blockbuster movies gets new life

New versions to cost near $100,000, be built in Texas
The DeLorean is back. In the future. And it might be better than ever.
The DeLorean Motor Company of Humble, Texas plans to start production of a souped-up version of the super-cool gull-wing icon from the three-decade-old Back to the Future franchise, and it's all thanks to an act of Congress.
The company credits a provision tucked into December's highway bill freeing manufacturers of small-volume replica vehicles from sweeping regulatory requirements faced by makers of new cars.
"For nearly five decades, the National Highway Traffic Safety Administration has not distinguished between a company producing millions of cars and a small business making a few custom cars," the company said in a statement on its website. The Low Volume Motor Vehicle Manufacturers Act, H.R. 2675, was added to the highway bill. The replica vehicles are still subject to equipment standards, recalls and remedies, the company said, and must meet Clean Air Act emissions standards.
The resurrection is also a testament to the love of customers around the world for Dr. Emmett Brown's time-traveling car. About 9,000 DeLoreans were built between 1981 and 1983 in Ireland before the original company went bankrupt.
More Horsepower
The closely held Texas company has a business refurbishing original DeLoreans and settled with the estate of John DeLorean's wife last year for the name and trademarks of the original company. It plans to sell about 300 replicas of DeLorean DMC-12s with modern engines, CEO Stephen Wynne told KPRC-TV in Houston.
The company plans to start a waiting list in February and take firm orders once the traffic safety agency publishes final regulations, due by the end of the year. Prices are expected to be in the $80,000 to $100,000 range, the company's vice president, James Espey, said in an e-mail.
The new car will have an engine with 300 to 400 horsepower, Espey said, enough to "ensure an exciting driving experience in a 2900-pound vehicle."
That will make the car more of a true sports car than the original, which featured a mere 130 horsepower -- less than a 2016 Toyota Corolla. The company is still deciding on which engine to use and must source other parts for the car, with a goal to get them on the road at a rate of about one a week starting in 2017.
Power Steering
There will be additional upgrades: larger tires than the 14" and 15" wheels on the original, power steering, and entertainment and connectivity options that didn't exist in the DeLorean's heyday.
The cars will keep the look of the original, with a stainless steel exterior and those iconic gull-wing doors. Time-travel and flight, of course, won't be available as options.
Republican Senator John Thune of South Dakota, the chairman of the Commerce Committee, bragged about Congress's role in the car's resurrection.
"The FAST Act included provisions to create opportunities for job creation by reforming regulations that often don't make sense and stifle small businesses," he said in a statement. "I'm excited to see this part of our reform bill is making a difference for a small business and fans of an iconic 1980s car."
New Shelbys
Other companies, including Superformance LLC of Irvine, California, also plan to use the new law to sell modern replicas of iconic sports cars.
"Factory-built replicas have quickly become the best way for fans of motorsport icons like the Shelby Cobra, Shelby Daytona Coupe, Ford GT40, and Chevrolet Corvette Grand Sport to realize their dream of getting behind the wheel of one of these legendary automobiles," Superformance said in December. "Superformance will now be able to offer these vehicles as brand new, ready-to-run cars with a federally-assigned VIN tag and a compliant modern powertrain."
Before it's here, it's on the Bloomberg Terminal.
LEARN MORE