Private Equity Gets New Top Lobbyist as PEGCC Names Sommers CEO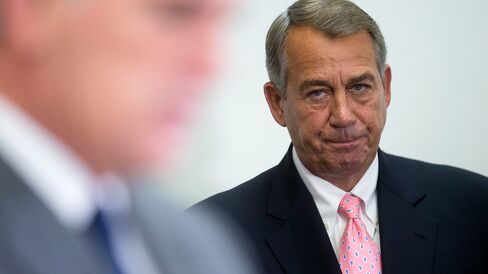 Former Boehner chief of staff to take council helm next month

Presidential candidates calling for higher taxes on industry
The private equity industry has a new top lobbyist in Washington.
Mike Sommers, who was chief of staff to former House of Representatives Speaker John Boehner, will become chief executive officer of the Private Equity Growth Capital Council next month, according to a statement Wednesday from the Washington-based advocacy group. Sommers replaces Steve Judge, who left the position in August.
The PEGCC, started in 2007, represents more than 35 private equity firms as well as 19 law and accounting firms in the companies' dealings with regulators and lawmakers. Among its members are the world's biggest private equity firms, including Blackstone Group LP, Carlyle Group LP and Apollo Global Management LLC. KKR & Co. executive Ken Mehlman, the former leader of the Republican National Committee, is chairman of the group.
Sommers's "deep understanding of the policy process, bipartisan respect, management experience and creative approach will serve the PEGCC and our members well," Mehlman said in the statement.
Policy Battles
The PEGCC has taken on several policy battles on behalf of the private equity industry, including fighting for the continued treatment of investment profits, or carried interest, as capital gains rather than ordinary income. Leading 2016 presidential candidates on both sides of the aisle, including Democratic frontrunner Hillary Clinton and Republican frontrunner Donald Trump, have called the favorable treatment a loophole and said they would work to tax carried interest at the higher rate on income.
The council also has advocated for keeping interest expense tax-deductible, a boon to buyout firms that borrow money to finance corporate takeovers and amplify the returns. During the 2012 presidential campaign, the group defended the industry against a barrage of criticism, as rivals of Republican nominee Mitt Romney accused the Bain Capital founder of cutting jobs as a private equity executive.
Judge and the PEGCC responded by expanding membership beyond the largest firms and undertaking research, labeled "Private Equity at Work," on the industry's reach into the economy. More than 11,000 U.S.-based companies have received private equity backing, and the businesses have hired 7.5 million workers, according to the council.
"The council has brought this industry together to effectively engage with policy makers as they work for stronger economic growth, retirement security and other policy objectives," Sommers said in the statement Wednesday.
Sommers, 40, started working for Boehner as an intern in 1997 and spent a year as a White House economic adviser to President George W. Bush. Boehner resigned as speaker of the House in October.
Before it's here, it's on the Bloomberg Terminal.
LEARN MORE