Stunts
How SNL's Seth Meyers Inspired a Hilariously Named Bill on Flamethrowers
A bill seeking to regulate the sale of the incendiary devices needed a name. Something with oomph.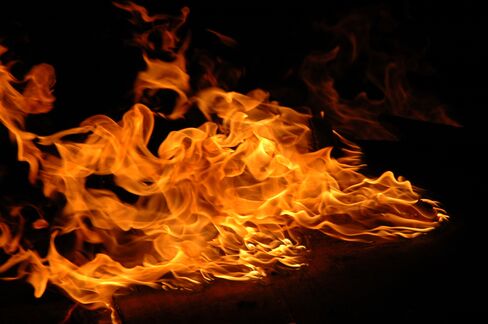 Eliot Engel, a Democratic congressman from New York, is a big Saturday Night Live fan and an even bigger fan of former "Weekend Update" anchor Seth Meyers. He also thinks flamethrowers are dangerous. These are the salient facts behind what is surely the best-named legislation in the history of the U.S. Congress—a bill (H.R. 4009) recently introduced by Engel called the "Flamethrowers? Really? Act."
The bill, which would regulate flamethrowers like machine guns, came about after Engel discovered that flamethrowers are unregulated in all but two states, Maryland and California. You can even order them through the mail, a fact that left Engel incredulous. "It's not something I'd thought about before," he admitted, "because you'd just assume—right?—that flamethrowers would be regulated. It just causes you to scratch your head and say, 'Really?'"
Engel's staff started digging into the matter of flamethrower restrictions. There weren't many. And they were shocked at how easy flamethrowers are to obtain. "You wouldn't imagine that somebody could just send away for it, you know?" Engel said. "But you can. When they advertise, they tout the fact that there's no federal regulation. You can even get rush delivery! No questions asked."
Engel, a long-time proponent of stronger gun control, didn't like the thought of flamethrowers spreading around unchecked. So his staff wrote a bill to regulate them, carving out an exception for "qualified law enforcement officers." The bill needed a name. Something with oomph. An Engel staffer, who shares his boss's incredulity and comedy taste, brought up the famous Seth Meyer "Really?" sketch:
"I'm a big SNL fan," said Engel. "I have very competent people. We thought, gee, it's perfect. Let's just do it." Thus was the "Flamethrowers? Really? Act" christened. "We thought 'Really?' would make the point," said Engel.
The bill hasn't exactly rocketed out of committee. It has only three co-sponsors, all Democrats: Representative Carolyn Maloney of New York, Representative Alcee Hastings of Florida, and Representative Jim McGovern of Massachusetts. Flamethrowers, meanwhile, remain a potential menace.
Engel is confident he can "easily get 50" co-sponsors, more if the National Rifle Association doesn't intervene. What his bill really needs, he says, is a shot of publicity. One person seems particularly well-suited to lend his celebrity to the "Flamethrowers? Really? Act" and that's Seth Meyers, now the host of Late Night with Seth Meyers on NBC.
Engel hasn't reached out, but admits the idea holds appeal. "Maybe I could appear on his show," he says. "Hopefully we could do it before the primaries. The show is on very, very late—but it's pretty good."
Before it's here, it's on the Bloomberg Terminal.
LEARN MORE